A few days ago, I wrote an article on the potential for REITs to serve as an inflation hedge strategy - an intelligent alternative given the fact that REITs provide "all-weather" characteristics for fighting inflation when interest rates move higher as quantitative easing is withdrawn. As I explained, one way to prepare for the future (inflation risk) is to allocate a portion of assets to REIT alternatives. As I explained:
It's clear that the day is coming that a basket of goods will cost more in the future than today. The Fed will, at some point, begin to raise interest rates and that is bound to have an effect on inflation.
In the same article, Brad Case, Ph.D., CFA, CAIA, Senior Vice President, Research & Industry Information with NAREIT, went on to explain:
So you want an asset that'll protect purchasing power without exposing you to "prediction risk" from guessing wrong-that is, you want an asset that protects against inflation but also provides reasonably good returns during low-inflation periods too. That's REITs.
In an April 2013 Cohen & Steers newsletter (Viewpoint), Tom Bohjalian, Executive VP and Portfolio Manager, explained:
Contrary to a common misconception, rising interest rates do not necessarily lead to poor REIT performance. In fact, REITs have generated an annual return of 12.6% over the next six monetary tightening cycles that have occurred since 1979. Over an equal number of periods when US Treasury yields were rising, REITs generated an annual return of 10.8%.
REITs offer a valuable inflation-beating strategy "given their historical ability to perform in both rising-rate and inflationary environments." As Bohjalian added:
US REITs can be effective as a hedge against inflation. US REITs have outperformed stocks and bonds in periods of both rising and moderating inflation. With varying degrees of cyclicality across property sectors - and a long history of dividend growth at a pace faster than that of inflation - US REITs have proven to be, and should continue to be viewed as, an effective inflation hedge.
Now the free-standing REITs are the closest cousins to bonds, and over the last thirty days, the sector (aka, Triple-Net REITs) have seen significant market corrections and that has created a window of opportunity for bullish "sleep well at night" investors. As I wrote in a recent article:
I recognize that the sector has been on a 30 year bull run and that the prospects for growth are not as significant as most other REIT sectors. However, I contend that the Triple Net REITs provide a real "dividend anchor" for an income investor and that the sector has historically provided an "all weather" component that sustains in good times and bad.
Compare and Contrast COLE and ARCP
Last week Cole Real Estate Investments Inc. (NYSE:COLE) listed shares on the New York Stock Exchange. It was only after a bitter takeover attempt from American Realty Capital Properties (ARCP) that Cole persevered to become the second largest Triple-Net REIT (with over $7.7 billion in assets). Cole's REIT model is somewhat more complex than American Realty Capital Properties in that Cole opted to combine its pure real estate platform with its advisory business that generates fee-based income.
Cole's REIT model is considerably more complex than most REITs. Here is a snapshot of the business model: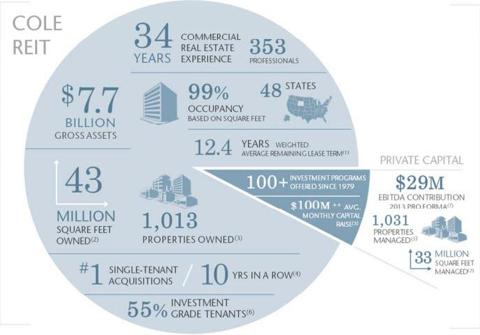 Based on data provided by RealCap Analytics, Cole is the number one buyer of single tenant properties over the last ten years.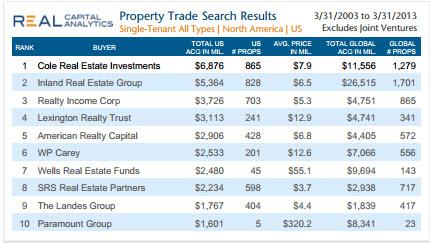 Cole has a portfolio of 1,014 properties that consists of 560 tenants. Cole's top tenants include Walgreen (WAG), Albertson's, PetSmart (NASDAQ:PETM), and CVS (NYSE:CVS).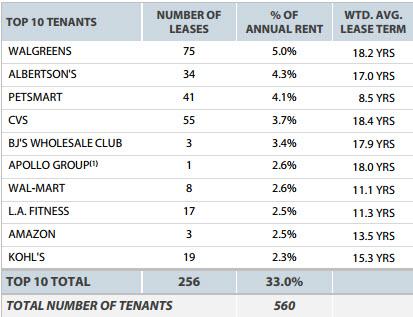 Cole has established itself as a Triple Net REIT; however, the company owns 81 multi-tenant properties that consist of power centers (35), grocery-anchored centers (13), and other multi-tenant retail centers (23).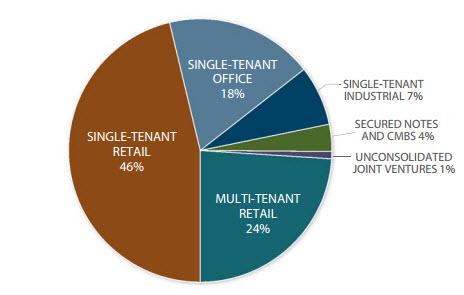 As mentioned above, Cole has a differentiated REIT model that is comprised of both real estate and fee-based revenue. As illustrated below, Cole projects around $860 million in 2013 (mid-point of estimate) that consists of around $250 million in fee revenue (30%).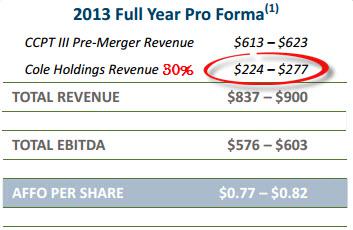 Cole shares today are trading at $11.33 and a 13.5x P/FFO (Price to Funds from Operations) multiple. Utilizing a mid-point AFFO per share estimate of $.80 per share and 70% attributed to real estate (CCPT3), Cole shares are valued at around $7.50 per share (based on Cole Holdings valuation at a comparable 13.5x multiple) - significantly below market valuations.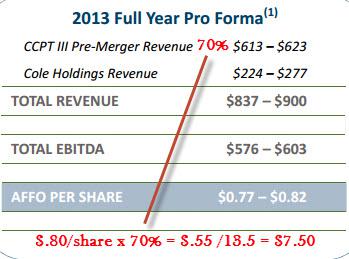 When One Door Closes, Another One Usually Opens
Now Cole's offer from ARCP was rebuffed (after ARCP increased its bid to $12.50 per share in cash or $13.59 in stock) and since that time ARCP has been incredibly active. During the last ninety days, ARCP has announced it will acquire over $3 billion in two strategic acquisitions: (1) a $2.2 billion merger with CapLease, Inc. (NYSE:LSE) and (2) an $807 million acquisition of 471 single tenant properties owned by GE Capital. In addition, ARCP has already closed over $313 million through May 3, 2013.
In a previous Seeking Alpha article, I argued that ARCP's acquisition of Cole didn't make sense. As I wrote:
The management team is pursuing a disruptive investment strategy that is not investor-aligned and the "bullying" tactics are not advantageous to ARCP investors. I'm certain that the logic will prevail when the bully retreats from its conflictive agenda and Cole moves forward with the completion of its merge.
It was my argument that ARCP was being overly aggressive with its pursuit of Cole and I was not comfortable with the integration of the two competing REITs. In hindsight, it appears that ARCP's recent proposal to acquire both CapLease and the GE Credit portfolio worked out the best and it's clear that the market agrees.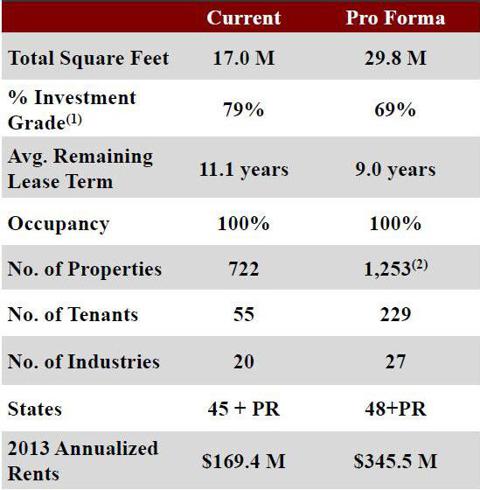 Assuming ARCP closes on both CapLease and the GE Capital portfolio, the combined company will own almost 30 million square feet with 1,253 free-standing properties. ARCP's current enterprise value is around $4 billion and once the GE Credit portfolio ($807 million) and CapLease portfolio ($2.2 billion) are rolled up, ARCP will have an enterprise value of around $7 billion.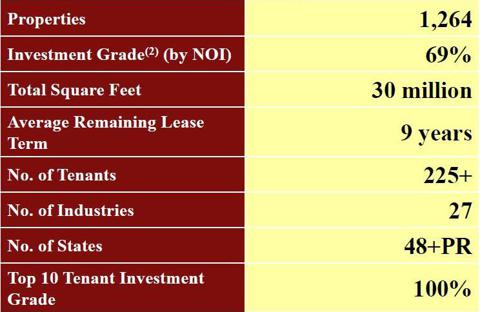 Post merger, ARCP's AFFO per share is projected to grow by 28% from 2013 to 2014.

My first article on ARCP was not a glamor shot. I even acknowledged that ARCP was NOT a "sleep well at night" REIT because it lacked diversification. As I wrote:
The biggest issue that I have with the IPO is that the assets are highly concentrated with just two tenants, and one of the two tenants is a troubled bank with minimum lease term remaining. Furthermore, like many banks, branches are being reduced in size and, as a result, the "brick and mortar" model is becoming less important (to the banking model).
Now, twenty-one months later, ARCP is beginning to look like a role model for diversification. Here is a snapshot of its top ten tenants (based on pro forma post merger with CapLease and acquisition of the GE Credit portfolio):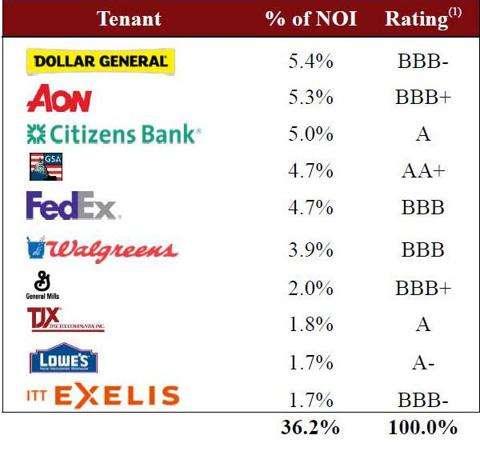 Let's Make Some Cents Out Of These Two REITs
Unlike ARCP (listed in IPO format), Cole was a non-listed REIT and the Phoenix-based REIT listed its shares on one of the worst possible weeks since the end of the Great Recession. I'm not sure why Cole didn't delay its listing; however, Cole opted to take ALL of its shares public - unlike Healthcare Trust of America (NYSE:HTA) that opted for a more conservative approach (with four staged unlocking phases).
Cole's management team decided to list all shares (around $5 billion in value), but it only tendered $250 million (between $12.25 and $13.00 per share). The total tender was only five percent of Cole's outstanding float (compared with 25% for HTA).
When Cole listed (with no shares locked up) on June 20th (2013), there were over 18 million shares traded. Most of the shares were attributed to retail investors looking for liquidity. Share volume decreased and then earlier this week Cole was added to the RMZ Index and trading volume bumped back up to around 11.2 million shares. That's a normal occurrence as the RMZ mimics an index and that means that Cole is currently trading on technicals and the stock is not trading on its underlying fundamentals.
Cole closed Thursday at $11.33 (after the RMZ inclusion) and the company is trading at approximately $1.50 off its tender price of $12.25 to $13.00. Once the RMZ and tender offer is done (August), we should see the technical imbalance (for Cole) neutralize and Cole will begin to trade on its own merit...whatever that is?
One of the difficulties with Cole today is assigning a value to the shares (especially Cole Holdings). As mentioned, the company is technically out of balance and today there are too many investors that have to buy it (based on the RMZ listing). Given the decision by Cole's management team to structure the offering with no phased unlocking strategy, I suspect that investors (primarily hedge funds) will capitalize on the tender and look for a quick buck. Once the index buying winds down, the market should be able to find a better road map for Cole.
Why I Like Cole: Cole has a focused management team with deep experience in managing single tenant assets; however, Cole does not have public REIT experience. Cole's business model is more complex than ARCP yet the company is internally-managed (unlike ARCP). Cole has more debt than ARCP (Cole has a 44% debt to market cap and around 30% in secured debt) and the company is also technically not a pure Triple-Net REIT and that makes the company more difficult to value. Cole closed at $11.33 per share and my TARGET is $9.00 (unsure of fee-based valuation so I will only value the "brick and mortar" until I understand the sustainability of the advisor).
Why I Like ARCP: As mentioned above, ARCP has done a great job of diversifying its portfolio. I think the most relevant attribute for ARCP is its founder and CEO's vision for consolidating the Triple Net industry by aggregating high-quality properties (in scale). It's clear that ARCP will continue its trend of consolidation and it's conceivable that ARCP could acquire its sister REIT, ARCT IV (ARCP4) - around $3 billion in assets - and its infant sister, ATCT V (ARCT5) - around $2.5 billion - that would balloon ARCP to a company of around $12.5 billion in size.
Today I am still concerned with the conflicts of interest that arise from ARCP's externally managed model; however, ARCP has disclosed its plan to internalize the REIT once there is critical mass. Once ARCP merges with CapLease, I suspect the merged company will be able to internalize and remove the conflicting issues that surround ARCP. I like ARCP today with shares trading at $15.20 (I have 5% in my SALSA portfolio).
Where Is The Future: I certainly don't have a crystal ball, but it's clear that the Triple Net sector is growing faster than most other sectors. There is considerable demand for safe dividends and the Triple Net REITs have historically been one of the safest and reliable REIT sectors. I have provided my version of where I think this industry will be 2+ years from now.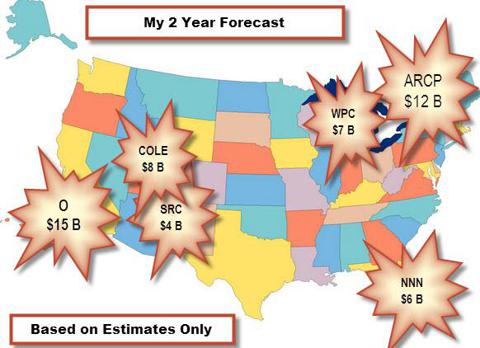 The wave of growth is extraordinary and in the July issue of my newsletter (The Intelligent REIT Investor) I provide a detailed analysis of the Triple Net REITs and detailed valuation fundamentals.

Sources: Cole June 2013 Presentation, ARCP June 2013 Investor Presentation, Yahoo Finance, RealCap Analytics
Disclosure: I am long O. I wrote this article myself, and it expresses my own opinions. I am not receiving compensation for it (other than from Seeking Alpha). I have no business relationship with any company whose stock is mentioned in this article.