Continued carnage in the Mortgage REIT sector led to more losses for investors through the early part of this week before the sector stabilized. At this point, I think even the new and uninformed to the sector understand that the $64,000 question is: have interest rates peaked? Specifically, has the 10-year Treasury bond peaked? If it has, the stocks are a buy. If not, continued caution is in order. The stocks are trading on price-to-book measures of valuation and not dividend yield because book value is impacted immediately by the rise in rates but dividend boosts are down the line. With the stocks well under book value, capital raises to take advantage of mortgage rates 50-75 bp. wider than a few weeks ago are not an option. And many of the mREITs already tapped the preferred market earlier this year.
In discussions with investors yesterday, Twin Bond Gurus Jeff Gundlach of DoubleLine Capital and Bill Gross of PIMCO both reiterated earlier comments that the bond market offered great value after the recent intra-day spike up to 2.67% on Monday. A weak Q2 GDP number and reassuring talk from the head of the NY Federal Reserve Bank have brought yields down some 20 bp. to 2.47%. Virtually all of the prominent bond experts saw value in the 2.25 - 2.40% range so you can be sure they were doing some buying as we broke above 2.60%.
In terms of the velocity of the move, a 1% (100 bp.) move up in rates in under 2 months is unprecedented. We have had moves of 1% before but from much higher levels. And a 50% rise in rates has usually taken several quarters or longer; the final capitulation of the 1970's Bond Bear Market saw rates rise 50% (500 bp.) in the final spike up but it took 18 months from early-1980 to September 1981. What this means is that we have probably seen capitulation selling related to fears regarding the "tapering" of QE3 and hedging of mortgage-backed securities (holders of MBS need to sell treasuries when rates go higher). Part of that selling in the treasury market may well have been the mREITs hedging their own exposure.
On a longer-term basis, the fear the last few weeks was if we would undo much of the fall in yields post-2011. If 10-year Treasury yields go above 3% let alone closer to 3.5-4.0%, you would see the book values of the mREITs continue to get hammered. A rule of thumb at current levels is that every 10 bp. rise in the 10-year Treasury drops the agency mREITs book value approximately 1% (less for the hybrid mREITs depending on the composition of agency vs. non-agency). So if we stabilized just below the 2.75% threshold and have exhausted ourselves on the upside, book values have room to rise and dividends will increase in coming quarters. But if the stabilization we have seen this week is just a pause on the way to higher yields, book values could be imperiled by another 10-15%.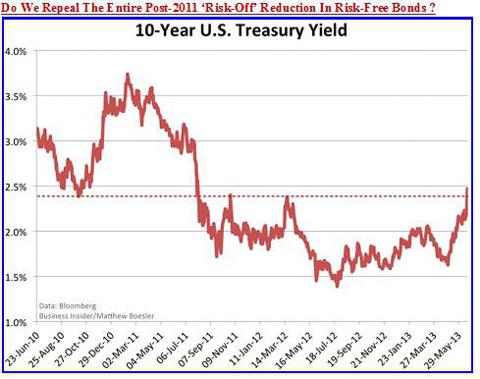 (Click to enlarge)
Though not known as a stock guru, Gundlach had said that he would be a buyer of Annaly Capital Management (NYSE:NLY) if it got down to $12/share and we didn't get too far away from that entry point. One of the foremost experts on MBS, Gundlach was directly buying agency paper earlier this week. If he was willing to buy NLY - one of the mediocre-run mREITs and a dated bellwether for the sector - we can assume that better-run mREITs like American Capital Agency (NASDAQ:AGNC) and American Capital Mortgage (NASDAQ:MTGE) likely offer even better value at their recent and current prices, given their experienced management teams. AGNC re-touched the panic spike low seen almost 2 years ago during the mREIT "Flash Crash" right before the U.S. debt was downgraded from AAA status.
The mREITs seem to have at least one panic attack a year. So the drop in prices by 20% would seem to be the move for 2013. 2010 saw a prepayment spike to start the year, 2011 saw the July Flash Crash, and 2012 saw the post-QE3 prepayment fear selloff in October (how ridiculous does that look in retrospect)? If we have seen the spike in yields and have experienced the yearly catharsis in mREIT stock prices, then today's levels represent compelling value.
You can see how lower coupons and similar prepayment-protected securities have plunged in recent weeks relative to higher-coupons which have held their value better: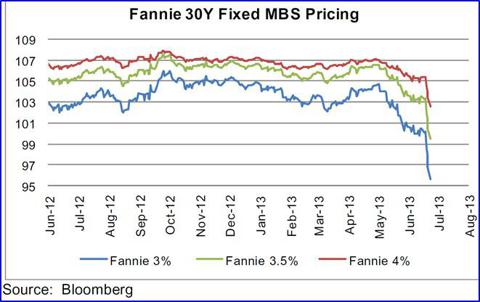 (Click to enlarge)
The fears regarding prepayments and collapsing dividend yields is gone. But a new fear has emerged which was central to the rise in rates, namely, the extension risk associated with MBS bonds. Credit Suisse estimates that during the second quarter 30-year MBS durations extended by 0.7-2.0 years. This is what pressures book value, as longer-duration bonds are more sensitive to rising rates. Plus, capital must be deployed to either hedge the increased rate risk (via swaps) or MBS bonds must be sold to achieve the same effect. Either way, there is less capital available for dividends as MBS assets drop. The good news is even if we do go higher in rates, the next 50 bp. move in rates would cause a smaller extension on the order of 0.2 - 1.0 years.
One sell-side firm's estimate for book values shows the agency mREITs under 90% P/B and the hybrid mREITs at similar levels:
If long-rates have stabilized, then the mREITs have also bottomed. On a P/B basis, valuations are cheap for both agency and hybrid mREITs: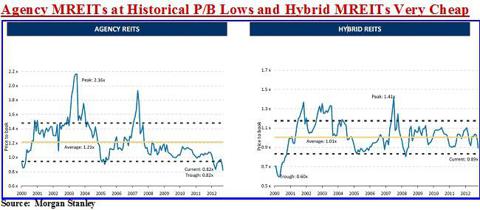 (Click to enlarge)
With prepayment fears in the rear-view mirror, if interest rates have peaked then book values will stabilize. The Fed is still on hold until August 2014 and April 2015 for the first 25 bp. rate hikes (other indicators show tightening a few months earlier) so spread income will be very healthy the next 12-18 months (especially with the rise in the 10-year and prepayments about to collapse) and should lead to some dividend boosts.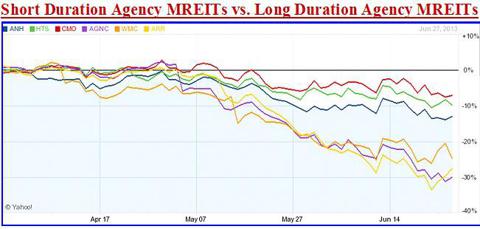 (Click to enlarge)
AGNC offers good value at current levels. I like buying at the double-low indicated by the 2011 "Flash Crash" level and if rates have peaked and come down, you get the most bang-for-the-buck with the long-duration agency mREITs like AGNC, Western Asset Mortgage Capital (NYSE:WMC), and even ARMOUR Residential REIT (NYSE:ARR) is probably a good risk-reward on the aggressive side given it is trading at close to 82% P/B (but don't forget my basket !). On the hybrid side, MFA Financial (NYSE:MFA) remains my top pick with low-sensitivity to interest rates should they make a beeline for 3% or higher.
If you found yourself losing sleep in recent weeks as mREITs lost 20% or more we are probably going to have a nice rise if rates stabilize. Use that strength to re-position to a more comfortable portfolio allocation. If you have been underweight the sector, you can absolutely start to ease in at current levels. I have been holding to a 10-20% weight in most of my managed portfolios, with a bias towards the lower level and near-equal split between agency and hybrid mREITs.
With dividend yields of approximately 15% annually on both types of mREITs, a buyer at current levels should reap 7-8% in dividend yields for the 2 remaining quarters of 2013. Jeff Gundlach believes that the 10-year will head closer to 1.70% by year-end; if we assume a move of half that (2.10%) from the recent levels, then we should see a 4-5% boost in book value at a minimum. Add in a closing of the discount to book value (currently 10%) as rates stabilize and dividends increase, and you are looking at a potential total return of 25% by year end from current levels.
Disclosure: I am long AGNC, WMC, ARR, MTGE, MFA. I wrote this article myself, and it expresses my own opinions. I am not receiving compensation for it (other than from Seeking Alpha). I have no business relationship with any company whose stock is mentioned in this article.