BlackBerry (NASDAQ:BBRY) reported earnings this morning. On the headline, the company lost $0.13 per share, compared with expectations of a profit of $0.06 per share. There was a 10 cent per share currency charge - meaning that including that, BBRY still missed expectations. Thorsten Heins, BlackBerry's CEO, noted that the smartphone market was still highly competitive. In total, this is not something that investors want to hear - more excuses and less performance.
In the first full quarter it was available, BlackBerry sold 6.8 million units, up 13 percent from the prior quarter, but down from 7.8 million units a year ago. Either BlackBerry 10 hasn't taken off, or the legacy shipments have completely collapsed.
Additionally, BlackBerry's service revenues declined 20 percent year-over-year, compared with BlackBerry's own guidance that suggested that would fall in single digits.
Since BlackBerry does not provide guidance for analyst expectations for Z10 sales alone ranged from 2.5 million to 7 million - meaning that there was no clear consensus and giving the potential for an exaggerated stock move today. But, it seemed that most analysts were looking at the 3-3.5 million mark as the tipping point. The release contained no information specific to the Z10 - so we'll look to the conference call for that.
In the premarket, BBRY is trading around $12 per share - down around 17 percent from a close yesterday at $14.48.
The one bright spot in the release has been the fact that the company's cash and investments balance actually increased to $3.1 billion - meaning that BlackBerry is not burning through cash. This gives BlackBerry an inherent value, including this cash and the more intangible assets such as patents and a loyal core user base, which should put a floor on the stock.
Implication for BBRY
This month, the stock has been all over the place - as I predicted in an earlier post - from $13.50 to $15 per share. On the upside, the price has been capped at $18. On the downside, the price was supported below $12 per share, a level that is now coming into play.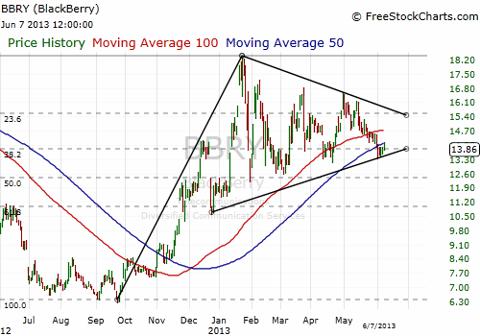 Technically, the price has broken below the consolidation range and should be heading to December lows around $10.61 at no problem.
It's early in the day, but here's my take: There is no reason to be in this stock until below the $10 per share mark.
Disclosure: I have no positions in any stocks mentioned, and no plans to initiate any positions within the next 72 hours. I wrote this article myself, and it expresses my own opinions. I am not receiving compensation for it (other than from Seeking Alpha). I have no business relationship with any company whose stock is mentioned in this article.