When Qualcomm (NASDAQ:QCOM) seeded the major tech review sites with reference platforms that sported its latest Snapdragon 800 system-on-a-chip which features the firm's latest Krait 400 cores and Adreno 330 graphics, the benchmarks that were given - particularly on the graphics side of things - seemed to absolutely decimate everything else available. While I still believe that Qualcomm is at the top of its game for both smartphones and tablets this holiday season, there are a number of caveats with respect to the performance of the devices that I completely missed in the excitement. Snapdragon 800 will still be a beast, but I believe that the performance in the reference designs may not be representative of the performance that we will see in shipping devices. Let me explain.
That's No Phone...
Something that I should have pegged as peculiar was that the benchmarks given showed that Qualcomm's smartphone implementation of the Snapdragon 800 as well as its tablet implementation of the Snapdragon 800 performed identically (I use the results of the benchmark AnTuTu supplied by Engadget, but this was a fairly universal trend),
Tablet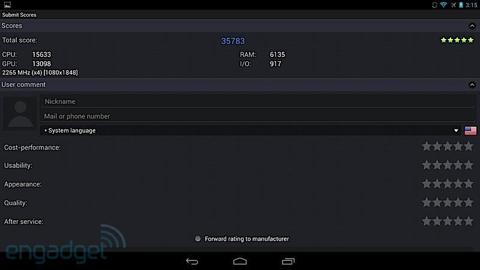 Smartphone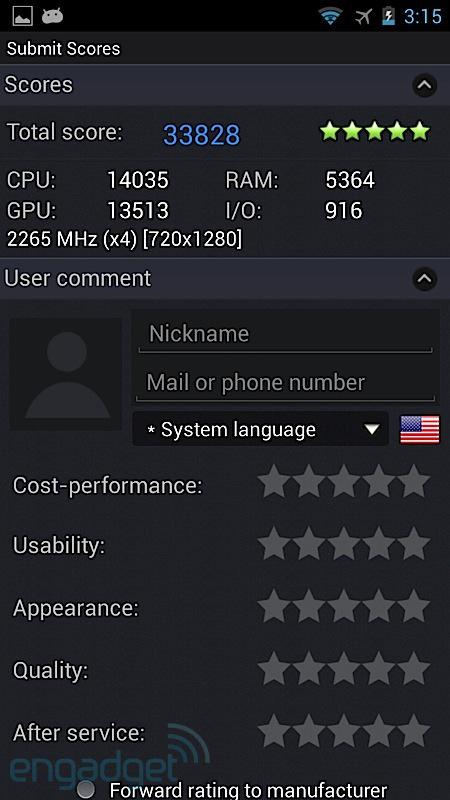 Notice how the performance of the smartphone chip is within a rounding error of the tablet chip? Well, considering the performance and integration of the Snapdragon 800, it seems a little bit odd that a chip inside of a "big" tablet (it's an 11.6" tab) and a "small" phone would be so similar. Well, I should have been more attentive to the device rather than just the drool-worthy benchmark scores. Here's the "phone" in which the Snapdragon 800 was benchmarked (image courtesy of Bright Side of News):

Qualcomm's mobile development platform is about twice as thick as what one would expect from a commercial phone. Further, the display was limited to a mere 1280x720, whereas on a high-end phone with the Snapdragon 800, a more power hungry 1920x1080 display would likely be employed, which would further constrain how much power the SoC could use in a real-world implementation.
The First Real World Implementation Indeed Confirms This
The very first announced Snapdragon 800 based device, the Sony Xperia Z Ultra, is a 6.4" "phablet." I believe that in order to realize the full performance that has been promised with the mobile development platforms from Qualcomm, the devices will have to be larger form factor devices that can handle a 5W chip at full tilt. For tablets and phablets, this shouldn't be too much of a problem, but I wouldn't expect these in iPhone-sized devices, at least without some significant throttling.
Conclusion
I don't see a material change to my thesis that Qualcomm should do very well in Android tablets (particularly as the firm has almost no share to speak of at the time), but I think that it's clear that the limitations of TSMC's (NYSE:TSM) 28nm HPm process will become very clear in this generation of chips from both Qualcomm and Nvidia (NASDAQ:NVDA), both of whom are pushing the performance envelope on this node. It should be interesting to see how Intel's (NASDAQ:INTC) "Bay Trail" on its 22nm process stacks up. While I had previously believed that Intel's part may fall significantly behind in graphics performance against Qualcomm's latest, I think the real question is battery life/power consumption which could make the analysis a little more thorny. At the end of the day, though, all that matters is design win momentum and the real litmus test comes at the end of the year when we see which tablets use what SoCs. Fun times ahead for investors and industry followers alike.
Disclosure: I am long QCOM, INTC, NVDA. I wrote this article myself, and it expresses my own opinions. I am not receiving compensation for it (other than from Seeking Alpha). I have no business relationship with any company whose stock is mentioned in this article.