This report centers on the comparative valuation of LinkedIn Corporation (NYSE:LNKD) based on its growth prospects in the foreseeable future by analyzing its driving factors and the S&P 500 Index.
LinkedIn Corporation revenue growth is primarily instigated by increase in the number of registered members and member engagement using both desktop and mobile, along with continuing expansion in product offerings and international expansion to new and existing customer.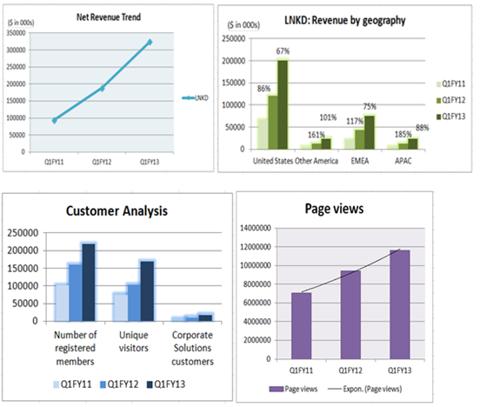 *Source: LinkedIn - Quarterly Report
LinkedIn Corporation experienced exponential revenue growth of 72%, posting revenue of $324.7 million for the three months ended March 31, 2013 compared to the same period in 2012. The company is in the initial years of high-growth phase as it penetrates the market. LinkedIn Corporation is mainly concentrated in America at present. However, it is entering other markets in Europe and Asia-Pacific as well.
The company's revenue growth is driven by its network of registered members and member engagement, expanded product offerings and international expansion.
LinkedIn Corporation's prime revenue generator is Talent Solutions (57%) which provides helps in connecting recruiters and employees. This product area saw an 80% increase in revenues as the U.S. economy and across the globe, economies fight their way out of the recession and have started hiring again. Unemployment rate has diverged significantly since the beginning of the economic and financial crisis and unemployment rates are now significantly below the peaks reached in the second half of 2009. This trend has resulted in a precipitating demand for LinkedIn Corporation's professional network of services.
Revenues from Marketing Solutions segment have mounted up by 56% in Q1FY13 matched against Q1FY12, owing to higher sales volume by field sales and self-service advertising solutions. The product targets quality audiences in a business context, delivering high impact social media marketing solutions. As businesses are once again back on track to increase production to meet increasing demand, they need to actively engage in marketing to sell their products which has increased the demand for LinkedIn Corporation's marketing segment. This can also be witnessed by the increase in number of corporate solutions, year-on-year.
Net revenue from Premium Subscriptions increased $27.7 million, ramping up by 73%, by reason of an increase in the number of premium subscribers attributable to increases in member engagement measured by page views. Mushrooming growth in page views as exhibited by the graph spurred by improvements in products and features that stimulate member traffic to the company's website, growth in registered members and international expansion.
Moreover, although still in their primitive stages, sales solutions products, which include Sales Navigator, are continuously growing at a fast pace.
During the year, LinkedIn entered into a definitive agreement to acquire Slideshare, Inc. ("Slideshare"), a provider of professional and educational content platform where users can upload documents to share ideas, conduct research, connect with others, and generate leads for their businesses. LinkedIn also completed its acquisition of Alphonso Labs, Inc. ("Pulse"), a leading mobile news reader and content distribution platform. Both takeovers are beneficial for LinkedIn as they augment to its range of services and enhance its ability to cater to the demands of its customers.
However, eventually the growth rate of member base and member engagement of LinkedIn Corporation will decelerate as the high-growth phase ends because of the large scale of the network, and this may impact portions of its business. To avoid saturation level, the company is expanding its product range and entering new markets after capturing U.S. and Canada.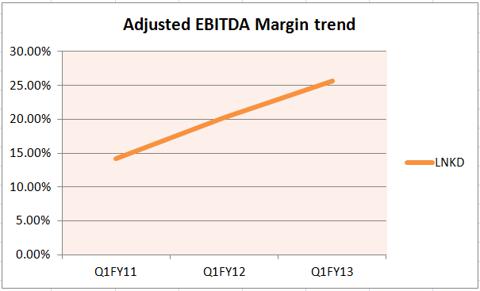 LinkedIn Corporation's adjusted EBITDA margin has taken on an acclivitous trend due to cost control measures exercised in the area of sales and marketing expenses and a slight improvement in direct cost-to-revenue ratio.
Comparative Analysis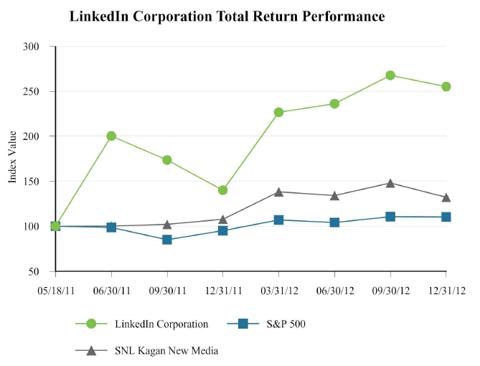 Source: LKND 12.31.2012-10K DOC
LinkedIn Corporation takes on a surging revenue trend over time. The company is over performing the index, reflecting the aggravating demand for its professional services as countries across the globe begin to grow once again.
Stock Price Performance


Source: YCharts
The stock price of LinkedIn Corporation has been rising at a faster pace as compared to S&P 500 index, displaying the company's future growth prospects in the upcoming years. The price continues to incline as company endeavors to expand its scope of operation through acquisitions. The rising price after 17th April, 2013 shows the confidence investors are placing in the company's acquisitions to be able to augment its product range and proliferate revenues.
Future Outlook
Concisely, the future growth prospects of LinkedIn Corporation are quite strong as the company is still in the formative stages of its growth and yet has a lot of potential to capture and reflect in its financials. In my opinion, the stock of LinkedIn Corporation is a strong buy for the investor.
Disclosure: I have no positions in any stocks mentioned, and no plans to initiate any positions within the next 72 hours.
Business relationship disclosure: The article has been written by Core Equity Research, Analyst. Core Equity Research is not receiving compensation for it (other than from Seeking Alpha). Core Equity Research has no business relationship with any company whose stock is mentioned in this article.