Tractor Supply's Revenue Drivers
Tractor Supply Company's (NASDAQ:TSCO) long term revenue growth will be driven by two factors, increases in same store sales and the number of Tractor Supply stores. Internet sales will also be a factor, but given the nature of the products Tractor Supply sells, it will be a considerably smaller factor. Same store sales are the result of inflation in the underlying price of the goods the firm sells and increases in organic sales. According to Capital IQ (see table below), the company's same store sales have grown by a compound annual rate of approximately 3.98% a year for the last six years. This compares with a 5.3% y-o-y increase in 2012 and a .5% increase in Q1 of 2013 partially as a result of an extremely strong 11.5% comp in Q1 of 2012. Over the same time period inflation averaged approximately 2.17% indicating an approximately 1% organic increase in same store sales. The price of many of the company's goods namely feed and other products likely had higher rates of inflation which may further reduce the organic sales increase.

Organic Sales Growth
Organic sales at Tractor supply are the byproduct of increased customer foot traffic and higher average tickets. Overtime the company has done a relatively poor job at increasing average tickets which have only increased 1.83% over the last six years. However, the company's objective is to maximize profits not revenue. Tractor Supply is in the midst of a nuanced shift in its product mix toward higher margin private label products and imports. In addition, Tractor Supply is focusing on the consumers, usables, and edibles (CUE) segment which has a lower dollar value but results in more frequent purchases.
The majority of the increase in organic sales is therefore the result of greater foot traffic which can also be attributed to a more attractive product mix and more knowledgeable staff that offers a unique value proposition to consumers they cannot get at other larger retailers. By shifting its focus away from hardware and seasonal products, Tractor Supply is lessening its head to head competition with large retailers such as Wal-Mart (NYSE:WMT). Furthermore, the company has an outstanding workforce with industry leading retention levels. As a result, Tractor Supply tends to have more informative salespeople that keep customers coming back.

Store Build Out
Over the last 6 years the company has opened an average of 84 stores a year. In 2013, management anticipates adding between 100 and 105 new stores to the company's existing 1,197 stores. In 2012, management established a long term objective of 2,100 stores. In my estimation, this is a very achievable target.
In order to estimate the company's theoretical long term store count, I took the rural population of each state according to the 2010 census and divided by the number of stores in each state to get the population per Tractor Supply store. I then took the seven states with the largest number of stores and averaged them to derive an average of 36,442 people per Tractor Supply store. Next I took the total rural population in the US of approximately 59.7m and divided by the 36,442 people per store average to derive a total store count of approximately 1,640. At the minimum, assuming a relatively steady, but slightly declining rural population, Tractor Supply should be able to grow to approximately 1,600 stores.
However, the company increasingly has a product mix that is amenable to a more suburban audience. As a result, I also added the approximately 26m people that live in "exurban" areas according to the Urban Institute. Adding this population increases the total potential store count by 713 stores to approximately 2,353. Therefore by this measure, management has significant room to grow its store count in the US market without reaching its saturation point. The complete absence of Tractor Supply stores in 5 mainly rural western states lends further support to management's long term growth plans. Furthermore, my analysis is limited exclusively to the US market. The Canadian and Mexican markets as well as markets further a field such as Australia have large rural populations that would be receptive to Tractor Supply's offerings.
Long Term Store Count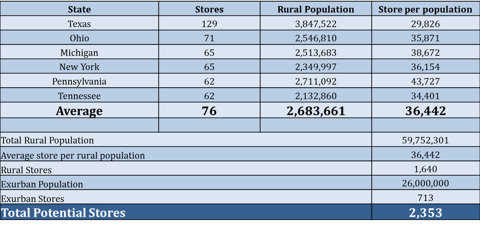 Disclosure: I have no positions in any stocks mentioned, and no plans to initiate any positions within the next 72 hours. I wrote this article myself, and it expresses my own opinions. I am not receiving compensation for it (other than from Seeking Alpha). I have no business relationship with any company whose stock is mentioned in this article.