On Monday of this week, JPMorgan (NYSE:JPM) came out with a downgrade on agricultural equipment manufacturer Deere & Company (NYSE:DE). The firm downgraded Deere to "Neutral" stating that they believe the U.S. crop fundamentals have already peaked causing demand for products from Deere to decrease.
Deere had been trading in a range of $86 - $88 per share, but over the past week, coupled with the downgrade, the stock is now trading down by almost 10%. The stock now trades for around $82 per share. I think it's easy to say that this stock is due for a major correction and that commodity prices, especially corn and soybeans have hit their peaks and now will begin a multi-year correction. I would like to agree with this philosophy, but ultimately I don't think it is that simple and especially this year, it is not simple at all.
Factors Affecting Agricultural Commodity Prices
Normally, I would tend to agree with JPMorgan's assessment on the future of agricultural commodity prices. I have been saying for the past couple of years that prices ran too far too fast, pushing up the cost of food and land along with it. Considering that the price of corn over the past year has hit a high of $8 per bushel, up from a historical average of $3.50 per bushel, it's no wonder that pessimism on the how long this bull market can last has started to form.
Going into this Spring I was quite bearish on the price of corn, especially given that due to price of corn a lot of farmers (especially in the mid-west) where choosing to plant more corn than usual this year. In some cases, choosing to not stay to the typical corn - soybean rotation, but instead plant corn two years in a row. Having heard this, I became quite bearish on the price thinking that a huge inflow of supply would flood the market this Fall causing the price to come down even further.
Like all commodities, weather will always have the final say in determining price. This year so far has been no different. Due to the unseasonably cold and wet Spring and even Summer, a lot of farmers where either late to getting their crops in the field or in some cases didn't plant at all due to the wet conditions and will just take an insurance payment and leave their fields unplanted for the year.
Historically, the old saying goes stating that by the 4th of July each year corn should be about knee high to be on pace for a strong growing season. Unfortunately, due to how wet, cold, and delayed everything has been, most farmers will be lucky to say that their corn will even be shin high by the 4th of July. This may not sound like a big deal, but depending on how cold and long the Fall is this year could really play a significant factor in the overall supply and ultimate price of the commodity.
Why Deere Fundamentally is Sound and Undervalued
Deere currently trades with a multiple of 10.14, making the stock fairly priced and when compared to its competitors a bit undervalued in my opinion - see below for a comparison. The market has basically priced in the worst case scenario for Deere, which to me leads me to believe that anything less than the worst will present an excellent buying opportunity in this name. Deere not only is trading at a discount, the company itself is fundamentally sound. In the firm's most recent report, it posted revenue of $10.91 billion, a year-over-year increase of 9.1%. The company maintains strong profit margins of 25.1%, an EPS of $2.76 (increase of 5.7%), and net income of $1.08 billion. The company currently has $5.28 billion in cash on hand with a book value of $21.30 per share. Not to mention that the company currently offers a healthy $2.04 dividend, with a current yield of just over 2.50%.
Below is a fundamental comparison of Deere against its main competitors.
| | | | | |
| --- | --- | --- | --- | --- |
| | Deere | Caterpillar Inc. (NYSE:CAT) | Kubota Corp. (KUB) | AGCO Corp. (NYSE:AGCO) |
| Current Stock Price | $82.50 | $83.00 | $71.75 | $51.50 |
| P/E | 10.14 | 11.18 | 25.73 | 9.76 |
| EPS | 8.13 | 7.43 | 2.79 | 5.28 |
| Cash on Hand | $5.28 B | $6.25 B | $1.22 B | $946 M |
| Book Value | $21.30 | $27.80 | $38.47 | $36.08 |
| Net Profit Margin | 25.50% | 25.60% | 27.78% | 22.18% |
| Return on Assets | 5.81% | 5.47% | 4.38% | 5.76% |
| Return on Equity | 41.03% | 29.55% | 10.69% | 7.17% |
| Dividend Yield | 2.5% | 2.89% | 1.32% | 0.80% |
| YTD Stock Performance | 1.86% | -7.31% | 14.10% | 2.31% |
When compared to its peers, Deere clearly is the winner among many of the core fundamental ratios and metrics. Deere's impressive return on equity alone sets it far apart from its peer group.
Factors that will continue to keep Corn/Soybean Prices High
· Weather - As I stated above, weather is a very important factor that continues to dictate the direction of the price of commodities by directly impacting the overall supply of the product. I think this year in particular weather is going to adversely affect the overall supply of corn and soybeans, pushing the prices of these two commodities up even further.
· Ethanol Demand - The U.S. ethanol mandate is something that continues to affect the price of agricultural products, especially corn. Since the mandate went into effect, a minimum demand level for corn was put in to meet the production demand of these ethanol plants. Couple that demand with the overall global demand due to increased economic growth and consumption around the world for these products, it is easy to see why these commodities prices have taken off. Below is a chart from the EIA that highlights the trend of ethanol demand and supply in the U.S. over the last several years.
Year

Production

Net Imports

Stock Change

Consumption

1990

0.75

N/A

N/A

0.75

2000

1.62

1.62

-0.03

1.65

2007

6.52

0.44

0.07

6.89

2008

9.31

0.53

0.16

9.68

2009

10.94

0.2

0.1

11.04

2010

13.3

-0.38

0.06

12.86

2011

13.93

-1.02

0.01

12.89

2012

13.3

-0.25

0.1

12.95

** Data in billions of gallons
Whether you agree or disagree with the use of corn to make ethanol as a fuel source in this country I will save for another article. The point that I want to make is that this country over the last three years has been consuming almost 13 billion gallons of ethanol with negative net imports coming in. This high level of output has put an absolute minimum in on the demand curve preventing it from moving below this production breakeven point.
· Decreased Yields - Even those farmers that have been able to still get their crops in the ground on time are still being plagued by the weather. The excess rain and lower than average temperatures will affect the overall yields of crops. Growing degree days (GDD) this year have been below average resulting in growth delays for the crops that are in the ground making the crops work harder and ultimately producing less 'fruit'. This decrease in yield will ultimately affect the supply side of the equation and eventually push prices up even higher.
Below I took a page out of my Macroeconomics 101 book and made a simple supply/demand graph as a visual to further illustrate how the three above mentioned factors are going to affect the price of corn and soybeans going into this Fall.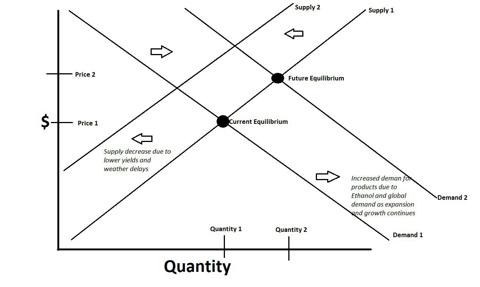 The point of all of this is that I am trying to illustrate that based on the above stated factors, I really don't believe that agricultural prices have peaked nor will the overall demand for farm machinery to plant, grow, and harvest those agricultural products. The most important thing to remember in this environment is that even with the supply and demand disruptions that the market may see in the coming months, there will still be a large number of farmers that had fate on their side. They were able to plant on time, received the right growing conditions, and are able to achieve an average (or even above average) yield on their crops. They will then be able sell their products for a nice premium that can be redeployed by upgrading machinery and equipment, and that is where Deere will come back into play.
As Deere continues to fluctuate in the low $80 range, I am a buyer of this stock and believe that any additional price weakness should be viewed as a potential buying opportunity.
Disclosure: I am long DE. I wrote this article myself, and it expresses my own opinions. I am not receiving compensation for it (other than from Seeking Alpha). I have no business relationship with any company whose stock is mentioned in this article.