Best Ideas Newsletter portfolio holding Ford's (NYSE:F) CEO Alan Mulally recently revealed that the firm believes its Asia-Pacific segment will account for 40% of sales in four or five years. We think this is terrific news for the automaker, but we think the market doesn't truly appreciate the implications of Mulally's statement.

Source: Ford 2012 10-K, Valuentum
As shown above, Asia-Pacific currently represents a small portion of the company's revenue mix, accounting for just 8% of sales in 2012. Ford was notoriously late to enter China, but we like the firm's cautious approach and the popularity of the Lincoln brand in the burgeoning country.
Ford is now making up for this late start. Year-to-date, wholesale unit volumes in China are up 48% compared to the prior year. The Focus is leading the charge, with unit sales up 87% so far this year! We can see why Mulally would be so excited about Ford's future in the geography, especially considering Ford's market share is still less than 5% in the region (bottom left below).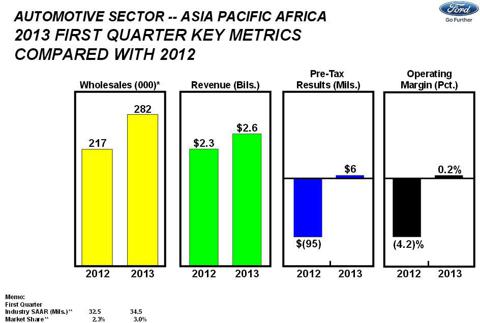 Click to enlarge
Image Source: Ford Q1 2013 Investor Presentation
More importantly, what does Asia-Pacific accounting for 40% of sales translate into financially? Obviously, Ford is not forecasting Asia-Pacific sales to remain flat while every other unit flounders during the next four or five years. If we assume North American sales advance 10% over this time period, South American sales increase 10% and European sales jump 30% (to just slightly above the 2011 level), Asia-Pacific's sales could reach $88 billion for an increase of nearly 9 times. If Ford is able to achieve an operating margin similar to North America, Asia-Pacific could add $7.7-$8.8 billion in incremental pre-tax profit.

Source: Valuentum
With virtually every major automaker including GM (NYSE:GM), Volkswagen, and Tesla (NASDAQ:TSLA) gunning for the Chinese consumers' dollars, we note that North American margins may be difficult to achieve in the Asia-Pacific region. But even a 5% operating margin would assure the company of an additional $3.4-$4.4 billion in pre-tax profits, potentially doubling Ford's total automotive profit. Given Ford's present valuation, the market isn't factoring the massive potential of emerging market expansion.
Valuentum's Take
Ford is poised to have a new profit center in its Asia-Pacific geography, and we wouldn't be surprised to see the segment account for a greater percentage of sales than North America within the next decade. Thanks to Mulally's restructuring efforts and the "One Ford" plan, the firm has been able to reduce its fixed cost structure, making the path to profitability clearer in Asia-Pacific, Europe, and South America.
We continue to believe shares of Ford have additional upside. Though the auto industry is notoriously cyclical, the company's structural improvements have created a much leaner company with greater earnings potential. By year end, Ford hopes to produce 85% of its vehicles on 9 platforms, giving the company a superior manufacturing structure while saving on research and development costs. Shares remain a core holding in the portfolio of our Best Ideas Newsletter.
Disclosure: I have no positions in any stocks mentioned, and no plans to initiate any positions within the next 72 hours. I wrote this article myself, and it expresses my own opinions. I am not receiving compensation for it (other than from Seeking Alpha). I have no business relationship with any company whose stock is mentioned in this article.
Additional disclosure: Ford is included in our Best Ideas portfolio.