The markets have been nothing if not volatile and this month has had far too many trading days on the Dow end with triple digit moves. One usually does not complain about such a thing when the market moves up, and sometimes when it moves down, but when the movement is sideways it is quite frustrating. Traders love it, computers love it and high frequency programmers love it, but ordinary investors do not and it will be interesting to see if they are scared off by the recent volatility and force the market to wait that much longer for their capital to come into play.
Chart of the Day:
Numbers over 50 are good, those under are not. That is the basic concept here. The Chicago PMI had its best reading since March 2012 last month and we are awaiting the numbers this morning to indicate to us whether this month was as good or better.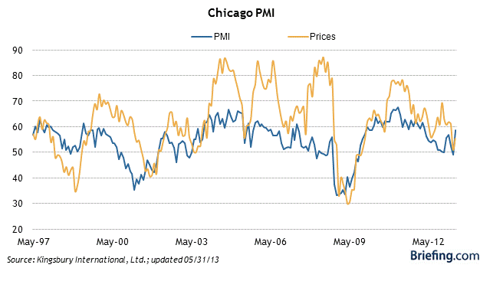 Click to enlarge
Chart courtesy of Briefing.com
We have economic news due out today, and it is as follows:
Chicago PMI (9:45 a.m. ET): 55.5
Michigan Sentiment - Final (9:55 a.m. ET): 82.7
Asian markets finished higher today:
All Ordinaries -- down 0.20%
Shanghai Composite -- up 1.50%
Nikkei 225 -- up 3.51%
NZSE 50 -- up 0.53%
Seoul Composite -- up 1.56%
In Europe, markets are lower this morning:
CAC 40 -- down 0.58%
DAX -- down 0.32%
FTSE 100 -- down 0.18%
OSE -- down 0.03%
Restaurants
This morning we want to revisit restaurants and discuss McDonald's (NYSE:MCD). The sector as a whole has been quite rewarding for readers since we pointed it out over two years ago and the one loser we had in the group has come roaring back so the entire basket of stocks is now green. Not bad. McDonald's has seen its shares stall out though as the company faces the new headwind of a strong dollar and inflation that is much lower than many anticipated. Ideally McDonald's would like to see inflation levels a bit higher in order to allow for the price increases they are known for because with rising prices competitors are put at a disadvantage. Long story short is that Mickey D's is very efficient at driving down costs in the supply chain, so inflation puts them at an advantage versus the other burger joints. Shares are approaching a resistance level that has held for over two years, so it should be interesting to see if it moves higher finally or retreats once again.
Are we going to see another breakdown or shall shares breakthrough this $100-105 resistance level?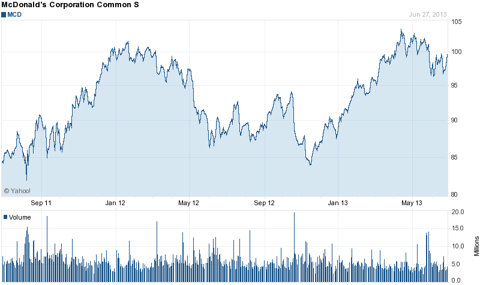 Click to enlarge
Chart courtesy of Yahoo Finance.
Telecom
T-Mobile (NASDAQ:TMUS) continues to garner attention from the trading pros and we have heard their name dropped as the best trading idea for quite a few talking heads on CNBC, Bloomberg, etc over the past few days. It is a trade which is not yet crowded and one of those stocks which could be perfectly situated for one of those meteoric rises due to the vast majority of shares being held by the parent company, Deutsche Telekom, and investors being able to easily bid up shares. Look for talk to continue to pick up surrounding Dish and that company's desire to get into the cellular market with T-Mobile's name being at the top of the speculators' lists as a takeover candidate.
T-Mobile has shown some serious strength as of late with shares powering higher to 3 month highs.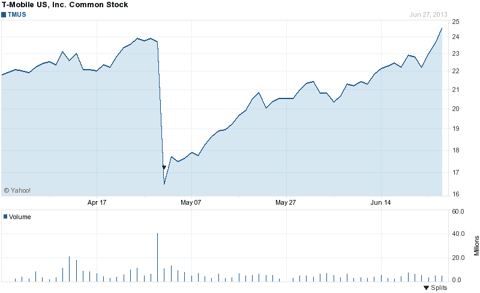 Click to enlarge
Chart courtesy of Yahoo Finance.
Technology
Apple (NASDAQ:AAPL) has now had two trading days where it closed below $400/share, and as we pointed out earlier the situation is looking less and less bullish. Investors are asking a lot of the company, and the requests are coming from all over the place. Higher payouts and return of capital to shareholders, new products, faster product life cycles, etc, etc. There used to be structure here, but it now seems that the kids are running the show and worse still is the fact that the company is no longer inspiring. Their new commercials leave one wondering what the heck just happened after watching one because they are so far from an Apple advertisement that until the very end no one knows what the commercial is about. Even after seeing one a few times we know people who cannot remember the brand...that is uninspiring, just like the stock right now and its performance over the past few months. Until a new product comes out it is hard to get excited about this one.
Financials
We were going over our notes to certain trades that we have played numerous times over the past year or two and came across our information on Regions Financial (NYSE:RF), which readers will remember having traded in and out of the stock from the $9/share level once we broke through that resistance and the $8s before that. During the most recent correction shares got back down to the $9/share level, which is now support, and have since rebounded. Like some of our energy trades, we want to make this a permanent channel trade. Buying around $9/share and selling for a 5-10% profit would be the goal, just like we did in the $8/share area.
Chart courtesy of Yahoo Finance.
One financial stock which just looks like an outright buy right now is American International Group (NYSE:AIG). It is a name we have remained bullish on since the $30s but with the top it has created the chart seems to be indicating that shares could break the resistance and move higher. If resistance is broken we would expect a strong move through it towards $50/share and that psychological level lends further strength to any rally. We think purchasing more AIG, and implementing a tight stop, would be a good trade here.
It has not happened often, but there have been times when AIG has seen these levels where it could not break through for a while. Notice each time a strong move upwards as it broke through resistance. The $35 and $40/share levels stand out to us.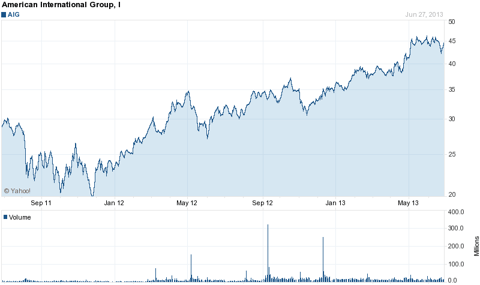 Click to enlarge
Chart courtesy of Yahoo Finance.
Disclosure: I have no positions in any stocks mentioned, and no plans to initiate any positions within the next 72 hours. I wrote this article myself, and it expresses my own opinions. I am not receiving compensation for it (other than from Seeking Alpha). I have no business relationship with any company whose stock is mentioned in this article.