This Great Graphic comes from The Economist. It depicts world GDP on a year-over year basis for the world, high income countries, the BRICS and other emerging markets.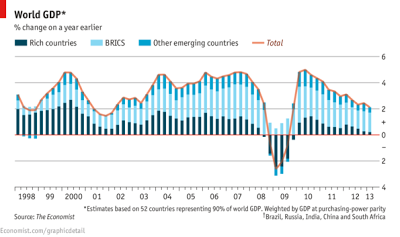 The Economist estimates that world growth slowed to a 2.1% pace in Q1 13, down a full percentage point from Q1 12. The high incomes countries are barely growing net-net. Europe is largely in recession. U.S. growth in Q1 has been revised lower. The prospects for Q2 look poor. U.S. growth has not improved, though the euro zone contraction may have eased, it is still appears to be contracting. Japanese growth is likely to lead again, with both exports and domestic consumption continuing to recover.
Emerging market often grow faster than the high income countries, though it does not always lead to superior asset returns. The BRICS have slowed, as have other emerging markets. The sharp rise in global interest rates starting in late-May will not help matters. The increase in interest rates is not a reflection of greater demand for capital due to increased activity. Rather the rise in rates reflects portfolio adjustments in response to the tapering talk the US (less stimulus is not the same thing as no stimulus), continued selling of foreign assets by Japanese investors, and the liquidity squeeze in China.
With the Fed officials trying to help the market understood the meaning of its forward guidance and the acute phase of the Chinese squeeze being alleviated, rates ease and stabilize. There remains a reasonable chance that global growth picks up late Q3 or early Q4.
Disclosure: I have no positions in any stocks mentioned, and no plans to initiate any positions within the next 72 hours. I wrote this article myself, and it expresses my own opinions. I am not receiving compensation for it. I have no business relationship with any company whose stock is mentioned in this article.