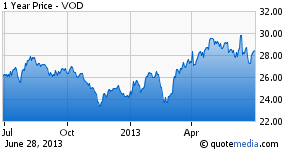 Vodafone Group Plc. (NASDAQ:VOD) announced that it will buy the largest cable operator in Germany, Kabel Deutschland (OTCPK:KBDHF), for around $10 billion. This acquisition will put it in a better position to tackle intensifying competition in one of its most important markets. It is paying a premium of approximately 40% on the current market price to acquire the 8.5 million connected homes and the high price shows its determination to succeed in Europe where its revenues have been affected by the increasing regulation and economic recession. Because of an approach recently by Liberty Global (NASDAQ:LBTYA), the price was pushed up though Liberty is unlikely to have had the resources to make a successful offer. Quadruple play services combining TV, broadband, mobile and fixed line telephone services are popular in countries such as Spain and France but the fragmented industry in Germany could put Vodafone in a strong competitive position. Moreover the advantage of cable is that Internet services can be provided up to five times faster than traditional telecom companies. Following the acquisition of Cable and Wireless last year, Vodafone has said that the acquisition would be financed from its existing banking facilities and cash balances. This would increase its debt/earnings ratio in 2013 from 2 to 2.4. It expects this synergies from the deal to exceed $400 million and the potential for revenue to be around $1.5 billion through cross selling and stronger customer loyalty. The deal is the largest acquisition by Vodafone since it acquired a controlling stake in Hutchison Essar in India for approximately $11 billion in 2007.
Vodafone as an investment
The results for the year ended March 31, 2013 showed revenues decline by 4.2% on a reported basis to 44.4 billion pounds, while EBITDA declined by 3.1% to 13.3 billion pounds. The decline in revenues was attributed to lower price realization as a result of the recession in southern Europe. However, the group adjusted operating profit increased 9.3% to 12 billion pounds exceeding the previous guidance, and adjusted EPS grew by 5% to 15.65 pence because of the successful businesses in other areas.
The stock has not done particularly well over the last decade and it currently trades at about half of its peak value but it has outperformed the index over the last three years. It is too large for an investor to expect spectacular growth but it can be expected to provide a respectable rate of growth especially after this latest acquisition. However, the money keeps coming in especially from its 45% share of Verizon Wireless and its new offering of high-speed data and next-generation fixed line access, Vodafone Red, which is expected to provide a solid base for future growth in revenues. It can also expect to see growth from emerging markets where its declared intention is to be a major player. The EPS is expected to grow by 4% in fiscal 2014 and 6% in fiscal 2015. The stock continues to be an extremely attractive income investment and the dividend has been raised by 7% so that the dividend yield is now in excess of 5%.
The jewel in the crown
No discussion about the value of Vodafone stock would be complete without taking into account the jewel in its crown, a 45% stake in Verizon Wireless. Verizon Wireless the largest player in the wireless service industry in the United States with almost 100 million retail connections. It posted revenues of $76 billion in 2012 on which it earned an operating income of $22 billion. Though there is no confirmed offer for this stake, reports suggest that the price for the stake could be between $100 billion and $130 billion. Vodafone carries the stake on its books at the value of $38 billion. Put another way, the current price of the stock of $29.61 means a market capitalization of around $138 billion which is just about the value of the Verizon Wireless stake. If you buy the stock today, you are getting the rest of the assets worth around $100 billion virtually for free. Another method of looking at this is to incorporate the value of the Verizon Wireless stake into the market capitalization and the resulting value of around $220 billion translates into a market price of at least $45 per share.
The bottom line
The key to unlocking the value of the Verizon Wireless stake depends on if and when it is sold to Verizon (NYSE:VZ) but it is reasonable to assume that this will happen in due course. I would recommend that you buy the Vodafone stock with a long term view and, of course, in the meantime, you can be at ease with the generous dividend yield of 5%.
Disclosure: I have no positions in any stocks mentioned, and no plans to initiate any positions within the next 72 hours. I wrote this article myself, and it expresses my own opinions. I am not receiving compensation for it (other than from Seeking Alpha). I have no business relationship with any company whose stock is mentioned in this article.