The Committee for Medicinal Products for Human Use (OTCQB:CHMP), on June 27, 2013, adopted a positive opinion to Dendreon UK Ltd, recommending the granting of a marketing authorization to that corporation for the medicinal product Provenge. The indication for which CHMP issued the recommendation is the following: "Provenge is indicated for the treatment of asymptomatic or minimally symptomatic metastatic (non-visceral) castrate resistant prostate cancer in male adults in whom chemotherapy is not yet clinically indicated."
According to the CHMP release: "The (agency) decided that the benefits of Provenge are greater than its risks following an assessment of data, including one main study that demonstrated improved survival of patients when compared with placebo. In general Provenge is well tolerated. The most common side effects are chills, fatigue, pyrexia, nausea, arthralgia, headache and vomiting."
The recommendation now will be forwarded to the European Commission, which must issue a legally binding decision. However, before this can occur, Dendreon (NASDAQ:DNDN) will be required to make two oral presentations, according to John Johnson, Dendreon's President and Chief Executive Officer. In discussing the company's European application for Provenge at the recent Bank of America Merrill Lynch 2013 Health Care Conference, Johnson noted "…they are looking for us to do oral discussions with two different panels and they have scheduled them back-to-back…." It is thought the two oral presentations will be separated by roughly 2 months. "They need the time between the two panels and so they altered our timeline. But we do expect a regulatory decision in the second half of this year."
Importantly, Dendreon already has a trial underway in Europe to demonstrate that sipuleucel-T can be successfully manufactured for subjects with metastatic castrate resistant prostate cancer (mCRPC) at a European manufacturing facility.
Said Johnson, "We do have contract manufacturing that we believe is, we've isolated who (we) have been moving forward with there and we are in discussions in a partnering strategy. … The focus is to partner Europe."
The news this morning is, without a doubt, positive. But still to be addressed are issues such as pricing in both challenging economic times and a competitive marketplace. As well, the company still faces obtaining approval on a country-by-country basis in the EU and the establishment of the logistics and distribution channels required for Provenge.
Importantly, Provenge is the only treatment for asymptomatic or minimally symptomatic metastatic (non-visceral) castrate resistant prostate cancer that has demonstrated a statistically significant overall survival benefit for patients who previously have not been treated with chemotherapy.
Technical Analysis
On the Daily chart, courtesy StockChart.com, the stock opened up strongly on the news of the European Committee's Opinion. Both the Relative Strength and Daily MACD are positive. The next line of resistance can be found at the 200-day moving average ($4.86).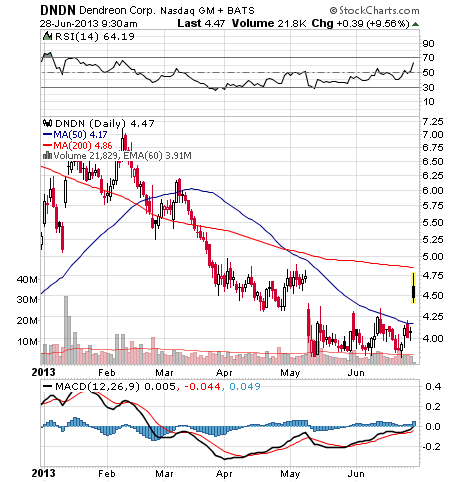 The Weekly data show the Relative Strength turning up. The MACD is neutral. Resistance can be found near the 50-week moving average ($4.90).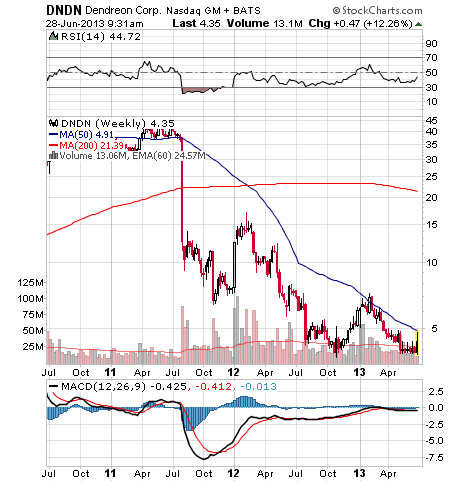 Disclosure: I am long DNDN. I wrote this article myself, and it expresses my own opinions. I am not receiving compensation for it (other than from Seeking Alpha). I have no business relationship with any company whose stock is mentioned in this article.
Additional disclosure: I am long DNDN. I am not a registered investment advisor and do not provide specific investment advice. The information contained herein is for informational purposes only. Nothing in this article should be taken as a solicitation to purchase or sell securities. Before buying or selling any stock you should do your own research and reach your own conclusion. It is up to investors to make the correct decision after necessary research. Investing includes risks, including loss of principal.