(Editors' Note: This article discusses a micro-cap stock. Please be aware of the risks associated with these stocks.)
In a week where we saw BIZM.OB and NORX.OB get halted on the OTCBB, it was hard to find good-looking charts in the penny stock world. But look no further than Cleantech Transit (OTCPK:CLNO), which has gone from $.005 a share in early March to over $0.25 a share in less than 4 months.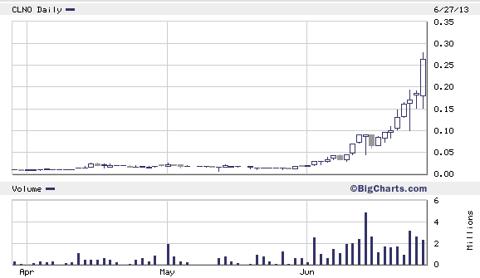 With a move like this, I became curious as to what caused the price to increase 5,000% in less than 4 months. Here is what I found:
On June 13, 2013 the company filed its 10-Q with the SEC. Within it is a wealth of information about the company. Glancing through the balance sheet, we have a company that reported $586 in cash for the period ending April 30, 2013. This company also reported $175,808 in current liabilities.

The company reported that it is a "Going Concern" with no revenues, and an accumulated deficit of $2,938,338.

As with most penny stocks, clearly the price appreciation for CLNO was not due to a strong financial position. Within the latest 10-Q are interesting disclosures under "Related Party Transactions."
On April 1, 2012 the Company entered into a one year management agreement with Crown Equity Holdings, Inc. Under the terms of the agreement the Company will pay Crown Equity Holdings $22,000 monthly, in cash. If the Company does not pay the amount in cash the Company will issue shares for the difference between $66,000 and the cash amount paid at the end of each quarter. The management agreement covered the period from May 1, 2012 to April 30, 2013.

On May 1, 2012, when this agreement first became effective, the share price closed at $0.055 a share. On April 30, 2013 the stock closed at $0.02 a share. Over the course of the 12-month management agreement, Crown Equity Holdings would be owed $264,000 for its services.
So how does a company pay $22,000 a month in cash when it is little to no cash in the bank?
During the year ended October 31, 2012 the Company issued 60,280,000 shares of common stock with a value of $132,000 ($0.0021 a share) for the management fees due for the quarter ended October 31, 2012. As additional compensation to Crown Equity Holdings, the Company issued 45,673,152 shares of common stock with a value of $237,500 ($0.0052 a share) for services rendered.

As of June 14, 2013 Crown Equity Holdings, Inc. owned 140,619,819 shares of CLNO.

This begs the obvious question, who is Crown Equity Holdings?
Crown Equity Holdings is registered in the State of Nevada and the entity information can be found here. They list their place of business at the following address: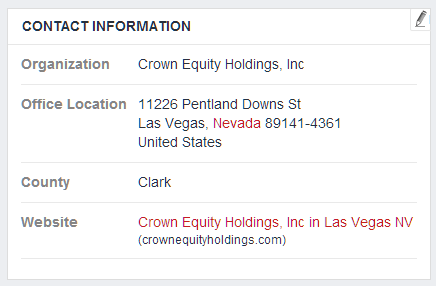 If you go to OTCmarkets.com and search for CLNO, you will find the same address for Cleantech Transit, Inc.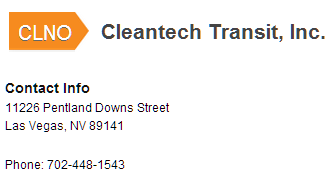 Comparing the Nevada Secretary of State website for Crown Equity Holdings with the OTCmarkets.com website for Cleantech Transit we see many of the same people. Montse Zaman is listed as a Director, Registered Agent, Treasurer and Secretary for Crown Equity Holdings as well as the Secretary, Treasurer, and Director for Cleantech Transit, Inc. Lowell Holden is listed as a Director for Crown Equity Holdings and the CFO for Cleantech Transit, Inc.
Crown Equity Holdings provides a number of different advertising campaigns for publicly traded companies as you can see here. They also use a number of different websites as seen here.


I have subscribed to most of the websites listed above. Since late February of 2013, an email has been sent out by at least one of these websites daily for roughly 4 months. Here is a copy of the disclaimer.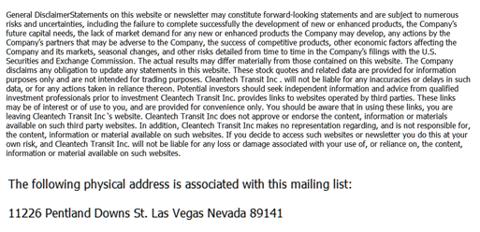 Nowhere in the disclaimer does it state that Crown Equity Holdings was compensated $264,000 for a 12-month management contract. The affiliated websites have also failed to disclose that as of June 14, 2013, Crown Equity Holdings owned 140,619,819 shares of common stock.
Conclusion:
Cleantech Transit, Inc. has seen an incredible 5,000% price per share appreciation over the past 4 months. The company has a little over $500 in cash, $175K in current liabilities, no revenue, and an accumulated deficit of close to $3,000,000. In addition, Crown Equity Holdings has been actively promoting Cleantech Transit, Inc. for the past four months and the insiders for both companies are the same people. Through their numerous websites, Crown Equity Holdings has failed to disclose their compensation and conflict of interest within their electronic correspondence. The SEC requires stock promoters to disclose whether or not they were paid, how much they were paid, and the source of the compensation. With the newfound vigilance by the SEC in suspending companies such as BIZM and NORX just this week, along with the fact that the largest shareholder of the company are the promoters themselves, I believe CLNO stock is significantly overvalued right now and doesn't come close to justifying a $80M market cap.
Disclosure: I have no positions in any stocks mentioned, but may initiate a short position in OTCPK:CLNO over the next 72 hours. I wrote this article myself, and it expresses my own opinions. I am not receiving compensation for it (other than from Seeking Alpha). I have no business relationship with any company whose stock is mentioned in this article.