Did Dish Network (NASDAQ:DISH) founder Charlie Ergen get anything from his Sprint (NYSE:S) and Clearwire (CLWR) gambit? We think it was a well planned effort which is probably not well understood. We see Charlie in a similar way to most entrepreneurs who are always trying to re-value their assets higher in the eyes of the market to give themselves more maneuverability in managing their businesses.
Charlie Ergen started accumulating terrestrial wireless spectrum years ago but really gained traction when he won and bought in a bankruptcy bid TerreStar as described in a Forbes article in 2011:
Dish recently acquired that spectrum from a bankrupt satellite company, TerreStar Networks, for about $0.23/MHz-POP. (The spectrum, which is located in the so-called S-band is not identical to SpectrumCo's spectrum, which is in the AWS or Advanced Wireless Services band, but has similar traits, says Nomura Securities analyst Mike McCormack.)
MHz-POP is a metrics used by the wireless industry to gauge pricing for spectrum assets by telecom players. It is calculated by taking the population of a particular license territory pursuant to an FCC auction or license and multiplying it by the size of the frequency license in MHz. For example, if an license territory for a region has a population of 10 million and you have an FCC license for 10 MHz of spectrum, you would have 100 million MHz-POPs. This is an overly simplistic way of determining a baseline because spectrum characteristics are very different as you move up and down the frequency ranges. But it is a way for analysts to do a cursory comparison for valuation purposes.
TMF Associates very aptly and clearly outlined many possible outcomes back in April 2013 in their analysis of the spectrum chess game between the telecom giants including AT&T (NYSE:T), CLWR and S nicely summarized in an excerpt here:
Does DISH have many other options left to build out a new network of its own, as opposed to selling the spectrum to AT&T and pursuing a merger with DirecTV? There still appears to be uncertainty about the status of a potential deal with Clearwire, though DISH's 10-Q confirmed (as I suggested previously) that it has raised its stake in Clearwire's debt by $400M during the third quarter to a total investment of $745M (note that Clearwire is not named in the 10-Q, but the amount invested is too large for the investment to be in LightSquared, given other declared holdings).
We view the recent exercise by Charlie as a way to up the value for his spectrum in the S band and AWS-4 wireless spectrum band which now totals 46 Mhz over his 150 million population footprint, resulting in 6.9 billion Mhz-Pops. Wells Fargo analyst Marci Ryvicker sees it this way and we agree:
Ergen could also sell his war chest of spectrum, valued at about $10 billion before the Sprint and Clearwire bidding wars. Ryvicker noted that Sprint's new bid for Clearwire, which values the company at $14 billion, increased the value of Dish's spectrum.
Ergen has often hinted about his strategy and most recently to the HollywoodReporter:
Ergen also compared the Sprint offer to the final two minutes of a Seinfeld episode. After all, Dish previously acquired wireless spectrum, raising questions about the satellite-TV giant's ultimate strategy. "There are lot of things that happen in the first 28 minutes of the show," Ergen said about Seinfeld. "But things come together in the last couple of minutes."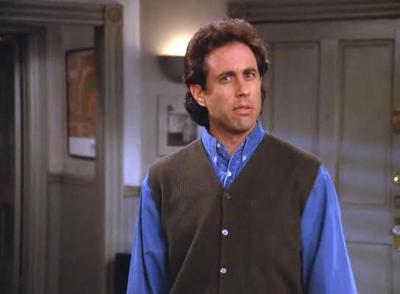 If Jerry Seinfeld was to do one of his "AHA MOMENT" episode endings staring into the camera, he would end the show with, "So all you really wanted was $4 billion more for the spectrum to sell to AT&T so you could get a better deal merging DISH with DirecTV (DTV) Charlie! Wise Man!" And DISH shares are starting to reflect his wisdom:
We think Charlie ultimately goes on to merge DISH with DirecTV. In this endeavor, he needs all the ammunition he can get to cut a good deal with his competitor and most coveted combination partner.
Disclosure: I have no positions in any stocks mentioned, but may initiate a long position in DISH over the next 72 hours. I wrote this article myself, and it expresses my own opinions. I am not receiving compensation for it. I have no business relationship with any company whose stock is mentioned in this article.