The Company
Freeport-McMoRan Copper & Gold Inc. (NYSE:FCX) is a leading international natural resources company with headquarters in Phoenix, Arizona. FCX operates large, long-lived, geographically diverse assets with significant proven and probable reserves of copper, gold, molybdenum, cobalt, oil and gas. FCX has a dynamic portfolio of operating, expansion and growth projects in the copper industry. FCX is also the world's largest producer of molybdenum and a significant gold, oil and gas producer.
FCX's portfolio of oil and gas assets include strong oil production facilities in California, a growing production profile in the onshore Eagle Ford trend in Texas, significant production facilities and growth potential in the Deepwater Gulf of Mexico and large onshore resources in the Haynesville natural gas trend in Louisiana. In addition, FCX is an industry leader in the emerging ultra-deep gas trend with sizable potential in the shallow waters of the Gulf of Mexico and onshore in South Louisiana.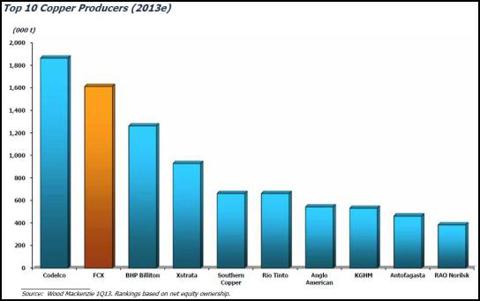 Introduction
This article will give an overview of the company's operations worldwide, beginning with a description of the production and reserves by product and geography. The current and future price of copper is a large determinant in the success of Freeport. Expected future supply and demand is discussed. Recent 2013 Q1 results are presented, as are historical sales and profits. The recent acquisition of oil and gas businesses is discussed. Risks are evaluated and alternate actions are presented for investors with different risk tolerances.
Resources
Freeport's resources are not static assets. Mining of copper and tapping of oil and gas reserves causes depletion of these reserves. However, through exploration and discovery, the proven and probable reserves at many properties are increasing as tons of copper and barrels of oil are added to the value of assets. In the case of copper resources, the mines acquired with the purchase of Phelps Dodge in 2007 were underexplored, and since that time, $1 billion in exploration costs has added 26 billion lbs. of copper reserves.
The company's largest single mine is the famed Grasberg Mine in Indonesia. Sometimes called the Eighth Wonder of the World, it is the second largest copper mine on earth. As the open pit resources are depleted, rich underground reserves are being developed. There are 240 miles of underground tunnels and another 540 miles of tunnels will be added throughout the life of the mine. Freeport, however, is not without other significant resources.

The vast Indonesian Grasberg resource contains 27% of Freeport's copper reserves, 31.0 billion lbs. of 116.5 billion lbs. It accounted for just 20% of its copper sales in 2012, lower than its potential output due to a disruptive labor action.
The remainder of the sales came from North America, 37%, South America, 34% and Africa, 9%. Total revenues were $18,010 million in 2012. Revenues for 2011 were $20,880 MM, 2010 - $18,892 MM, 2009 - $15,040, 2008 - $17,796. The price of copper is a key determinant of revenue.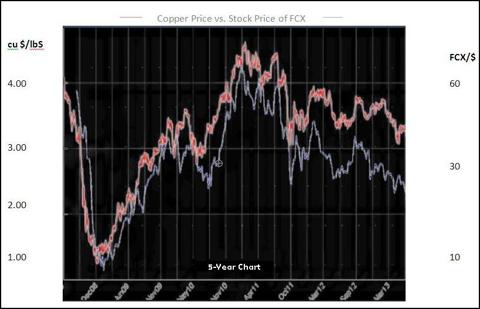 Acquisition of Oil and Gas Businesses
Freeport has just completed the acquisition of Plains Exploration & Production Company, PXP and McMoRan Exploration Company, MMR in May and early June of this year in transactions totaling $19 billion. The oil business consists of U.S. onshore production in California and the Eagle Ford Shale, and U.S. offshore production in deepwater Gulf of Mexico and California. The Q1 2013 production was 137 Mbbls/day. The acquisition included an active Exploration Business that contains many high quality prospects with a favorable risk/reward mix. The Gas Business is based onshore at the Haynesville Shale and on the Ultra-Deep Trend in Louisiana, which extends from onshore into the Gulf of Mexico on the shelf of the gulf. The Q1 2013 production was 303 MMcf/day. Total Oil and Gas revenues were $1,309 million in Q1 2013.
This acquisition adds diversity of product and an opportunity for additional growth. As shown in the chart above, the price of FCX stock and the profitability of the company is tied very closely to one publicly traded commodity, copper. This acquisition of oil and gas resources has precedent within the industry as BHP Billiton (NYSE:BBL)(NYSE:BHP) added petroleum holdings two years ago. While many miners are divesting non-core holdings, this major acquisition is best viewed as adding another core resource. Both the copper business and oil and gas business have great opportunity for organic growth through brownfield exploration and development.
Freeport's Oil and Gas business is forecast to double in the next 5 years. Estimated 2013 cash margin is approximately $3.3 billion on oil and gas revenues of $4.3 billion. Cash margin growth is predicted to be at a ~ 15% CAGR. Freeport believes there is potential to triple the cash margin by 2020.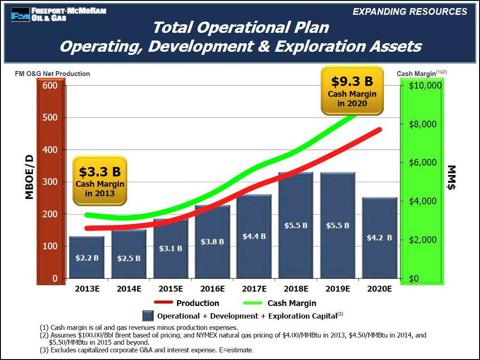 On the other hand, some have harshly criticized Freeport for this acquisition and the way that it was undertaken. The magnitude of this purchase, a $19 billion move by a $26 billion company, completely changes the nature of its business. Unlike the 2007 purchase and merger with Phelps Dodge, this is not with a copper miner, it is not with a miner at all. Usually when two firms merge there are some synergies and economies of scale which better the end results. That is not the case here. These firms were purchased at a premium by management that already had stakes in them, without giving FCX shareholders the opportunity of a vote.
At this point it is a done deal. Going forward it may be a positive force. However, be warned that management may have agendas not consistent with the wellbeing of shareholders.
Supply and Demand Issues
The copper industry, and mining in general, is facing a number of challenges. In a recent report, Ernst and Young commented on the change in the order of risks from the past.
The twin capital dilemmas of capital allocation and access to capital have rocketed to the top of the business risk list for mining and metals companies globally, up from number eight in 2012.

These are strategic risks that threaten the long-term growth prospects of the larger miners, and the short-term survival of cash-strapped juniors.
Ernst and Young presents the top ten risks graphically.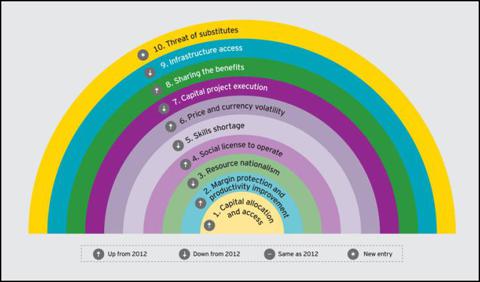 Specifically concerning the growth of copper supply, Andrew Harding, the president of the copper division at Rio Tinto (RIO), lists the challenges this way:
An increasing proportion of potential new supply is located in riskier countries.
More challenging environments subject to a lack of infrastructure imply an increase in the capital intensity of new projects.
Recent supply has continued to underperform with decreasing grades and disruptions impacting production.
Major causes of supply disruption will continue, some due to technical complexity, others due to labor strike action.
While it is increasingly difficult to get new projects to productivity, at present there is a slight surplus of copper available in the marketplace. This has caused the price to drop in recent months. The slackening of demand due to the continuing economic slowdown, especially the slowing of growth in China, is part of the reason. It will be exasperated by new mining capacity that is coming on line in Indonesia, Peru and Mongolia.
This is an excerpt from an Australian Government report that was released this spring.
In 2012 copper prices averaged US $8,098 per tonne (in 2013 dollars), an 11 percent decrease from the 2011 average price. In 2012 prices peaked at US $8,650 before finishing 2012 at US $8,046. Reported copper stocks at the end of 2012 remained at a similar level to the end of 2011 at 2.7 weeks of consumption.

Copper prices will average around US $7,778 a tonne in 2013, a decrease of 4 percent compared to 2012. This forecast decrease in prices is the result of copper supply growing faster than copper consumption.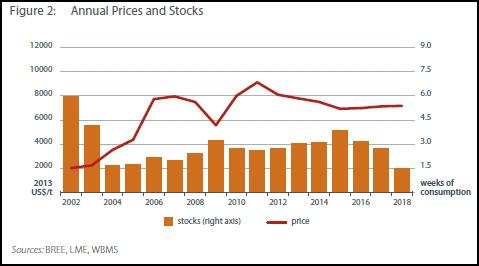 Below is a table prepared by Goldman-Sacks that quantifies the percentage of increase in supply and in demand by year. This is from an excellent Seeking Alpha article, The Copper Oversupply by Commodity Market Intel, which I highly recommend for more depth on the matter.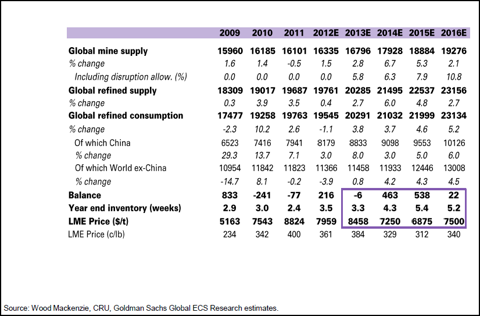 There is no doubt, however, that the demand for copper will catch up with and exceed the available supply. Will that be in 2016? 2018? Freeport should be well prepared to support the longer-term supply needs. The plan is to add 1 billion/lbs. of copper production per year for the next 5 years. This is how they see the demand increasing,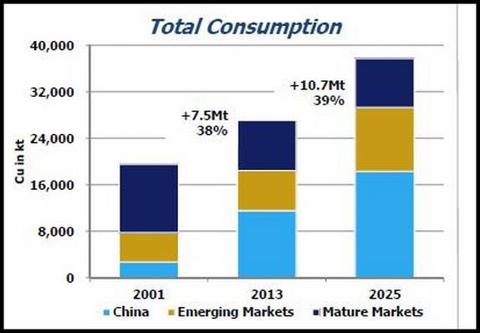 Revenue and Costs
Freeport released their 2013 Q1 results on June 24, 2013.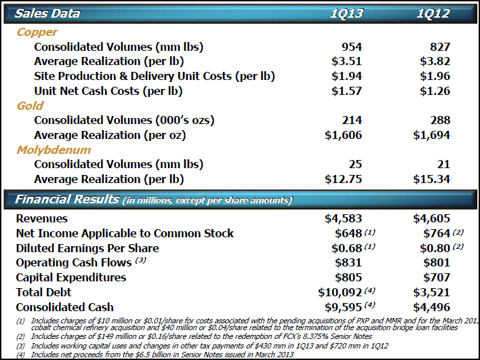 While the revenue is below that of a year ago, so is the price of copper. It is reaching multi year lows.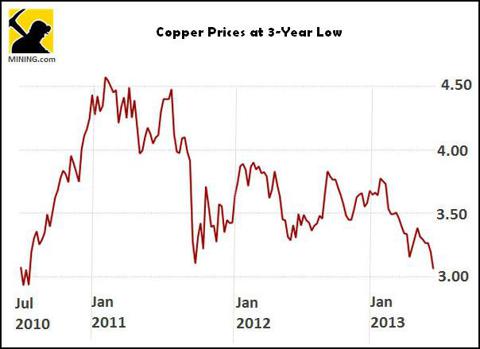 Leadership
Freeport is a capably managed company that has a very defensible income statement and balance sheet. While it has just taken on a significant amount of debt, at the same time it has a plan to retire that debt. I believe that part of its business strength is that the Chairman of the Board, James R. Moffitt, and the Vice Chair, President and CEO Richard C. Adkerson. Both men once held high level positions with major accounting/consulting firms. They clearly understand the numbers, and do well managing them. They have also lowered some of the commodity price risk by skillful hedging.
However, Morningstar rates the firm's stewardship as poor. This is because of the heavy handed way the recent acquisition of the oil and gas business was acquired, and because leadership had an apparent interest in one of those companies. The ISS Governance QuickScore, as reported by Yahoo Finance, for FCX is 10. In its system, 1 indicates a low governance risk and 10 indicates a high governance risk. The pillar scores are Audit: 1; Board: 10; Shareholder Rights: 8; Compensation: 10.
Value
FCX by most measures is undervalued. Morningstar rates the opportunity 4 stars, and sets a fair value at $34. However, this represents a recent reduction from $40. The stock is currently selling at about $27. This is near its 52-week low, down 34% from the high and down 16.43% year to date.
The firm recently affirmed that it was going to keep its dividend at $1.25 for 2013, and this produces a yield of 4.66% at today's price. The company has a forward P/E of 7.8 and is rated 2.2, a buy, by analysts.
Recommendation
Because of the looming oversupply of copper, the business may not be very profitable through 2014. However, based on the current numbers, and at least moderate success in implementing the plans they have laid out, Freeport should prosper in the intermediate and long term.
There are many risks and that is reflected in the beta of this company, which is 2.40. Aside from that quantifiable measure, a good part of the firm's future is dependent on the price of a commodity, something outside its control. While its costs, in the $1.60/lb range, are below industry averages they are not the lowest cost producer. In Indonesia there is a high risk of continuing labor problems and risk that the country will impose additional tariffs to those agreed upon in the past.
The addition of the gas and oil companies is an unknown factor.
For the investor who can tolerate the risks, I believe this could be a good intermediate term to long-term buy. To get adequately compensated for taking those risks, I would look for a little more distress and seek a buy price under 20. The book value per share is $18.80.
I would not recommend this stock this for the income investor. I believe that similar yields can be obtained in more stable situations. The larger and more diversified miners, BHP Billiton and Rio Tinto, are yielding very near that amount. Outside of the sector AT&T (NYSE:T) yields 5.20% and do numerous other firms.
Many conservative investors plan to wait a year after a merger or acquisition to get a better idea how things will proceed. Certainly that is a reasonable approach.
Primary Resources
July 24, 2013 New York Presentation
For my other mining articles please see my Author Site
Disclosure: I am long BBL, T. I wrote this article myself, and it expresses my own opinions. I am not receiving compensation for it (other than from Seeking Alpha). I have no business relationship with any company whose stock is mentioned in this article.