The second quarter of 2013 is drawing to a close and Apple (NASDAQ:AAPL) is poised to report fiscal third quarter results in late-July. Fiscal third quarter revenue is seen to be light when compared to recent quarters. Apple's own revenue guidance made back in April was between $33.5 billion to $35.5 billion. Analysts are currently estimating that Apple will earn $7.33 per share on revenue of $35.2 billion, representing flat year-over-year growth in revenue but a 21% year-over-year decline in earnings.
Some analysts are particularly downbeat on current and next quarter iPhone unit sales and have cut their estimates to as low as 24 million units in the current quarter and 25 million units in the next quarter after channel check suggests diminished production levels at Apple suppliers and iPhone inventory build-up at wireless carriers.
However, in light of the recent trend in web searches on iPhone related keywords, market share data, changes in Apple's pricing strategy, and expansion of its distribution channel into the pre-paid/no-contract wireless carriers in the U.S., iPhone unit sales in the current and next quarter might be able to exceed pessimistic expectation.
iPhone Keyword Web Searches Remain Steady
iPhone unit sales in recent quarters were closely tied to new model releases. There was great variability from quarter to quarter depending on whether it was at the initial launch of a new model or the tail end. The volatility created a lot of uncertainty for investors, especially after the new iPhone model had been out for a few months and much of the early heightened demand had been met. Right now, we are at that point of the product cycle that tends to see much slower unit sale growth.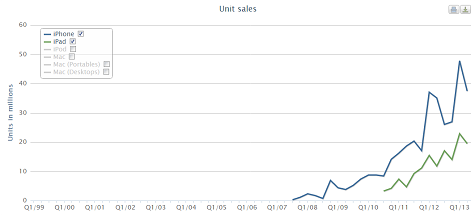 (Source: Bare Figures)
It is difficult to gauge underlying demand in iPhone. Analysts have often relied on frequent independent channel check with suppliers and customers (i.e. the carriers). The downside of that approach is no channel check could be so comprehensive that covers all facets of the company's operations. As a result, the insight gained from channel check could be incomplete.
Morgan Stanley has done extensive research on incorporating web-based evidence gathering to stock research and its findings have shown that tracking product interest through web searches could be well suited to understanding product demand and market share changes:
"New Product Demand: Product demand is often revealed in web searches conducted by consumers and businesses. A web search can indicate interest by the user in the subject, but does not guarantee that the interest will translate into an actual transaction. However, for many products (e.g., those which require deliberation), tracking interest is a good reflection of overall demand."


"Market Share Changes: Given that many aspects of researching a company's products have moved to the web, web searches can provide a timely view of the changing tastes of consumers/clients, provide a window into the level of interest in new entrants, and thus provide early signals for market share changes."
Using Google Trends and searching for worldwide interest on generic smartphone OS keywords on web searches since 2007, I found that there appears to be a fair amount of correlation among the number of smartphone OS keywords on web searches, actual iPhone unit sales, and smartphone OS market share changes.
As the chart above shows, interest in the iPhone keyword on web searches in the last two years fluctuated widely, peaking when the iPhone 4S and iPhone 5 were first released and then dropped off drastically. This pattern looked very much like the pattern observed on actual iPhone unit sales. On the other hand, interest in the Android keyword on web searches had kept steady after rising rapidly. This was consistent with the steady gain in market share by Android smartphones.
A closer look at the past 12 month data using actual product names as keywords revealed that iPhone 5 interest has stabilized since February 2013 after blockbuster sales during the Christmas quarter. Interest for Samsung's (OTC:SSNHY) Galaxy S4, its closest Android competitor, had a brief spike when it was announced in late March but weakened in subsequent weeks. Interest in iPhone 5 was also higher than interest in Galaxy S4. This suggests that demand in iPhone 5 remains steady and bodes well for unit sales trend.
iPhone Market Share Holding Up Well
The latest figures released by IDC in May 2013 indicated that Android smartphone had been gaining market share mostly at the expense of other less popular mobile OS such as Windows Phone, BlackBerry, and Nokia's (NYSE:NOK) Symbian that are at the lower end of the market where iPhone did not compete. In fact, the iPhone market share had mostly stood its ground and averaged about 20% over the past five quarters, after taking into consideration of the cyclical variations. If recent reports of disappointing Samsung Galaxy S4 sales were proven to be true, iPhone 5 sales may actually stand to benefit.
iPhone 4 and 4S Are Selling Well
While Apple is said not to directly compete in the mid-end of the smartphone market, it has not been completely ignoring that segment either. Apple is selling the older generation iPhone 4 and iPhone 4S at $100 to $200 below the current iPhone 5 model, and sales are believed to be brisk. The lower price point appeals to first time smartphone buyers converting from feature phone who do not necessarily need all the bells and whistles found in the latest iPhone 5. Once these new users become committed to the Apple ecosystem, they are likely to remain long term users and are natural candidates for future new iPhone models. Studies have also found that the technical hurdle and cost of switching are high enough to deter many from switching to another smartphone platform.
Despite selling the iPhone 4 and 4S at a lower price, gross margin may still be close to the level of iPhone 5 as production costs have come down over time. Therefore, as long as Apple can continue to innovate on the newest iPhone model to make it a convincing buy at the high-end, older generation models could be used to compete at the mid-end to broaden user base and expand sales while maintaining iPhone as a premium brand.
A Convincing Upgrade Path For Earlier Generation iPhone Users
The new iOS 7 represents the first major redesign of the iOS since 2007. Although the software is still in beta testing and not expected to be released until September, it has already garnered good impressions from developers. iOS 7 sports a redesigned user interface with many visual and usability element changes. Apple has incorporated many innovative ideas originated from its third party developers and from Android to address some of the shortcomings in its previous iOS versions such as true multi-tasking, improved control center and notifications, and integration with car systems. Business users will also get better business-friendly features such as separation and protection of personal and work data, more convenient iPhone users management on corporate networks, and tighter security. There is no single game changing feature or service, but there are enough changes that iOS users can look forward to.
iOS 7 is only supported on the relatively recent models of iPhone 4, iPhone 4S, and iPhone 5. For iPhone 4 and 4S users, some of the features that require the faster processor speed found in iPhone 5 are also not supported. For many iPhone 3G and iPhone 3GS users who have held off upgrading, the combination of completely refreshed operating system with vastly improved feature sets and the hardware prowess of the new iPhone 5 operating on a very speedy LTE network could be a very convincing reason for them to upgrade.

(Source: GSMArena.com)
Promotional Pricing Strategy For iPhone 5
During the past few weeks, Apple has started offering promotional discounts of $50 to $100 on current and previous models to spur sales. There were additional incentives tied to trade-in of older iPhones. The discounts are usually offered at retail outlets of its distribution channel partners such as Best Buy (NYSE:BBY) and AT&T (NYSE:T) Wireless and seldom found at Apple stores. These promotion helped to incentivize prospective buyers to make a purchase at times of cyclically low demand. When iPhone 5 was first launched, there was little price elasticity of demand even at high prices starting from $649. However, after it had been in the market for a few months and the early demand was met, simple economics suggests iPhone sales volume could respond more favorably to lowering of prices.
Distribution Channel Expansion
Buying an iPhone used to require signing up for a two-year contract with one of the major wireless carriers. However, beginning in June 2012, iPhone 4 and iPhone 4S were made available to users on the Virgin Mobile USA and Cricket prepaid wireless networks operating on Sprint's network. These carriers compete mostly on price and appeal to cost conscious customers with their low cost no-contract prepaid wireless plans. Since then, Apple has inked additional deals with another emerging prepaid wireless carrier, Straight Talk, and most recently with T-Mobile USA (NASDAQ:TMUS). As production has caught up with demand for iPhone 5 at major wireless carriers worldwide, Apple had moved to make iPhone 5 available to T-Mobile USA in April and to Cricket, Straight Talk, and Virgin Mobile in June.
Initial iPhone 4 and 4S sales at Cricket were not as successful as the company had hoped and Cricket disclosed that it had sold only half of what it had contracted to buy in the first year. Virgin Mobile did not disclose official iPhone sales figures but it was believed that sales was a bit lackluster. I believe one major factor affecting sales was the Sprint (NYSE:S) 3G network these two prepaid carriers operate on. Network speed tests conducted by research firms and tech websites have consistently ranked Sprint's 3G network as one of the slowest among the four major carriers. Since iPhone users are known to be heavy data users, a slow data network would be seen as a major impediment that discourages iPhone sales at these two carriers. However, that situation has begun to improve in recent months. Sprint is building out its nationwide LTE network that currently covers 88 cities with 170 cities to launch in the coming months. The new iPhone 5 running on Sprint's LTE network should enjoy comparable data speed as those at AT&T and Verizon (NYSE:VZ). Given that wireless plans at these two carriers are very competitive, there could be better uptake rate of iPhone 5 at these two carriers.
T-Mobile USA is the fourth largest wireless carrier in the U.S. and has recently merged with Metro PCS. Like Sprint, T-Mobile is in the middle of building out its nationwide LTE network. Current LTE network coverage is still sparse with only 7 cities but that could be extended to an additional 21 cities by end of July 2013. By the end of 2013, T-Mobile could achieve 200 million covered population with 4G LTE. In areas where LTE coverage is not available, T-Mobile iPhone 5 users can fall back on the company's HSPA+ network that offers up to 42 mbps speed which sometimes can exceed LTE network speed. For that reason, slow data speed performance on T-Mobile's network is not a concern for prospective iPhone 5 users. As part of the merger transaction, T-Mobile acquired 10.5 million prepaid customers and now serves 43 million customers. These new customers represent untapped demand that could be converted into iPhone users with the right amount of incentives. Demand for iPhone 5 at T-Mobile appeared to be quite strong as T-Mobile reported sales of 500 thousand iPhone in the first month of availability. At this rate, T-Mobile could easily see 1.5 million to 2 million iPhone sales per quarter.
Implication On iPhone Unit Sales And Conclusion
Apple sold 26 million iPhone in fiscal 2012 third quarter, before it made the push into the prepaid/no-contract wireless carriers market. The older iPhone models ran on a slower 3G network and were also technologically less powerful than the current iPhone 5 model. A year later, despite greater competition from Android, iPhone market share was found to have held up well and did not lose significant ground in the high-end segment of the market. Apple had also made adjustments to its marketing, pricing, and distribution strategies to make iPhone more widely available to non-iPhone users as well as to encourage existing users with older generation iPhone to upgrade. Web search data trend further corroborated the idea that demand in iPhone had not fallen off as dramatically as some may feared.
Taking these into consideration, I feel recent efforts by Apple may be able to mitigate some of the effects of cyclically low demand in iPhone and Apple might be able to achieve 27 - 28 million of iPhone sales in fiscal 2013 third quarter with incremental contribution from T-Mobile and continuing brisk sales of iPhone 4 and 4S.
Disclosure: I am long AAPL. I wrote this article myself, and it expresses my own opinions. I am not receiving compensation for it (other than from Seeking Alpha). I have no business relationship with any company whose stock is mentioned in this article.