Durata Therapeutics (NASDAQ:DRTX) is developing Dalbavancin, an intravenous antibiotic product candidate, for the treatment of patients with acute bacterial skin and skin structure infections, or ABSSSI. I am interested in DRTX not only because it's a biotech company with significant near-term catalysts, which I'll elaborate on later, but also because of the venture capitals that back the company behind the scene. I am intrigued by the history of deal-makings of these venture firms.
In 2009, five venture firms formed Durata to acquire Pfizer subsidiary Vicuron and its Phase III drug, Dalbavancin. The five firms are Aisling Capital, Canaan Partner, Domain Associates, New Leaf Venture Partners and Sofinnova Ventures. This transaction enabled venture firms to piggyback on the highly valuable investment that has gone into an asset that is no longer priority for Pfizer. Pfizer paid $1.9 Billion for Vicuron in 2005. Among the drugs, Dalbavancin was touted as the top program. At that time, Dalbavancin had already successfully completed three Phase 3 trials. These trials were completed in May and June 2004 and were designed and conducted pursuant to prior FDA guideline, which the FDA revised in 2010 and are no longer in effect. The spin-out of Dalbavancin from Pfizer is not because anything went wrong with the drug per se, but simply the prolonged development timeline no longer fit the Pfizer's strategic planning.
Clearly, Venture investors saw an unusual opportunity in Dalbavancin. New Leaf Managing Director Ron Hunt said, "Because of once-a-week dosing, we think it has the opportunity to be quite a large drug." The dosing advantage could limit or even eliminate the admission of patients for treatment in the hospital, and thus reduce overall cost to the healthcare system, improve patient compliance and decrease the spread and cost of MRSA. Although Dalbavancin does not have an oral form, it is also appropriate for use in oral step-down segments of treatment. Patients receiving oral treatments have significantly lower compliance rate and, as a result, may be at increased risk for hospital readmission.
These venture firms are highly experienced and have long successful history in investing antibiotics field. In 2009, Calixa Therapeutics, an antibiotics start-up funded by Canaan, Domain and Frazier Healthcare Ventures, was acquired by Cubis for $402.5 million in cash and milestones. Canaan, Domain and New Leaf were also among the investors in Cerexa Inc., an antibiotics company acquired by Forest Lab in 2007 for just under $500 million. In April 2008, Aisling, Domain, Alta Partners and Arboretum Ventures funded Esperion Therapeutics Inc., which is also a spin-out from Pfizer.
If history is any indication, the venture capitals could very likely strike another deal and sell Durata to some big pharmas in the near future. Although the timing of M&A could be highly un-predictable, Durata also offers traders a series of highly predictable near-term catalysts.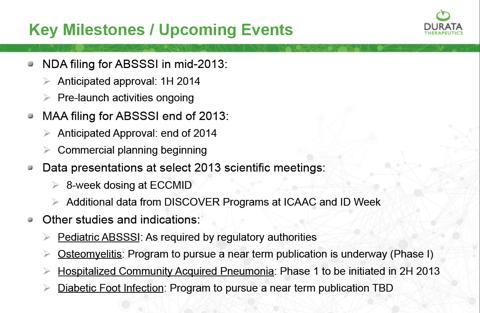 Source: Jefferies 2013 Global Healthcare Conference
The company is expected to file NDA in the mid-2013 and MAA at the end of 2013. Run-up to PDUFA has been a classic trade in biotech world. In my opinion, Durata is in a near perfect set-up for such run-up. When I evaluate the potential run-up trades, I consider below factors:
Clinical risk
Financial risk
Current stock price and chart
Valuation
Now let's evaluate Durata against these factors.
Clinical Risk
There is almost no clinical risk at this point now. The company has successfully completed two Phase 3 trials under SPA. All the primary and secondary end points are met. The table below summarizes the results.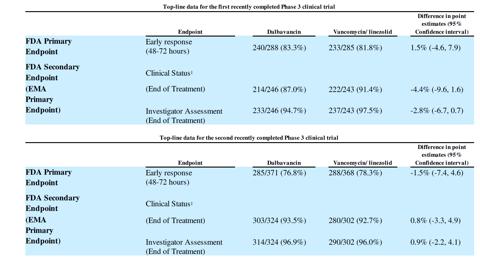 Financial Risk
The company has $46M cash at Q1 2013, raised another $54M in April, and $20M debt financing. At current burn rate $15M per quarter, the company is well funded till the mid-2015. By then, the company could already be profitable.
Current Stock Price and chart
Right now Durata is trading near 52-week low and around strong support line. I expect it will reach $10 at minimum in the next several months.
Valuation
Five analysts covered Durata. According to Yahoo Finance, the high target is $17 and low target is $12. Even if the stock reaches the low target, the 70% return is still very impressive.

DRTX's current market cap is $194M. The nearest competitors, TSRX and CEMP are valued at $370M and $194M. CEMP is no-where near NDA filing yet. I expect DRTX will close the valuation gap once it gets more attentions. All the insiders and venture capitals never sold a single share since IPO. They know better than anybody else that DRTX is under-valued.
In summary, the current weakness of stock price offers a great opportunity to buy DRTX, not only for the inevitable run-up to NDA filing and PDUFA, but also a lottery ticket for potential buy-out.
Disclosure: I am long DRTX. I wrote this article myself, and it expresses my own opinions. I am not receiving compensation for it. I have no business relationship with any company whose stock is mentioned in this article.