After touching its five-year high of $18.33 per share in April, Cardinal Financial Corp. (NASDAQ:CFNL) has fallen 20% to where it currently trades for $14.67 per share. Prompted by this pullback, I have provided below a review of the company's finances and current valuation to help determine where this regional bank is going.
Company Overview
Cardinal Financial Corporation has a market cap of $448 million and is headquartered in Tysons Corner, Virginia. It operates primarily through its banking subsidiary Cardinal Bank and has locations throughout the Washington Metropolitan region. The company competes in this area with Fidelity Southern Corp. (NASDAQ:LION) and StellarOne Corporation (NASDAQ:STEL), both of which I will be using for comparisons throughout this article.
Margins and Performance (in thousands)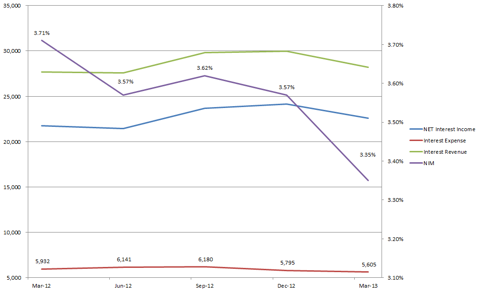 Click to enlarge
Over the past five quarters, Cardinal has managed to keep interest revenues and expenses fairly stable but as you can see above, NIM in the last quarter dropped 6.2% to 3.35%. This is within a normal range of its peers but Cardinal's 5-quarter NIM average of 3.56% is slightly lower than StellarOne and Fidelity Southern's 5-quarter averages of 3.77% and 3.79%, respectively. Standing out however is Cardinal's superior cost controls that helped contribute to a 5-quarter average efficiency ratio of 54.76%, compared to Fidelity's average of 68.99% and StellarOne's average of 68.37%, respectively.
Efficiency Ratio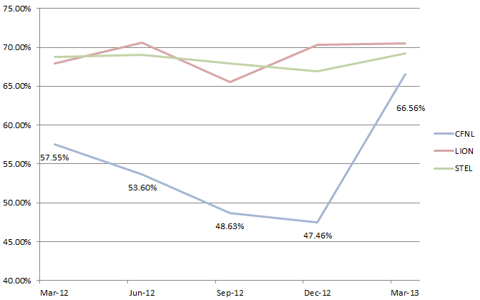 Click to enlarge
Lower NPLs
Going forward, and highlighted below, shareholders stand to benefit from CFNL's work on lowering the amount of nonaccrual loans in the portfolio. Over the past 5-quarters, CFNL has lowered NPLs by 59%. Long-term this will go far in advancing net incomes because a lower amount of money will be required for provisions and allowances. And, on that front, one could say CFNL's bottom-line has been held down some lately by management's over-conservative loss estimates. Allowance for NPLs currently stand at 4.8X's NPLs and last quarter saw the first of, what I believe to be, more easing as the company recovered $222,000 more than it charged-off and registered a related gain (rather than provision) of $457,000. In comparison to CFNL's 4.8X NPL allowance, LION's allowance to NPLs currently stands at 0.4X while STEL's is approximately 1Xs.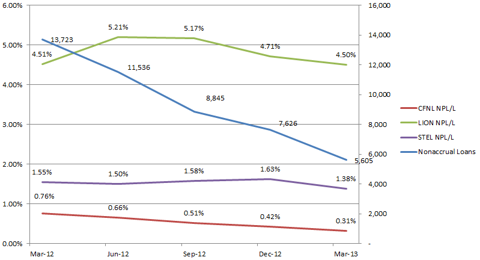 Click to enlarge
Future Is All About Increasing Deposits and Loans
1. In addition to improving loans, Cardinal's deposit base grew 12% since March 12, which increased its asset/equity ratio to 8.99Xs. This, and future deposit growth, will help maximize equity returns from ROA inputs and provide lower cost funding for new loans (both ingredients for a higher NIM). Since March 12, Cardinal's average quarterly ROE has been 14.55%, which compares to LION's average of 13.9% and STEL's average return of 5.2%. During the same time, ROA for CFNL, LION and STEL has averaged 1.5%, 1.06% and 0.7%, respectively. Below is a look at the three companies' ROE and asset/equity valuations. Keep in mind, STEL's much higher A/E ratios translates into a higher ROE on a lower ROA.
ROE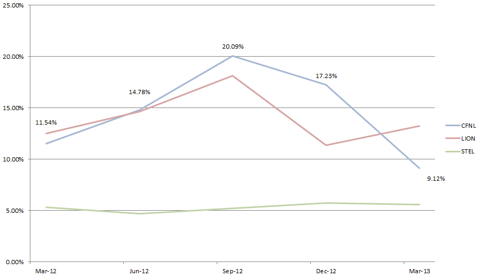 Click to enlarge
Assets/Equity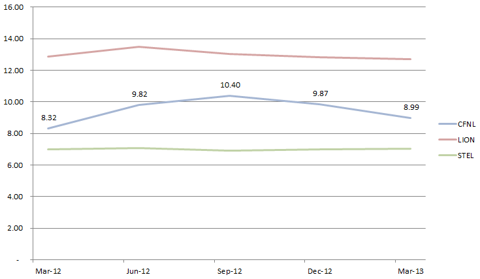 Click to enlarge
Higher A/E = Higher ROE per ROA
2. So, how does Cardinal increase its A/E? More loans! While nonperforming loans and returns have all improved, the amount of loans generating money for the company decreased 9.1% over the last five quarters. In that same time, StellarOne's loan balance declined 3% but Fidelity's increased 14%. Based on the fundamentals already highlighted, I'm not too concerned with this figure short-term but it is important to point out because ultimately, more loans equal more income and a higher ROE. And, luckily for investors, management has taken a step toward tackling the lower loans by announcing recently its plans to open a new mortgage generating office in Virginia Beach. As you can see below, commercial real estate makes up the bulk of the loan portfolio (45.6%) but it was the only loan type that grew (up 2.8%) from 4Q2012 to 1Q2013. Going forward, and with the help of the new mortgage office, I expect residential real estate to improve the most but an eye needs to be kept on all lines for further improvements.

Click to enlarge
Bottom Line
After the pullback, Cardinal shares look cheap and trade with a low P/E of 9.9 and forward P/E of 9.5. At $14.67 per share, Cardinal has a P/TB of 1.46 and has a dividend yield of 1.6%. Earlier this year, it was announced that United Bankshares (NASDAQ:UBSI) was going to acquire Virginia Commerce (NASDAQ:VCBI), a regional bank in the same area with similar market cap but lower performance ratios, for approximately 1.82 tangible book value. At 1.82 times Cardinal's tangible book, shares would be valued at $18.23 per share today. Based on this, and the highlights and catalysts/opportunities mentioned above, I don't think it will be hard for Cardinal to achieve or beat the current price target of $17.29 and maintain its above average ROE, which indicates a conservatively estimated gain of 17.9% in-store for shareholders this year.
Disclosure: I have no positions in any stocks mentioned, and no plans to initiate any positions within the next 72 hours. I wrote this article myself, and it expresses my own opinions. I am not receiving compensation for it (other than from Seeking Alpha). I have no business relationship with any company whose stock is mentioned in this article.