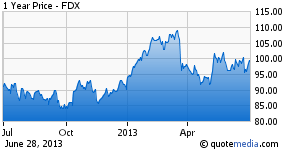 Shipping powerhouse FedEx (NYSE:FDX) reported better than anticipated fourth quarter results. Revenue grew 4% year-over-year to $11.4 billion, roughly in-line with consensus estimates. However, adjusted earnings per share climbed 7% year-over-year to $2.13, easily exceeding consensus expectations. This "beat" came after the company reduced its guidance in the preceding quarter, so we still do not believe results were that great. Still, the firm did an effective job of lowering capital spending, so full-year free cash flow increased 59% year-over-year to $1.3 billion. Volumes for the year were also light, with average daily shipments falling 1% year-over-year in the US and with international export volumes increasing only 3%.
FedEx's Express segment showed marginal sequential improvement during the fourth quarter, with revenue growing 3% year-over-year to $7 billion, compared to 2% revenue growth in the prior quarter. Thanks to several successful cost-control initiatives, adjusted operating income jumped 11% year-over-year to $460 million. The US performed reasonably well, with volumes 2% higher than a year ago and price-per-pound up 1%. On top of solid domestic results, the company announced that it inked a 7-year, $10.5 billion deal (with revenue upside) with the United States Postal Service (USPS) to handle airline-haul traffic. Although the deal is worth less than the prior arrangement, we think the agreement strengthens FedEx's relationship with the troubled department. Given the current state of the USPS and political environment, we could see some reductions in the size of the postal system, leaving FedEx and competitors such as UPS (NYSE:UPS) with the opportunity to help shoulder the burden.
Meanwhile, FedEx Ground continues to show strong performance, with revenue up 12% year-over-year to $2.8 billion. The Ground business capitalized on e-commerce growth, which drove volumes 10% higher year-over-year during the fourth quarter. FedEx's SmartPost business, which leverages FedEx's transportation infrastructure and the USPS' daily routes for quick-shipping, posted a whopping 25% increase in shipping volumes. Though the segment's revenue remains a fraction of the Express business, we believe Ground is FedEx's growth engine. More efficient e-commerce distribution networks are dictating a shift in shipping modes, and companies continue to avoid more expensive methods like FedEx Express.
Looking ahead, the company provided lackluster fiscal year 2014 guidance. Management expects US GDP growth is expected to tally just 2.3%, while world GDP growth is just a touch better at 2.7%. Earnings per share are expected to increase 7%-13% during the year, but management anticipates capital spending in the $4 billion range. It seems as though the company spared free cash flow in fiscal year 2013 by pushing purchases into fiscal year 2014. As such, we think free cash flow will be slightly lower in fiscal year 2014.
Valuentum's Take
FedEx lowered the hurdle twice in fiscal year 2013, so we are somewhat skeptical of the firm's preliminary guidance for fiscal 2014. Fiscal 2013 wasn't a great year for FedEx, but free cash flow was strong, and the company continues to experience fantastic growth in its Ground business. FedEx is a strong company, but we think it needs more robust economic growth to achieve better earnings expansion. Therefore, we aren't interested in adding shares to the portfolio of our Best Ideas Newsletter at this time, nor do we see much value in the sector.
Disclosure: I have no positions in any stocks mentioned, and no plans to initiate any positions within the next 72 hours. I wrote this article myself, and it expresses my own opinions. I am not receiving compensation for it (other than from Seeking Alpha). I have no business relationship with any company whose stock is mentioned in this article.