By Rani Chopra
Paychex Inc. (NASDAQ:PAYX) shares pulled back Thursday after the company issued earnings which fell short of Wall Street's expectations along with a disappointing forecast for the full year. Earnings for the quarter missed the consensus forecast of 34 cents by 3 cents, coming in at just 31 cents per share. While revenue did rise by 6%, increased costs more than offset the impact of the revenue gain. Paychex went on to forecast revenue for the current year ending May 2014 to come in between $615 million and $620 million, while analysts had been predicting $621 million.
After experiencing a steady rise through most of the year, Paychex dropped 5.92% by mid day Thursday before recovering slightly to close down 3.66% on the day.
Could we have seen this drop coming? Where there signs?
On May 15, Paychex experienced its highest close of the year at $38.65 representing a gain of over 20% year to date. Over the next few weeks, Paychex pulled back closing at $36.66 on June 5th before climbing once again into earnings.
This earlier pull back may have been a bit of foreshadowing of things to come. Unexpected or abnormal price movements are often early warning signs of things to come. As negative information or updated analysis begins to hit the street, the "Smart Money" or the folks in the know often begin taking defensive action which can adversely impact the stock price. On June 13th, Paycheck triggered a SmartStops Risk Alert, a service which watches for abnormal price movements, placing it in the Elevated Risk State. There have been three follow on risk alerts issues since that initial alert and Paychex remains in the Elevated Risk State today.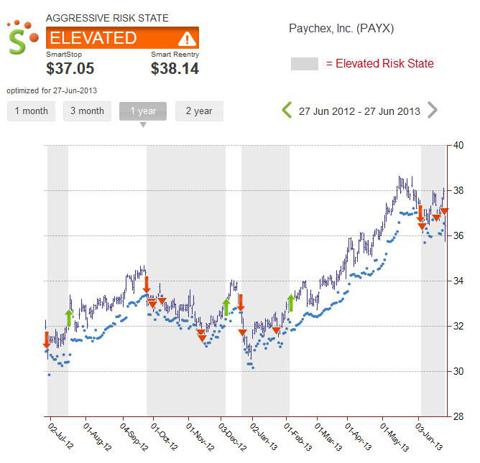 Source: SmartStops.net
The mid May pullback could have been read as a warning sign, but it also could have been a normal reaction to the recent run up perhaps being a little too far a little too soon. Regardless, to protect your gains while remaining in the game, it may be a good time to deploy stops or purchase protection by buying puts. Risk fluctuates over time, and it appears that the risk is higher than normal right now for Paychex.
Disclosure: I have no positions in any stocks mentioned, and no plans to initiate any positions within the next 72 hours. I wrote this article myself, and it expresses my own opinions. I am not receiving compensation for it. I have no business relationship with any company whose stock is mentioned in this article.