Not many people seem to have noticed that the S&P500 has outperformed emerging markets for five years now. Richard Bernstein is not one of those. As a Chief Investment Strategist at Merrill Lynch, Bernstein was known for making some unconventional calls. The biggest among them was getting bearish on technology stocks sometime in 1998, early but ultimately on mark.
These days he is not only bullish on the US but is equally bearish on emerging markets. He believes that investors are overestimating the risks in US while underestimating the risks in emerging markets. His reasoning is that the kind of problems that investors think will occur in the US like runaway inflation and out of control money growth are already happening in emerging markets from China to India and beyond. And so the big call going forward is not going to be about a rotation from bonds into stocks but rather a choice between US assets and non-US assets.
Although emerging market equities have been under pressure for a while now, emerging market bonds are only now starting to react to the new realities. Over the last few weeks as the Federal Reserve in the US has indicated its readiness to taper off the bond buying program, investors have offloaded emerging market bonds that had been bid up in the search for yield. The search for yield has been the defining feature of this era, an era marked by some of the lowest interest rates in economic history. That appears to be changing now as the chart of an Market Vectors Emerging Market Local Currency Bond ETF shows ETF (NYSEARCA:EMLC) shows.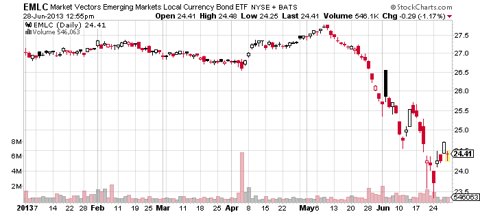 The fall has been steeper owing to the depreciation of local currencies against the US Dollar.
From emerging market equities to bonds and currencies, investors are swiftly swapping out from Indian Rupee, Brazilian Real and Turkish Lira denominated assets into assets denominated in US Dollars.
But this phenomena is not limited to just emerging market assets. Over the last several weeks, I have had clients from developed countries talk to me about increasing their exposure to US assets.
As I have pointed out earlier, this move into US assets could be the beginning of a secular move that could possibly last a long time.
One obvious way to benefit from this demand for US assets is to buy a broad based index like the SP500 (NYSEARCA:SPY) or the Russell 2000 (NYSEARCA:IWM). A better to participate in the revival of demand for US assets is to buy certain sector specific funds like the SPDR S&P Homebuilders ETF (NYSEARCA:XHB), the SPDR Select Sector Consumer Discretionary ETF (NYSEARCA:XLY) or the SPDR KBW Regional Banking ETF (NYSEARCA:KRE). Each ETF provides exposure to different segments of the US economy.
The SPDR S&P Homebuilder ETF should benefit from the demand for US real estate among overseas investors. XLY should provide investors an exposure to the US consumer while KRE would gain through its holdings in regional banks which are exposed to the local economies around the country.
But for most non-US investors, the simplest way to gain exposure to US assets would be to buy US Dollars outright or through an ETF such as the PowerShares DB US Dollar Index Bullish Fund (NYSEARCA:UUP).
Source: "Betting that the US Will Beat Emerging Markets," Barrons, June 2013.
Disclosure: I have no positions in any stocks mentioned, and no plans to initiate any positions within the next 72 hours. I wrote this article myself, and it expresses my own opinions. I am not receiving compensation for it. I have no business relationship with any company whose stock is mentioned in this article.