Energizer Holdings (NYSE:ENR) became public after it was spun-off from Ralston Purina (OTCPK:NSRGY) in early 2000. The company manufactures and sells products in five distinct product categories: battery and lighting (46 percent of TTM sales), wet shave (36 percent), skin care (10 percent), feminine care (4 percent) and infant care (4 percent).
The company is organized into two major segments:
Personal Care Division (54 percent of TTM sales) includes wet shave products sold under the Schick, Wilkinson Sword, Edge, Skintimate and Persona brand names, skin care products sold under the Banana Boat, Hawaiian Tropic, Wet Ones and Playtex brand names, and feminine care and infant care sold under the Playtex and Diaper Genie brand names.
Household Products Division (46 percent of TTM sales) manufactures and markets a product portfolio of household batteries, specialty batteries and lighting products under the Energizer and Eveready brand names.
Sales and Distribution
Energizer has operations in 50 countries and its products are sold in more than 160 countries. During fiscal year 2012, the company earned approximately 52 percent of its total sales in the United States. Canada represented just over 5 percent of sales, with no other single country accounting for more than 5 percent of sales.
Energizer's products are marketed primarily through a direct sales force, but also through exclusive and non-exclusive distributors and wholesalers. Energizer distributes its products to consumers through numerous retail locations worldwide, including mass merchandisers and warehouse clubs, food, drug and convenience stores, electronics specialty stores and department stores, hardware and automotive centers and military stores. Wal-Mart Stores (NYSE:WMT) is Energizer's largest customer and accounted for approximately 20 percent of sales in fiscal year 2012. No other customer accounted for more than 10 percent of sales.
Diversification via Acquisitions
The company's portfolio of brands was built up through a number of very smart acquisitions during the last decade.
In March 2003, Energizer acquired from Pfizer (NYSE:PFE) the Shick-Wilkinson Sword shaving product business for $930M. Shick-Wilkinson Sword is the world's second largest maker of wet shave products, with Procter & Gamble's (NYSE:PG) Gillette being number one. Collectively, these two brands represent more than 80 percent of the global wet shave market.
In October 2007, Energizer acquired Playtex Products, Inc. for $1.9B, adding products in the feminine care, infant care and skin care categories. This was another very smart acquisition. For example, Playtex gloves are the top selling gloves in the United States, the Playtex Diaper Genie (a diaper disposal system) is the leader in its category and the Playtex tampon is the second largest selling tampon brand in the United States. Furthermore, this acquisition gave Energizer a number of other well-known brands such as Wet Ones pre-moistened wipes - the leader in the United States portable wipes category, and Banana Boat and Hawaiian Tropic sun care products - which, on a combined basis, hold a leading market share position in the United States sun care category.
In June 2009, Energizer acquired the Edge and Skintimate shave preparation brands from S.C. Johnson & Son for $275M, adding leading shave preparation brands to its existing wet shave portfolio.
The most recent acquisition happened in November 2010, when the company paid $301M to acquire American Safety Razor, the leading global manufacturer of private label/value wet shaving razors and blades, and industrial and specialty blades.
Restructuring Initiatives
In late 2012, the company announced a multi-year restructuring plan, which entails, among other things:
Reducing its global workforce by more than 10 percent (~ 1,500 employees);
The closing and streamlining of operations facilities in the Household Products division;
Streamlining its Household Product division product portfolio;
Reducing overhead spending; and
Creating a center-led purchasing function.
This restructuring will significantly hurt short-term profitability. In fact, management estimates one-time charges associated with achieving the benefits I outlined above to be around $250M, of which up to 30 percent should be non-cash charges. These one-time charges are expected to be recorded within the next 12 to 20 months. However, the company should be able to achieve gross annualized pre-tax cost savings of approximately $200M as a result of this restructuring plan, which should be completed by the end of 2014, and the total on-going savings are expected to be fully realized in fiscal 2015.
Economic Moat
Energizer owns some of the world's most recognizable brands. The company's products are sold in more than 160 countries and, in many of these countries, they hold the number one or number two market share position.
Like most good companies, Energizer also relies on trademarks, trade secrets, patent and copyright laws to protect its intellectual property rights. As of the most recent annual report, the company owned approximately 100 different trademarks and close to 6,000 patents (with another 1,850 patent applications pending). These intangible assets give Energizer a durable competitive advantage.
If we look at the table below, evidence that Energizer poses a competitive advantage is also showing up in the numbers:

Note: Please right-click and open in new window to see the whole table.
Energizer demonstrates an outstanding history of free cash flow generation. In fact, since the company was spun off in 2000, it has never had a single year of negative free cash flow. Free cash flow margins and cash return on invested capital are also strong, averaging approximately 11 percent and 15 percent for the past 13 years, respectively.
Acquisitions Driving Growth
Through various acquisitions, Energizer has more than doubled its revenues since it was spun-off in 2000. However, it is somewhat of a concern that the company has seen very little in terms of organic growth during this time. This can be plainly seen in the table below:

Note: Please right-click and open in new window to see the whole table.
The wet shave product category has seen the most growth; however, even this is mostly from acquisitions. For instance, in 2004 this product category grew by approximately 100 percent ($433M to $868M). This kind of growth is very impressive, that is, until you read the footnotes: The Shick-Wilkinson Sword shaving product business (wet shave product category) was a midyear acquisition and only gave the company six months of revenues in 2003. However, in 2004 the company could record revenues for a full year, which is why they doubled. In 2011, we see more unusual growth in this product category. Revenues grew by close to 30 percent (from less than $1.3B to over $1.6B). However, as I mentioned earlier, the company acquired American Safety Razor in late 2010, which is included in the wet shave product group and caused a significant increase in revenues. If we remove growth related to acquisitions, this product category is only growing at about the rate of inflation.
All of the other product categories have seen stagnant, and for some, even declining growth. I would not be surprised to see the company try to sell or spin-off some of these underperforming businesses, this would definitely unlock shareholder value.
Solid Balance Sheet
As of the most recent quarter, the company had $6.8B in assets, $4.5B in liabilities and over $1.4B in working capital. There is a sizable amount of debt on the balance sheet of approximately $2.5B, however, the company has $851M in cash and equivalents and generates about $500M in free cash flow annually. In fact, the company could extinguish all of its debt in about five years without having to cut its dividend.
The company also has some operating leases (off-balance sheet), which should be capitalized and treated as debt. I estimate that capitalized operating leases totaled approximately $246M as of the most recent quarter. It is also important to mention that the "future minimum rental commitments under non-cancellable operating leases" in the footnotes are significantly understated, so I believe that my estimate is more conservative. Overall, even when including the off-balance sheet debt, I believe that Energizer is in good financial health.
I only have one concern when it comes to the company's balance sheet, and that is the massive amount of intangible assets it carries (~ 49 percent of total assets). While this should be no surprise considering that the company has done four large acquisitions since 2003, this is still a potential risk we must consider. These intangible assets are periodically evaluated for impairment. A large impairment charge will significantly hurt earnings, which in turn will cause the stock price to crash. Out of the company's top six competitors, only Procter & Gamble (~ 62 percent) and Church & Dwight Company (NYSE:CHD) (~ 60 percent) have more intangible assets as a percentage of total assets, the average among companies in this industry is only around 40 percent.
A Great Business at a Reasonable Price
As of this writing, Energizer had a market capitalization of $6.1B, total debt (including capitalized operating leases) of $2.7B and excess cash of around $851M, which gives us an enterprise value of approximately $8.0B. During the most recent 12-month period, the company generated around $557M in free cash flow - giving us a free cash flow yield of just under 7 percent. However, over the next couple of years as the restructuring is completed, I believe the company should be able to generate an additional $100M in annual free cash flow, which would give us a yield of over 8 percent. Considering that the company owns some of the most valuable brands in the world and has a large economic moat, I believe that it deserves a higher valuation due to the lower investment risk. In other words, I believe that the stock is somewhat undervalued based on the current enterprise value.
Management is also returning cash to shareholders. Since 2000 the company has reduced its share count by close to 35 percent (from over 96M diluted shares in 2000 to only 63M in the MRQ).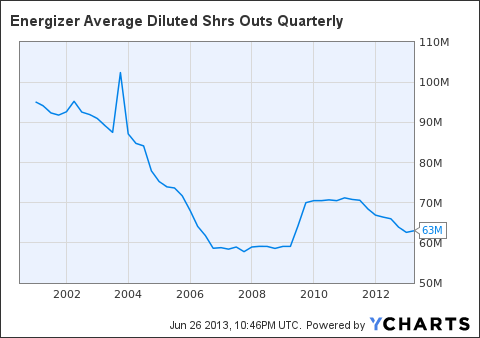 On April 30, 2012, the Board of Directors approved the repurchase of up to 10M shares. As of March 31, 2013, the company had approximately 6M shares remaining to be repurchased.
In the fourth quarter of fiscal year 2012, the company finally began paying dividends. Currently the company pays a quarterly dividend of $0.40 per share (or $1.60 per share annually). This is just another way that management plans on returning excess cash to shareholders in the future.
Summary and Conclusion
Energizer is a very profitable company with a large economic moat. Based on how much free cash flow the company is generating, the shares are slightly undervalued. This is the perfect stock for those individuals with long investment horizons.
Disclosure: I have no positions in any stocks mentioned, and no plans to initiate any positions within the next 72 hours. I wrote this article myself, and it expresses my own opinions. I am not receiving compensation for it (other than from Seeking Alpha). I have no business relationship with any company whose stock is mentioned in this article.