Introduction
Broadcom Corporation (BRCM) is a leader in providing semiconductor solutions for wired and wireless communications. According to the company's own internal estimate, 99.98% of all Internet traffic crosses at least one Broadcom chip. Broadcom is ranked 344th on the Fortune 500 list and boasts a strong presence in the semiconductor industry. Over the past decade, BRCM's revenues have eclipsed the industry averages thanks to the introduction of innovative product lines.
With the evolution of mobile devices fast changing to smartphones, Broadcom continues to reap the benefits of having a widespread presence in the market. The company's latest strategy involves forming partnerships with local carriers and handset makers in emerging markets. The fierce rivalry of Apple (NASDAQ:AAPL) and Samsung (OTC:SSNLF) handheld products, such as the iPhone, iPad and the Galaxy line of devices, features chips from Broadcom in their operations. As with almost every industry today, short-term performance and fate rests with China's growth and prospects, and semiconductors are no different. China is the largest smartphone market and Broadcom is working with China Unicom (NYSE:CHU) to introduce a smartphone priced below 600 Yuan, roughly equivalent to $97. With the company making significant gains in a niche industry, is now the right time to buy this small-cap wonder?
Tracking Financials
The semiconductor specialist has seen its revenues grow continuously over the past 10 years due to the increased use of mobile devices and broadband communications and networking. Sales for the year 2012 were $3.18 billion, $2.16 billion and $1.85 billion, respectively.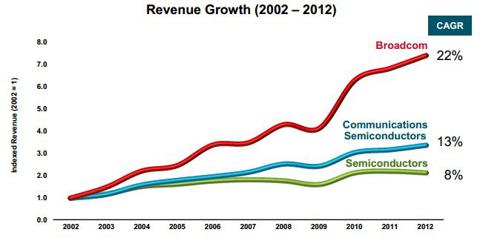 Over the past 10 years, Broadcom's performance is head and shoulders above its rivals. New technologies such as 5G, NFC, DOCSIS 3.1 and automotive Ethernet are allowing the company the opportunity to flex its financial muscle not just geographically, i.e. in emerging markets, but also in well-developed markets. The TTM EPS for Broadcom is $1.42, while last year's EPS was $1.25. Another interesting change in the company's balance sheet for 2012 was the 100% increase in its intangible assets. Undoubtedly, this has allowed Broadcom to create value for its business assets and economic benefit for its shareholders. Furthermore, the company has had positive free cash flow growth over the past 6 years.
In its official presentation releases, Broadcom uses an interesting measure to value and estimate its growth - the Compound Annual Growth Rate (OTCPK:CAGR). Essentially, CAGR smooths out the rate of return over the specified years. For the past year, Broadcom's CAGR was 8% while its competitors' growth rates were registering flat. Over the past 5 years, Broadcom's CAGR stood at 16% while the industry performed at 9%.
Broadcom vs. Intel

In the semi-conductor industry, there is only one company, which manages to provide Broadcom stiff competition and that is the giant, Intel Corp. (NASDAQ:INTC).
Indicator

Broadcom

Intel

Market Cap

$19.2 bil

$119.3

Price/Earnings ttm

23.8

11.9

Price/Book

2.4

2.3

Net Income Growth (3 Yr Avg.)

122.5

36.1

Revenue Growth

(3 Yr Avg.)

21.3

14.9

Dividend Yield, %

1.25

3.77

Return on Equity

11.0

21.1

Debt/Equity

0.2

0.3

Current Price

$34.10

$24.19
Data from Morningstar on June 27
Intel's semiconductor products primarily cater to different technological markets than Broadcom, yet these two remain fiercely competitive in their fields. Two-thirds of Intel's revenues and a greater percentage of its profits come from PCs. The chip maker enjoys an 80% market share for desktop chips and an 87% share for laptop chips. However, it has just 1% of the market for tablets and even less for smartphones. With the advent of cellphones and tablets, Intel is vulnerable due to its reliance on personal computer and laptop sales. While the company is investing heavily in its 'Atom' processors for mobile and tablet use, they have still not been adopted by the majority of smartphone and tablet producers.
Intel's revenues, growth and reach are undoubtedly far more than Broadcom's, but the company's reliance on a fast-declining market segment will hurt it badly. As mentioned earlier, even with Intel as competition, Broadcom has shown mercurial progress. This is further seen by its performance on the stock market, as the graphs below illustrate.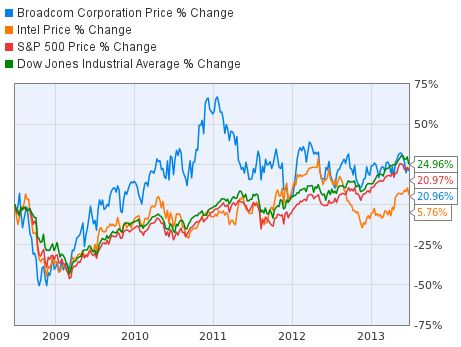 Along with Intel and Broadcom, the graph includes the S&P 500 index and the Dow Jones Industrial Average. Over the past 5 years, Broadcom has largely outperformed the market and Intel as well. Its price appreciated and achieved its highest point on either side of January 2011. Since then, its price has receded below the market averages. Meanwhile Intel continued to struggle to keep up with the market averages, and its recent price decline starting from Q3 2012 suggests that the lack of exposure to mobile and tablet manufacturing is affecting the company adversely.
What does the Future Hold?
Broadcom's solution for most of its prospective growth simply lies in innovation. Earlier in June, the company launched the world's highest performance multi-core communications processors, the XLP900 Series. Broadcom has taken this initiative while keeping in mind that the growth potential these high-speed processors bear will depend on the availability of high-speed 4G LTE/LTE Advanced services. The first mover's advantage lies with Broadcom for the future generation of devices.
The largest smartphone market in the world lies in China and the first five months of the year paint a worrisome picture. As consumption and investment figures have been unable to be met by the Chinese economy, it is widely expected to negatively affect all the stakeholders involved in the Chinese markets, Broadcom included. The semiconductor industry should brace itself for unfavorable results in China.
Make or Break for Investors
While there are indeed difficult conditions in China, Broadcom's offerings of multiple products in geographically diverse markets will help the company offset some of the macroeconomic brunt. While its connectivity chips for mobile devices will continue to do well in developing countries, the company also has a solid footing in the form of research that is being done with large smartphone producers such as Samsung. Furthermore, the company's offerings include set-top boxes and the introduction of 4K x 2K HD display televisions.
Broadcom has a broad portfolio and offers end-to-end system solutions such as the integrated and concise XLP9000 Series launched recently. Over the past decade, Broadcom has also shown financial strength and stable cash flow as it continues regional expansion and increases its market share.
Morningstar provides the following rating for Broadcom: 10/15 buy, 1/15 outperform, 3/15 hold, 1/15 sell. Furthermore, it provides a 13.5% growth forecast for the semiconductor manufacturer.
Bottom Line
Broadcom's strong performance will continue to reign supreme over its competitors as the company has a large product offering and an even larger customer base. While China provides a source of concern for shareholders, it also provides an opportunity to buy into a company which does not become complacent with its innovative product line and continues to have strong financials.
Disclosure: I have no positions in any stocks mentioned, and no plans to initiate any positions within the next 72 hours. I wrote this article myself, and it expresses my own opinions. I am not receiving compensation for it (other than from Seeking Alpha). I have no business relationship with any company whose stock is mentioned in this article.