Nike Inc. (NYSE:NKE) reported 4th quarter and fiscal year 2013 earnings after the market closed on Thursday, June 27th that beat estimates on both the top and bottom lines. Earnings of 76 cents per share were 27% higher than a year ago driven in part by improving margins and a 9% increase in revenue on a currency natural basis. For fiscal year 2013 revenue climbed 11% over 2012 excluding the impact of changes in foreign currency. Revenue growth was driven by an 11% increase in Nike Brand sales which was lifted by a 24% increase in direct to consumer sales. Nike same store sales increased 14% year-over-year and the store count increased from 557 to 645. During the year the company repurchased 33.5 million shares, representing about 4.5% of the float, at a cost of $1.7 billion. Nike's cash position increased about 59% year-over-year as a result of higher net income, debt issuance and proceeds from the sale of Umbro and Cole Haan during the fiscal year. The company has about $7.2 billion left of an $8 billion share repurchase program approved by the board in September of last year.
Future orders for delivery from June to November of 2013 for the Nike Brand increased 8% year-over-year to $12.1 billion. Nike believes 2014 revenue growth will be at the high end of the company's high single digit target. The company believes that there are tremendous opportunities around the world and is pushing more innovation and solutions faster than ever. Nike's product innovation and future product pipeline is a key part of the company's competitive advantage and leadership position in the industry. China remains one of Nike's most troubling regions, however the company believes it is making progress and are set up for long-term success in China. On the category side Nike running continues to be very strong, increasing 18% in 2013 on a constant currency basis. The Nike basketball and Jordan brands saw growth of 22% in fiscal year 2013. Nike no doubt befitted from the top five NBA MVP vote getters all being Nike athletes.

Click to enlarge
When you look Nike compared to some its peers you can see Nike's leadership position represented in the multiples the company is trading at. For example, it has the highest PEG ratio and the second highest EV/EBITDA behind only Under Armour, Inc. (NYSE:UA). Under Armour's higher P/E and EV/EBITDA multiples are a result of its higher growth rate, however, the PEG ratio is in line with Nike. This means factoring in the growth rate, the market is looking at these two companies as equal, however, Nike's leadership in the industry and commitment to return capital to shareholders should produce a market premium over Under Armour. Even though Nike's stock is up over 21% year-to-date, I still believe the stock is at most fairly valued with no indication of it being overvalued. Furthermore Nike's consistent results in earnings and growth put the company ahead of smaller competitors like Callaway Golf Co. (NYSE:ELY) and Skechers USA Inc (NYSE:SKX).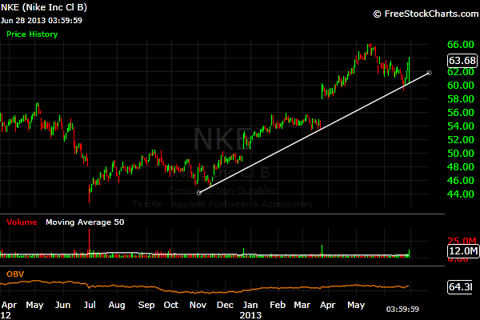 Click to enlarge
Looking at a chart of Nike, you can see the strength over about the past year, and that the stock has been in an uptrend that has been firmly in place since last fall. The recent pullback has again tested this uptrend and the over 2% gain after the earnings beat again places Nike above the uptrend. I see no reason to fight the trend in this stock and I believe buying near support from the uptrend line could be the right move going forward. With the NBA playoffs reaching a dramatic and heavily watched game 7, the World Cup in 2014 and the possibility of Nike turning the corner in China, the company should continue to be a MVP in your portfolio.
Data sourced from company filings and Yahoo Finance. Chart from Freestockcharts.com.
Disclosure: I have no positions in any stocks mentioned, and no plans to initiate any positions within the next 72 hours. I wrote this article myself, and it expresses my own opinions. I am not receiving compensation for it (other than from Seeking Alpha). I have no business relationship with any company whose stock is mentioned in this article.