A natural parent has only two things principally to consider, the improvement of his son, and the finances to do it with. - George Washington
This quote strikes close to home for me, but would have to be amended to say "daughter". With Washington's words from over 240 years ago in mind, let's see how we might squeeze a few dollars out of this market over the next couple of years.
Much attention has been turned towards the VIX in the past week as the SPDR S&P 500 (NYSEARCA:SPY) saw a loss of -5.23% from the end of day's close of June 18th-25th. Downturns in the market, especially those which last longer than 2 days, cause the VIX to be on steroids with gains unlike any other investment vehicle. The most popular ETF for upside VIX is iPath S&P VIX ST Futures ETN (NYSEARCA:VXX) which saw largely increased volume from an average 3-month daily volume of 54,680,900 (Yahoo! Finance) to 95,431,280 (my own calculation) for each of those 7 days. During that same period, the ETFs which track the VIX saw impressive moves to the upside (June 18th-25th):
1 month chart of VXX (courtesy: quotemedia.com):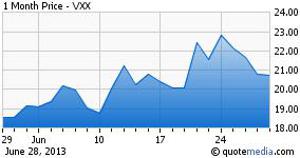 click chart for more info
Understanding The VIX: "The formula (to calculate the current value of the VIX Index) uses a kernel-smoothed estimator that takes as inputs the current market prices for all out-of-the-money calls and puts for the front month and second month expirations." "The VIX is quoted in percentage points and translates, roughly, to the expected movement in the S&P 500 index over the next 30-day period, which is then annualized." (Both quotes sourced from Wikipedia) The gist of that definition is that this is an index which attempts to predict the future volatility of the S&P 500 from an extrapolation of options (which dictate which way traders think the market is going) on both sides of the market.
Since it is in the nature of options to have continuing expiration of contracts and creation of new ones, this index has the ability to get close to zero (but never reaching it) and then spike sometimes all the way to 80, only to settle back near its 5-year average of $24.89, (Ycharts.com), often in just a matter of days. Another important aspect to understand about this index is that in general it will flourish in a bear market and approach '0' in a bull market. It is commonly referred to as the 'sentiment indicator' meaning if there is fear in the market it will spike and if sentiment is positive it will fall. So if you have a catastrophic outlook on the markets, you would want to buy the VIX ETFs and if you don't, which I don't, then you would want to buy its inverse ETFs.
If you have read my last 3 articles on XIV, SPY, and GLD (click each ticker to see its article) you know that my approach to the rest of the year is anything but 'doomsdayesque'. Let's get a little technical...
Year to date SPY Breakdown (Jan1st-June 27th 2013):
YTD: SPY up +10.28%
YTD Low: $132.60
YTD High: $169.07 (at which point we were up +15.75% YTD)
What to look for: Technical traders look for a 50% retracement of the gains to consider that the market has truly 'corrected' and therefore digested the gains. From that point, the bottom of the correction, the next moves are critical and will indicate whether the market will continue as it has or will change sentiment from bull to bear or vice versa. But there are two other secondary points of retracement around 33% and 66%. These are not exact numbers, but are used as general indicators. If a stock retraces close to any of these marks (33%, 50%, 66%) and begins again in the same direction it was headed prior to the retracement, then it is considered to have made a correction and can now make higher highs or lower lows depending on its original movement. If on the other hand the stock (or market) continues well through one of these marks, this is a sign that the correction is not over yet and we may be looking at a change in direction altogether.
To be more precise in our analysis let's start from Nov 15th 2012, a low on the charts, instead of Jan when this move was already headed up. (courtesy: FreeStockCharts.com)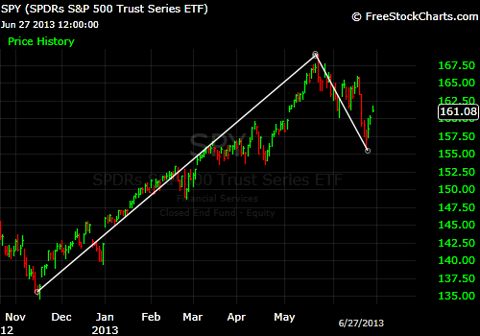 SPY: Nov 15th 2012 - May 21st 2013: $135.70 - $167.17
Gain of $31.47 or 23.19%
Retracement Marks to look for on $31.47 move:
33%: -$10.38 SPY @ $156.79
50%: -$15.73 SPY @ $151.44
66%: -$20.77 SPY @ $146.40
So what actually happened?
SPY: May 21st - June 24th: $167.17 - $157.06
Loss of -$10.11 or 32.12% retracement. Remember we're not looking for EXACT numbers here, but that is pretty darn close to the 33% mark on our radar!
3 Days since bottom of retracement have been positive, indicating a strong possibility that we will see new highs in the near future
Today or tomorrow could be down, but the charts are indicating that they will go up from here. Knowing that, one would want to remain on the Bull side of the market, and for volatility, that means the inverse side. 3 inverse VIX ETFs with June 27th moves when SPY was up .59% for the day:
To be practical we have to consider their liquidity as volatility is dangerous enough without being able to get out of a position when you need to.
3 month average daily volume:
XIV: 16,802,700
SVXY: 910,486
ZIV: 113,766
Seeing the lack of volume in ZIV, you may want to use the other two instead. XIV of course has the best liquidity, but SVXY is also valuable due to the options that are available for it. For a long-term hold in inverse volatility, one can sell covered calls on a regular basis (I would suggest monthly) to provide income through the valleys of these charts. This strategy allows for the possibility of making 5% per month while holding the ETF for an extended period. 1 year chart of XIV (courtesy: quotemedia.com):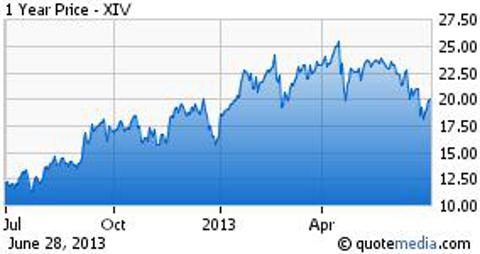 Conclusion: Volatility is much like a wild animal which cannot be trusted. However, like a wild animal, it still has habits which can be predicted on a larger scale than a day or two. We know that if the market goes up, VIX goes down, and if you want to benefit from these moves, the Inverse VIX ETFs can provide tremendous results. But be warned that volatility can bite the hand that feeds it at any time and should be treated as such.
Don't be fooled by those out there claiming there is tons of money to be made on the upside of the VIX, betting against this market has left many shorts with nothing but margin calls. Instead, find a price you are comfortable with and buy the inverse for a longer hold. If you go the SVXY route, then you can also use the covered call strategy to regularly make income and lower your cost basis each month. Good luck out there!
Disclosure: I have no positions in any stocks mentioned, and no plans to initiate any positions within the next 72 hours. I wrote this article myself, and it expresses my own opinions. I am not receiving compensation for it (other than from Seeking Alpha). I have no business relationship with any company whose stock is mentioned in this article.
Additional disclosure: This article is for entertainment purposes only and is not a solicitation to buy or sell any equities.