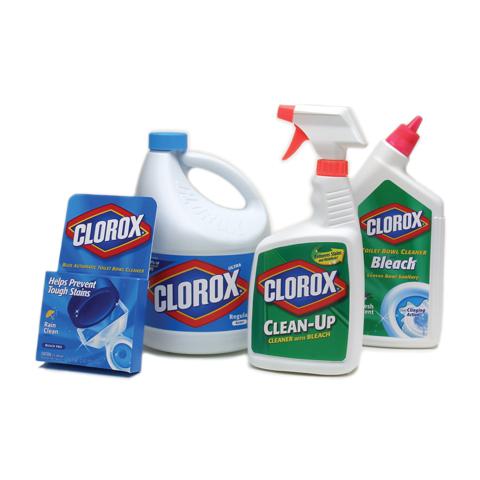 Based in Oakland, California, The Clorox Company (NYSE:CLX) is best known for its namesake product, Clorox. It has a history of rewarding its investors with decent dividend yields dating back several decades.
In an attempt to decide whether or not it would be a good idea to invest in CLX, I will be looking at the growth it has gone through over the past ten years, as well as its balance sheet and valuation.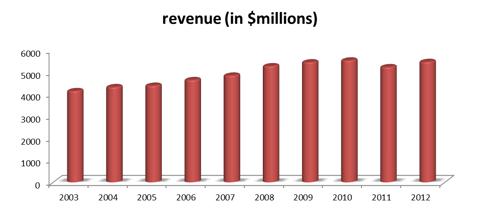 We will start by looking at CLX's revenue over the past 10 years. There's nothing too spectacular, just slow, reliable growth. Annual revenue has gone from $4.14 billion in 2003 to $5.47 billion in 2012, which is an average yearly growth of just over 3%. Net income has grown at a slightly lower rate, going from $493 million in 2003 to $541 million in 2012, which is an average increase of close to 1%. CLX's profit margin is pretty stable, and has been in the 9-11% range over the past 5 years.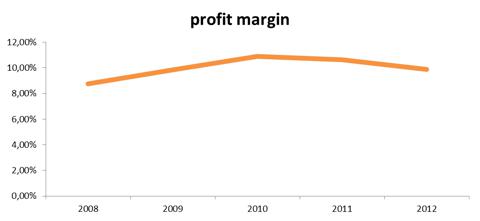 Now, these low numbers for revenue and net income growth aren't very impressive, so why would anyone want to own Clorox? Well, while revenue and net income haven't changed much at all, earnings per share have almost doubled in the past ten years, going from $2.23 in 2003 to $4.09 in 2012. That's an average yearly increase of close to 7%. EPS has grown a lot faster than net income thanks to the large amount of shares CLX has repurchased. The total number of shares has decreased from 221 million in 2003 to 132 million in 2012.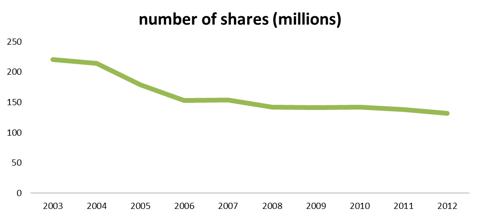 The dividend has grown at an even higher pace. In 2003, each share of CLX entitled shareholders to a dividend payment of $0.88. For 2013, this will be $2.70 ($0.64 for the first 2 quarters and $0.71 for the 3rd and 4th). The average yearly increase in dividend in this period has been 11.9%, which is quite a bit higher than the growth in EPS. This has led to the payout ratio (dividends/EPS) to increase from 39.5% in 2003 to 58.7% in 2012.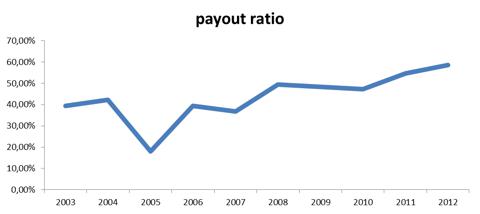 The current ratio (current assets/current liabilities) tells us whether or not a company will be able to pay its debts over the next 12 months by comparing current assets to current liabilities. Higher values indicate better short-term financial health. For CLX, the current ratio has been pretty low over the past few years. In 2012, the current ratio was at only 0.67, meaning current liabilities were almost 50% higher than current assets.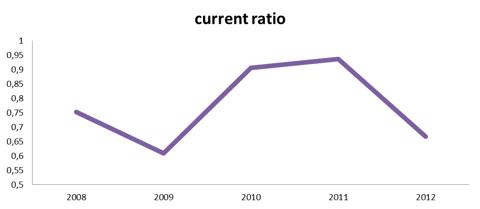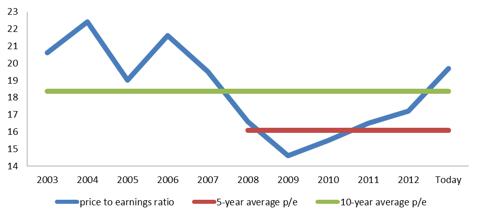 Finally, I'd like to take a look at CLX's valuation. For this, we will use the price to earnings ratio. Over the past 5 years (2008-2012), CLX's average price to earnings ratio was at 16.1. The 10-year average is at 18.4. CLX's stock price has climbed up by 14.6% since the beginning of this year (picture is from Google Finance), bringing the p/e ratio to 19.7.

Conclusion:
While revenue has grown steadily at around 3% per year, net income has only gone up by 1% annually on average. EPS has been increased by buying back large amounts of shares, but with the payout ratio getting close to 60%, I suspect these share buybacks to decrease. Clorox's current ratio is quite low, with current liabilities almost 50% higher than current assets. I can understand the 3.4% dividend yield would make owning CLX attractive, but I feel that at a p/e that's over 20% higher than the 5-year average, there's a lot of potential downside for this stock. I wouldn't recommend buying Clorox at these levels.
Disclosure: I have no positions in any stocks mentioned, and no plans to initiate any positions within the next 72 hours. I wrote this article myself, and it expresses my own opinions. I am not receiving compensation for it (other than from Seeking Alpha). I have no business relationship with any company whose stock is mentioned in this article.