It's widely known that up-listing to a higher exchange offers a number of corporate advantages, including, among others, added prestige and easier access to capital, broader analyst coverage, greater trade liquidity, and access to a broader range of investors. In truth, there's no reason for a company that qualifies for such a move to delay it.
Likewise, membership in a recognized market index also has its upside. But unlike up-listing, achieving a place on the Dow or S&P 500 - or any other widely recognized index - is not a simple affair, and depends on factors almost entirely beyond the control of the company in question. It comes, rather, as a reward for years of profitability and toil.
What are the rewards of inclusion on a major index? First, and most importantly, it is a spike in share price. By definition, all the relevant ETFs and tracking funds are required to replace the old index member with the new issue. Additionally, depending upon the fame of the index itself, a very tangible measure of investor 'goodwill' is granted the new issue, that often results in a broader willingness to purchase the stock, regardless of the strength of its earnings.
Below we list two companies that recently found themselves awarded inclusion in a major market average. And if history is any guide, these stocks could see a run-up in share price in the near term.
Big Cap Lottery Winner
Embattled car maker General Motors (NYSE:GM) just hit the index re-jigging jackpot- finding a place on the respected Standard & Poor's 500 after an absence of four years.
In June, 2009, you'll recall, GM filed for bankruptcy protection and was swiftly removed from the index. But in the last year the automaker has seen a dizzying rise in its share price, as the chart below shows -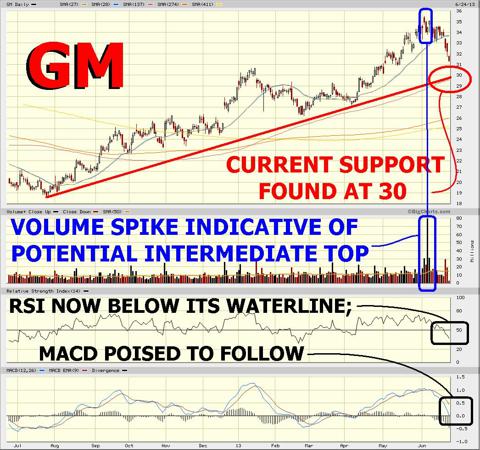 A quick look at the technicals shows GM pulling back after a rise of nearly 100% in just ten months. A volume spike on the day S&P announced GM's re-inclusion in the index also coincided with 52 highs for the stock. Normally, volume spikes such as these are indicative of a buying climax and signal an intermediate turn for the issue. But in this case, it's likely the index story.
Car sales have been hot for the last twelve months, and no doubt that's charged GM's return to the S&P 500. Indeed, motor vehicle sales have been on a steep incline since the recession ended. Here's a chart of ten years worth of light vehicle sales -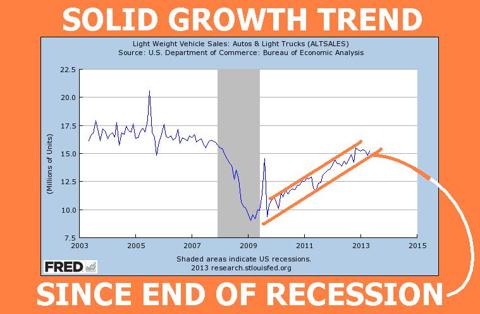 Sales are almost at pre-recession levels, but questions regarding ongoing economic weakness in Europe and slowing growth in China are raising fears that we're in for a soft patch stateside, and that possibility has many investors cashing out of GM (among many other companies) for the time being.
GM stock fell over 12% from its early June highs before recovering, but likely has more to give back before a bottom is in.
Likely best to consider an entry point where the rising trendline (in red) and mid-term moving average meet in the $30 range.
From Big Cap to Midget?
Northwest Biotheraputics (NASDAQ:NWBO) is a small-cap, NASDAQ listed stock that was recently honored with inclusion in the MSCI Global Micro Cap Index, a composite of approximately 5,000 companies from developed market countries that meet with appropriately high liquidity and market cap thresholds.
The news was especially pleasing to company brass, as they only acquired their NASDAQ listing in December of last year. Recognition by the Morgan Stanley kingmakers so soon after that first benchmark is a genuine triumph for the company's board and management.
Patient Specific Immunotherapy
NWBO specializes in immunotherapy treatments for patients with inoperable cancer. Whether it's because of the location or type of cancer, or because multiple lesions or tumors in a single area make a traditional operative procedure impossible, NWBO's approach of stimulating a powerful immune response in patients has seen tumors destroyed or outright rejected in pre-clinical animal studies.
Two weeks ago the company launched a combined Phase I/II Trial for its DCVax-Direct treatment at the University of Texas' MD Anderson Cancer Center in Houston. The trial will test dose levels then move straight to efficacy (tumor regression) tests.
Northwest Bio's patented use of partially matured dendritic cells in the immunotherapy process is what makes their approach unique. The company's research claims mature dendritic cells have the ability to carry tumor biomarkers from the tumor directly to lymph nodes, thereby triggering an immediate attack the tumor from the immune (lymph) system.
NWBO's inclusion in the MSCI index and its current FDA trial launch, have buoyed the company's stock above lows registered before the NASDAQ listing last winter. Ongoing results from the clinicals will be the major catalyst until official reports are presented early next year.
Around the World (and in a Hole)
The indexes giveth, and the indexes taketh away.
Two countries whose markets have not been performing so well of late, Greece and Egypt, found themselves on the losing end of the index inclusion game, when both were demoted by Morgan Stanley from "developed market" to "emerging market" in the case of Greece, and "emerging" to "frontier market" for Egypt.
In the case of Greece, it was the first time a developed world economy has ever been fired by MSCI from its highest rank class of nations.
And that's taken a toll. Shares of the Global FTSE Greece 20 ETF (NYSE:GREK) fell over 20% since the release of the news, and Egypt is off, too. The Market Vectors Egypt Index ETF (NYSE:EGPT) fell precipitously, pushing well into oversold territory as ongoing tensions brought the stock lower than even the days of the original Arab Spring riots in Cairo in 2011.
Here's EGPT -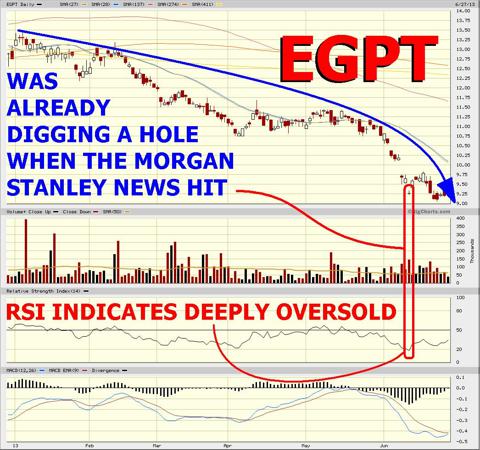 Investors are clearly frustrated with instability in that country. But the relegation of the Cairo market to "frontier" status and its concomitant plunge into oversold RSI territory could signal just the opposite of what we saw with GM, above. That is, we could be looking at a 'buy' point here for those interested in a short- to intermediate-term trade.
Disclosure: I have no positions in any stocks mentioned, and no plans to initiate any positions within the next 72 hours. I wrote this article myself, and it expresses my own opinions. I am not receiving compensation for it. I have no business relationship with any company whose stock is mentioned in this article.