Behind the excitement over stabilizing initial and continuing claims data lies the truth: people still aren't finding jobs. Continuing claims were down in the last week, which was apparently cause for celebration. However, continuing claims only include those who have yet to exhaust their 26 weeks of benefits. Unfortunately, there is a quickly increasing portion of the population that has exhausted their benefits.
From CNN Money:
In the next few weeks, the victims of the mass layoffs that happened six months ago -- when the pace of layoffs was at its zenith -- will start running out of their basic benefits. A total of 4.4 million people are expected to face this fate -- or 65% of the entire filing population.

And while they may have up to another year of unemployment insurance benefits -- thanks to the confusing patchwork of extensions that were enacted last summer -- they will be soon be unaccounted for in government unemployment reports.
In other words, continuing claims can go down while the unemployment picture actually deteriorates. Government reports have increasingly distorted the true state of the economy. Nonetheless, even the data the government provides paint a scary picture. Recently, the number of people out of work for over 26 weeks has exploded.
click to enlarge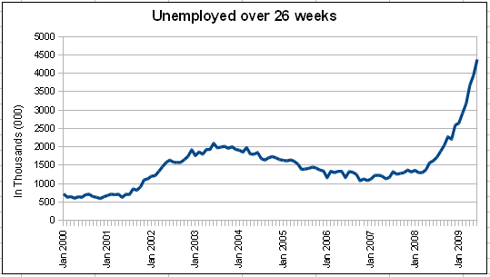 Continuing claims, while down in the latest week, have also been trending up lately. Notice how initial and continuing claims were closely correlated for the past couple of years. Only recently have continuing claims diverged with initial claims. This indicates that the unemployed are having a tough time finding jobs.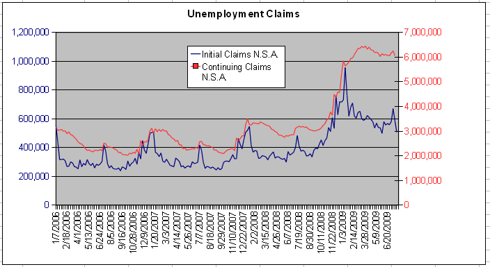 The following chart showing the average number of weeks unemployed corroborates this.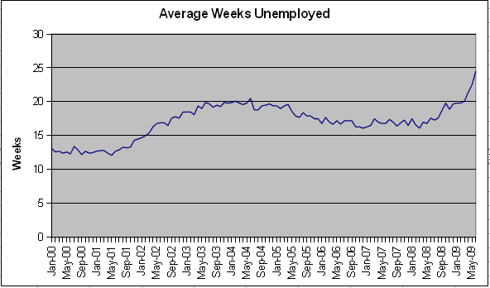 As you can see, the real unemployment situation is substantially worse than advertised. Without sustained growth in jobs, any upturns in the economy will be fleeting. The cumulative effect of protracted unemployment on our economy will be considerable. Non-stop cheerleading from the media aside, the data are still showing that the recession is far from over.