ArcelorMittal (NYSE:MT) has been one of the worst performing stocks over the past five years, and hitting 5-year lows earlier this week. There has been a lot of speculation about the stock, with analysts trying to predict the next reversal. Our view is similar to that of many market experts, MT is significantly undervalued. But how likely is a share price rally of over 40% in the next year, which is what analysts are predicting.
The answer is unlikely. What we expect is high volatility and opportunities for short-term profits for the cautious investor. We think the shares are a buy at current levels, but would look to sell at $13.20.
This is a profit of almost 20% for a projected time horizon of three to six months. The key catalyst is the next earnings announcement on August 1st.
Industry overhang
Worth noting is that we don't expect MT to recover to 2011 levels over the next twelve months due to the continued challenges in the steel industry. Prospects for this year are better for steelmakers in the U.S. and China versus the European operators like ArcelorMittal.
Near-zero economic growth, falling industrial production, and weak auto and construction industries are all factors that are suppressing the demand for steel in Europe. In 2012, crude steel production in the EU amounted to 169 million tonnes, an annual reduction of 5%, according to data from EUROFER. The European steel association expects the negative trend to continue during 2013.
The World Steel Association has a similar view, expecting the EU to be the only region with a steel usage contraction in 2013, although small (at -0.5%). For 2014, however, they expect a 3.3% rebound.
Monthly Crude Steel Production (tonnes million)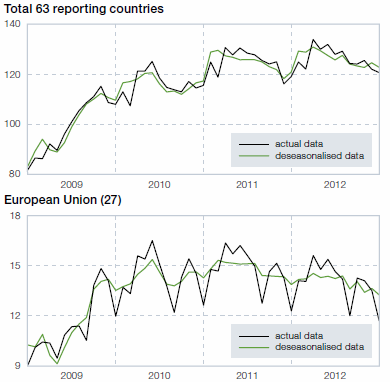 Source: The World Steel Association
Note that demand for steel in the EU, as measured by the World Steel Association, fell sharply in 2009, then recovered in 2010 and 2011 before strong growth began to taper in 2012.

Production overcapacity and high inventories have been weighing down on prices. MT reported that the average selling price for its products stood at $874.1 per tonne in Q1 2013, a decrease of 5.9% compared to 1Q 2012.
Selling Price Steel Products & Other (USD/t vs. Annual Growth)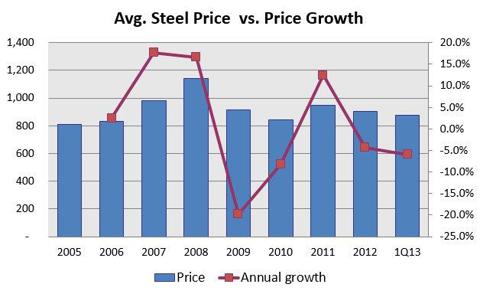 Source: ArcelorMittal
The table below illustrates the effect of these factors on ArcelorMittal's earnings. The slight recovery of the share price in 2010 was mostly driven by a recovery in net income.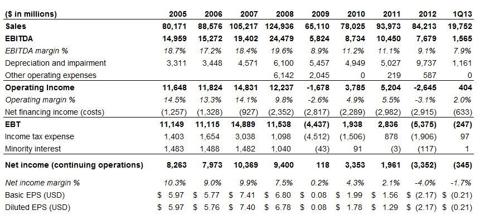 So why invest now?
First, we think that the bad news from Europe and the gloomy expectations for this year are already reflected in MT's stock price. Investors seem to be reacting too strongly to talks about a QE slowdown. We expect 2014 to be a better year for the steel industry than 2013 and once the first signs of improvement are out, the share prices of the major players move upward.
The steel companies are going through a process of restructuring, which will have a positive impact on operations in the medium- and long-term. Some of the major industry trends are strategic cost reduction, vertical integration, and capital optimization.
Peer Group Comparison
We looked at eight of the largest players in the steel industry globally. Only three of the companies in the group had recorded share price increases in the past twelve months. In terms of valuation, the picture is quite diverse. The high average P/E ratio is due to the low projected level of earnings in 2013. We would avoid investing in steel companies trading at a P/B ratio above 1. ArcelorMittal is trading at a 62% discount to book value, which we find quite attractive.
Another ratio to take a look at is debt-to-equity (D/E). We favor the players with below average D/E ratios. We think that MT is trading very nicely compared to some of its top peers based on its industry low P/B ratio and low debt level in relation to equity. It's also not hard to see that ThyssenKrupp might be the worst company in the group due to its extremely high leverage and high P/B.

Source: Bloomberg.com, FT.com
Trading idea: Bonds
As a final note, we would like to turn your attention to the corporate bonds issued by MT. In August 2012, the credit rating agencies, S&P and Fitch, downgraded MT's debt to junk status, with Moody's following suit in November 2012.
The prices of the bonds dropped sharply, but then recovered quickly, driven by strong appetite for high-yield bonds (see the graph below). This week, worries about a QE slowdown drove the prices of the bonds close to their low levels from November last year. We think now is a good entry-point. We do not recommend a specific issue, as investors have different maturity preferences. As an illustration, we show the issue maturing in 2022.
ArcelorMittal Bond (Maturity in 2022; YTM 6.58%)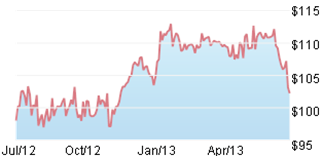 Source: FINRA
MT's management continues to show determination to regain the investment-grade rating of the company. This might happen already in 2014, which will immediately have a positive effect on the price of the bonds.
Conclusion
We think the time is right to add some exposure to MT through equity (short-term) or bonds, or even both. The risk/return ratio is attractive, as the share price has been already harshly hit by investors' negativism towards the European steel industry and the poor financial performance of the company in recent quarters. Expectations are for improving earnings in the next 12 months. Investors, however, should be cautious and exit the position, if the share price reversal hits +20% without any significant improvement in earnings.
Disclosure: I have no positions in any stocks mentioned, and no plans to initiate any positions within the next 72 hours. I wrote this article myself, and it expresses my own opinions. I am not receiving compensation for it (other than from Seeking Alpha). I have no business relationship with any company whose stock is mentioned in this article.