When coming up on a quarterly earnings call, it is important to monitor what the big investors are doing. Here is a screener from Finviz.com that I have screened for stocks over $10, over 300k in average daily volume and very negative for insider transactions (<20%). Then the screener is sorted by negative institutional transactions.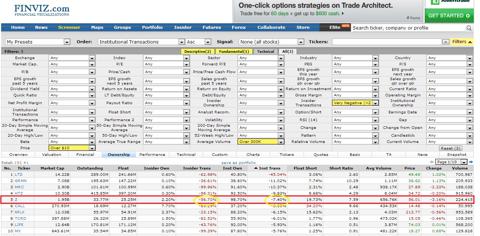 As you can see, Zillow (NASDAQ:Z) takes the number 5 position in this negative outlook. Also the insider sales by Zillow Management are very negative at -56.70% (this is a trailing 6 month total and institutional change is trailing 3 months). Taking a look in Yahoo Finance, the insider sales have continued into June as well as stock purchases (possibly bonuses) at very low options per share.
So these two pieces of data can mean several different things. Some institutions feel that the price is a little high and know that price targets might be downgraded, so they are cutting back on their positions or are simply uncertain on the guidance of the company and scaling back for that reason. The insider transactions are a little more worrisome as it seems that management does not have faith that the price of the stock will remain that high after the next round of quarterly earnings and are cashing out.
But on the other side, there have been some purchases as well, and the institution sell off, even though it is top 5 of all the companies screened above, it is not over 10% so the number is not very drastic. Also taking a look at this chart below of the stock price, one can tell that Zillow has been bouncing up and down in the 50-60 dollar range and institutions, who own most of this stock, are not willing to part with their shares until the quarterly earnings come out. But as the chart below shows, the support and resistance lines are nearing closer to each other and usually a stock either breaks up or breaks down once those two lines draw closer, so a decision on the price target for Zillow might soon be made by the market.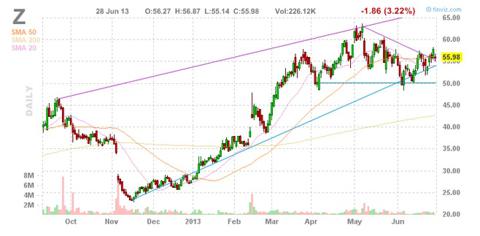 To conclude, a wise investor should take a look at what the major holders of the stock are doing prior to quarterly releases as this might help you make a decision on a good entry point on a stock you like. With competitors like Trulia (TRLA), Move (NASDAQ:MOVE) and Google (NASDAQ:GOOG) Adwords, the race for the real estate agent ad spend is heating up and investors should look at all the facts before deciding to buy a piece of a company.
Disclosure: I am short Z. I wrote this article myself, and it expresses my own opinions. I am not receiving compensation for it (other than from Seeking Alpha). I have no business relationship with any company whose stock is mentioned in this article.