Executive Summary
Last month, we presented a fundamental analysis of TRW Automotive (NYSE:TRW) noting that the fair value of the company's stock price is between $67.49 and $77.15. Over the past month, TRW's stock price has increased 7% outpacing peer firms (ALV and LEA) as well as the S&P.
In this report, we provide additional rationale for continued stock price appreciation backed by solid fundamentals. In particular, we focus on the Company's Electronics segment, which has been an engine for growth and profitability over the last few years. We update our valuation of the stock to $70.46 - $80.79.
Company Overview
TRW is one of the world's largest suppliers of safety-related products for automotive suppliers. The company's operations involve the design, manufacture and sale of active (e.g., braking and steering) and passive safety products (e.g., airbags and seat belts). The company operates through four main segments: Chassis Systems (62.8% of 2012 sales), Occupant Safety (20.0%), Electronics (6.2%), and Automotive Components (11.1%).
Segment Breakdown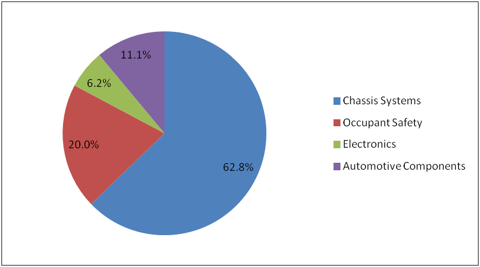 Data visualization done in ThinkNum
Electronics Segment
TRW's Electronics segment designs, manufactures and sells electronics focused in the areas of safety, chassis, radio frequency, power train, and driver assistance.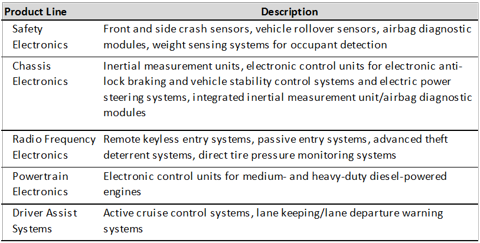 Source: TRW Automotive Fiscal 2012 10-K
Over the past few years, the company's Electronics segment has been growing faster than its other segments (31% growth since 2010). This is a positive for the company as its electronics segment is also its most profitable on both a gross margin and EBIT basis.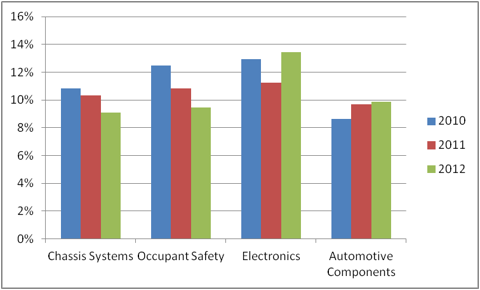 Updated Financial Projections
In updating our financial projections, we built in the impact of increasing revenue share from the Electronics segments. A key modeling assumption is that this trend will continue over the next few years driven by the following factors:
Increasing electronic content per vehicle: According to a 2009 report from IHS Global Insight, the market for electronics components and systems was projected to grow 7% annually. Despite a challenging 2008 and 2009 where the automotive electronics market shrank by 3% and 14%, respectively, future growth was expected to be robust
Increasing active and passive safety systems that require electronics components such as electric power steering, electronic vehicle stability control, etc.
Legislative changes and market-driven demand especially in emerging markets
The key drivers for the projections are:
Growing revenues: According to Wards Auto, light vehicle production is expected to increase by 3.2% in 2013 and 3.9% in 2014. As a result, we project revenue growth driven by the higher light vehicle production expectations as well as increasing safety content per vehicle.
Improving margins: As the more profitable Electronics segment grows as a percentage of revenue, we expect that margins will grow over time.
Updated DCF Valuation
Based on the above assumptions, we ran a DCF and arrived at a per-share valuation of between $70.46 and $80.79.
Using the Residual Income Model factoring in mean analyst EPS growth assumptions, we arrive at a per-share price of between $71.50 and $88.10.
Investment Concerns
Raw material costs: The Company relies heavily on raw materials such as aluminum, steel and resins. This exposes the Company's cost structure to raw material cost inflation that could result in compressed margins.
Original Equipment Manufacturer (OEM) concentration: OEMs constitute 80%+ of TRW's sales. During the last global recession, OEM performance suffered significantly due to a high cost base and decreasing vehicle sales.
Conclusion
Based on a fundamental analysis of TRW's cash flows, I believe that there is some upside left in the stock given the following factors:
Underappreciated margin expansion due to shift in revenues to the more profitable Electronics segment
Growing safety content per vehicle due to tightening safety standards globally
Projected growth in revenues due to higher light vehicle production volumes
Disclosure: I have no positions in any stocks mentioned, and no plans to initiate any positions within the next 72 hours. I wrote this article myself, and it expresses my own opinions. I am not receiving compensation for it. I have no business relationship with any company whose stock is mentioned in this article.