IBM (NYSE:IBM) isn't scheduled to report its 2nd quarter, 2013 financial results until mid-July, but with Accenture (NYSE:ACN) guiding lower Thursday night, and Oracle's (NASDAQ:ORCL) slightly weak quarter from two weeks ago, the worries over IBM's quarter start to become real.
Accenture's consulting business and Oracle's software business are both thought to be good leading indicators for IBM's business, since both ACN and ORCL report their quarters a month prior to IBM.
I thought ORCL's quarter reported June 20th was somewhat misunderstood, as the stock fell 10% even though, according to Briefing.com's summary of the quarter, ORCL changes exchanges from Nasdaq to NYSE trading, and this would necessitate selling by those entities indexed to the Nasdaq and Nasdaq 100 given ORCL's weight in the index.
However, ORCL's new license and cloud subscription rose just 1% on a constant currency basis, at the very low end of guidance of +1% - 11%, with the point being that there was little to crow about in ORCLs quarter, from a business operations perspective.
Software is 24%- 25% of IBM's revenues, with the growth rate having slowed from +12% - 13% year-over-year two years ago to low-single-digits to slightly negative growth the last year.
Regarding Accenture's report Thursday night, ACN missed on the revenue estimate by $200 million and reported flat revenue growth in the consulting business (constant currency, y/y) and then guided lower for both the consulting and outsourcing business for the August quarter. The stock was down sharply on Friday.
Global Technology and Global Business Services is 60% of IBM's revenues.
IBM has one unmitigated positive though: since late 2009, the hardware giant has reduced its share count by a total of about 200 million shares, using its prodigious cash-flow generation to spend about $12 - $15 billion (trailing 4-quarter) over the last 6 quarters, to retire stock.
Since reporting their Q1 '13 in mid-April, 2013, IBM's q2 '13 revenue estimate has come down slightly from $25.423 billion to the current consensus revenue estimate of $25.39 billion. IBM's consensus EPS estimate for Q2 '13 for the same period has remained constant at $3.78 over the last 3 months.
Last quarter, IBM reported a pretty ugly miss, with revenues falling 5% year-over-year and EPS rising 8%. The Accenture and Oracle quarters won't help what is already a diminished outlook and tempered expectations.
At 10(x) cash-flow and 12(x) free-cash-flow, IBM is not very expensive, but with 1% - 2% revenue growth expected over the next 3 years, accompanied by 9% - 10% EPS growth, a big part of the EPS growth comes from the share repurchase plan, which we have detailed here in prior quarters.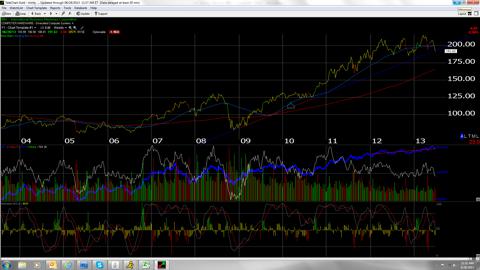 IBM's chart shows Big Blue maintaining the upward-sloping trend line off the March '09 lows. The uptrend is still intact, albeit in a precarious position. Year-to-date IBM is down about 1%, trading at $190 currently.
I would be disingenuous if I didn't tell you I was worried about the stock. We reduced our position after the April '13 earnings report but haven't yet decided to do with the remaining position.
IBM has lost its market leadership position: after outperforming mightily off the '09 lows, it looked like it started to top last year. I do think the prodigious cash-flow and share repurchase plan has helped add to earnings growth during hardware and software transitions.
Keep this stock on your short list. A heavy volume break of $190. and we could drop to $175. However, by this point, there is a lot of bad news already discounted in the stock price.
Disclosure: I am long IBM, ORCL. I wrote this article myself, and it expresses my own opinions. I am not receiving compensation for it (other than from Seeking Alpha). I have no business relationship with any company whose stock is mentioned in this article.