Earnings season is right around the corner with today being the last day of the second quarter for calendar year 2013. I believe this quarter will be an inflection point for AudioCodes (NASDAQ:AUDC), the undervalued, downright cheap Voice over Internet Protocol (VoIP) player as enterprises are about to fully embrace the cloud for their voice networks by Q4, 2013 and into 2014 in earnest. When compared to its peers, there's no reason why institutional smart money will not raise the bid if AudioCodes delivers again this quarter. AudioCodes is expected to release earnings around July 22 - 24, which is only 15 -17 trading days away.
Our Estimates
The lone analyst is from Oppenheimer and he has estimates of $32.9 million in revenues and $0.02 in earnings per share for Q2 2013. Here are our estimates for the quarter:
Revenues: $33.2 million
EPS: $0.03 per share
Gross Margins: 59.5%
Cash flow: $2.7 million
Debt reduction: $2.5 million
Quarterly Commentary from CEO
We expect a confident bullish stance from the company as the company serves up its 3rd quarter in a row of profits, debt reduction and increased net cash. It is strengthening its balance sheet for long-term success. Here's what we want and expect to hear on the call:
Lync - Microsoft's (NASDAQ:MSFT) Lync is gaining market traction; there's a huge Unified Communications (UC) market out there and AudioCodes will participate handsomely which will impact the company's growth rate in late 2013 (Q4) and all of 2014. AudioCodes' "One Voice for Lync" is important to making Lync an easier sale in the UC market.
SBCs - AudioCodes' SBC opportunity is much bigger than its gateway business ever was. The company is pursuing this business more aggressively than its previous attack on gateways in the early adoption years of VoIP in 2000. Its product portfolio is expanding and customer feedback is exciting for potential future upside.
SBC Strategy - Last month AudioCodes announced its Software SBC solutions strategy. We'll be looking for the CEO to expand on this by telling us what he expects it means in terms of targeting Service Providers, entering new markets, and its impact on revenues and margins.
Contact Centers - We are seeing Contact Centers embracing the cloud and SBCs will be a driving force in this market.
WebRTC - A real industry game changer for VoIP. WebRTC will single handedly drive SBC sales from small-to-medium business (SMB) all the way up to Fortune 100 companies over the next 3 years. Last week AudioCodes made an announcement on WebRTC phone.
Legacy - The fallout is less of a concern now that business is getting stronger across the board in its networking group. We look for pockets of strength in the 2nd half, but do not count on it.
MailVision - We believe the CFO is driving the Mobile platform into its acquisition of MailVision's service provider (NASDAQ:SP) customers. It would be nice to hear from the company how it plans to make this product unique and successful. The company has stated it wants this to be revenue sharing which could mean 80-90% gross margins on any customer wins. This adds a big call option to the shares of AudioCodes starting post conference call as any deals that do materialize will add big upside to earnings power and makes the company a much more powerful player in the market.
Chart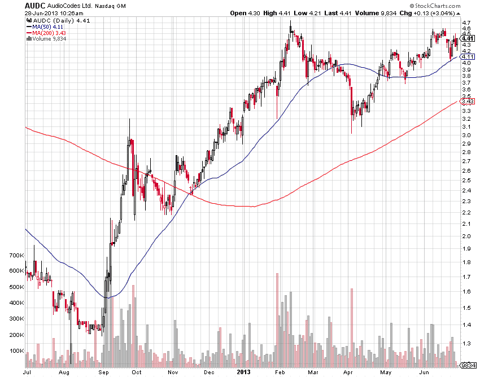 It is clear from the chart above that AudioCodes trades with the 50 day moving average (MA) as support. From September, 2012 through March, 2013 every pullback found support there. We saw a correction (buying opportunity) in April when it broke below the 50 day MA. However, the stock is now trading back above the 50 day MA and last week when it found support there again, it confirmed that this will be support as the stock trades higher. We believe that when AudioCodes breaks out above $4.70 to new highs, we will see a repeat of the move from September to March which will give AudioCodes a target price of $12.50.
Sonus Networks (NASDAQ:SONS)
There is one other publicly traded company in the sector and that is Sonus Networks. Sonus has been bringing the spotlight to the sector as it recently received an upgrade to Outperform by Northland Capital and saw its price target raised from $3.00 to $4.00 by Oppenheimer. We welcome all the attention the sector gets as we believe it has been overlooked by investors this past year. While Sonus is a larger company than AudioCodes with a market cap of $855 million, compared to AudioCodes' market cap of $165 million, we encourage comparisons between the two companies. We believe that not only is AudioCodes the better company as it has more exposure to enterprises, but we also believe that it is undervalued when compared to Sonus.
| | | |
| --- | --- | --- |
| | Sonus Networks | AudioCodes |
| Forward P/E (fye Dec 31, 2014) | 75.25 | 23.16 |
| Price/Sales | 3.39 | 1.10 |
| Price/Book | 2.34 | 1.67 |
| Total Cash Per Share | 0.95 | 1.17 |
Any increase in AudioCodes' valuation closer to that of its peer Sonus will result in higher price targets for AudioCodes. We believe that AudioCodes needs to see some additional analyst coverage for its profile and its valuations to be raised.
Analyst Coverage
AudioCodes currently has only one analyst covering it and that is Oppenheimer which has a $5 price target. We are looking for Needham & Co's analyst to become the second analyst covering it. The Needham analyst has been a constant presence on recent conference calls with his intelligent, informative and direct questions. We're puzzled why Needham hasn't initiated by now when you consider that AudioCodes has had two consecutive quarters of profitability with number three upcoming when it reports on its next conference call. It may be that behind the scenes the analyst is directing clients to look at the value he sees in AudioCodes, but we are still hopeful for an initiation with a $7 - $8 price target. There are two other companies that could initiate coverage; Northland Capital and Benchmark.
Outlook
We expect the company to be very back end loaded as August is historically a dead month for technology companies as Europe goes to sleep and Americans are on family vacations. We expect the company to have a solid September to December, beating all expectations in these four months. We place Q3 at a slight upside quarter with the high likelihood of a strong September bringing a good beat on its next earnings call.
Q3 estimate: $33.5 million
Q4 estimate: $35.5 million
Gross margins: 60-61%
Conclusion
We feel July and early August will be the time to own shares of AudioCodes at a cheap undervalued price (sub $5.50) as the company will be attending Oppenheimer's conference in Boston on August 13-15th and historically attends numerous conferences in September. We fully expect institutional awareness of AudioCodes to finally arise post earnings and gradually get more intense into year end as the company comes out of its value shell into a growth company.
Disclosure: I am long AUDC. I wrote this article myself, and it expresses my own opinions. I am not receiving compensation for it. I have no business relationship with any company whose stock is mentioned in this article.