GenCorp (GY)
GenCorp Inc. ("GenCorp", or the "Company") is a unique company with multi-year contracted revenue streams, monopoly sole-source position in most of its product lines with an almost insurmountable competitive moat, un-replicable proprietary technology, an open sky growth trajectory and multiple catalysts for value realization. If one ever finds such a company, it is usually trading at a sky high multiple, but this one can be had for less than 9.5X pro forma 2013E free cash flow. It is not an unknown name for value investors, but most of the past analysis focused primarily on the hidden value of its real estate assets, which after giving a discounted multiple to its core business made the stock cheap. That thesis has played out beautifully as the stock has gone up 4 fold and 7 fold over the last 18 months and four years, respectively. Our analysis will focus on the fact that the unique business characteristics of GenCorp outlined above entitle it to a valuation multiple far above its peer group and the stock can more than triple over the next year and potentially replicate its past stock price appreciation over the next five years. Yearly or quarterly lumpiness notwithstanding, our confidence in the long-term upward trajectory of the Company's profitability and business value is very high because growth in missile and space programs are long-term secular trends. In addition, the performance of this business is not co-related with other portfolio investments and stock market in general. We believe the stock is worth at least $46 per share, ~180% higher than the current share price.
Even after the strong stock price appreciation, we believe GenCorp to be greatly undervalued due to following factors:
Lack of investor outreach - CEO hasn't done an investor earnings call since he joined in 2010 and communication blackout due to the pending approval of Rocketdyne acquisition. With the approval completed, second half of 2013 should see increased investor communication.
Small-cap Company with little investment coverage - GenCorp has only three analysts covering the Company, none of which are from major brokerage firms.
Land value is hidden on its balance sheet; book value only shows $71 million.
Reported earnings do not scream undervaluation on stock screens as cash earnings are significantly higher than GAAP earnings due to certain items explained later that are not well understood by the market
Business and competitive strengths not appreciated by the market, which have been increased dramatically after the transformative acquisition of Rocketdyne
Following are some of the unique aspects of the Company:
Legal Monopoly
GenCorp, through its Aerojet subsidiary, is the 800lb gorilla and technological leader in propulsion technology used in tactical and ballistic missiles and in-space rockets. It is a national treasure; without its technology most missile and space programs would be impossible. Its products are mission-critical to national defense and access to space. It is the only domestic provider of all four propulsion types (solid, liquid, air breathing and electric). Combined with Rocketdyne, it will have an estimated 90% market share of medium and large rockets for launch vehicles as well as in-space propulsion and over 70% estimated market share in missile defense as well as tactical motor. The Company's propulsion systems have flown on every NASA discovery mission, every manned space mission since the inception of the U.S. space program and power almost all of today's medium and large payload rocket systems.
GenCorp was able to buy Rocketdyne at an extremely attractive price (4.7X LTM Sept 2012 EBITDA and 3.3X assuming $50MM of synergies) because the DoD was concerned that any other acquirer would not have the technological ability to continue to advance the technical capabilities of Rocketdyne. So the justice department approved the deal on June 10th, 2013, despite obvious antitrust concerns at the insistence of the government. Here's the quote from Reuters:
"The FTC said that it approved the deal even though it would give GenCorp a monopoly in the market for a certain type of high-performance missile defense interceptor propulsion system, because the Defense Department wanted to see the transaction go forward."
So not only was GenCorp able to make this acquisition at a below market price but was able to create certain monopoly capabilities at the government's insistence. United Technologies had no choice but to sell Rocketdyne to help fund their acquisition of Goodrich. We believe the Rocketdyne acquisition to be a case where the whole is far greater than the sum of the parts, but we are not considering any benefits of pricing power in our analysis, only cost reduction expectations of $75 million over the next 12-36 months.
Impenetrable Moat
Even at its height, Microsoft did not have the deep moat that GenCorp enjoys.
Sole source contracts: Aerojet and Rocketdyne both operate mostly under sole source contracts, which are multi-year in nature. First, the technology in their niche industry is highly specialized; customer emphasis on risk avoidance favors the incumbents. Second, lengthy customer certification and qualification processes are required, which deters any entrants. Third, some larger systems markets are characterized by a few large, long-term programs, with intermittent new program starts. All the above favors the incumbent. The combined Aerojet-Rocketdyne platform will have the most diverse and comprehensive propulsion types and applications (see table below). The vast majority of Aerojet's and 79% of Rocketdyne's 2012 sales came from sole source contracts.

Revenue renewal / Long-Term Contracts: The majority of both Aerojet's and Rocketdyne's sole-source contracts are long term in nature, which provide visibility and stability in revenues. The associated requalification costs incurred if a program is moved limit the ability of customers to easily change suppliers, which once again favors the incumbent. For instance with Rocketdyne, its launch business to provide existing launch manifests to the satellite constellations for the DoD provide Rocketdyne with revenue visibility in its launch business out to 2017. Below is a depiction of the length of Aerojet's contract/projects.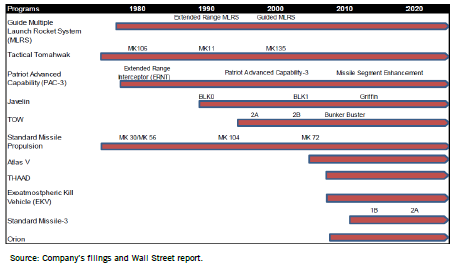 Deep customer relationships: Because of its sole source contracts, Aerojet and Rocketdyne have extremely deep relationships with its customers that cannot be replicated. Aerojet has served its two largest customers, Lockheed Martin and Raytheon, for more than 35 and 25 years, respectively. Similarly, Rocketdyne has served its two largest customers, NASA and the United Launch Alliance (ULA), for more than 50 years.
Breakdown of Customers by End-User

Breakdown of Customers By Prime Contractors

Even though there is customer concentration, the revenue stream is diversified by contracts. For example, Aerojet was mission-critical supplier on 270 contracts in its last fiscal year. Additionally, the Rocketdyne acquisition increases the ratio of cost-reimbursable contracts, enhancing margin stability.

Costs and Investment Borne by Third Parties
The Company's most valuable asset is its technical know-how and intellectual property. As opposed to other IP focused companies, the majority of GenCorp's R&D is customer funded. This makes it virtually uneconomical for a third party to be able to replicate GenCorp's technical capabilities as well as disables new entrants' ability to bid for contracts. The Company does not have to pay its pension liabilities either. It has an approx. $475 million unfunded pension obligation. With the passing of MAP-21 Act, no cash contributions are due till fiscal 2015. After that the government will reimburse GenCorp for pension contributions based on the percentage of business done with the government. Government is expected to reimburse the Company for approximately 84% of any contributions made to the unfunded liability. Therefore we only deduct $77 MM from the Company's value for the unfunded pension liability. The Company estimated future environmental liabilities are also largely reimbursed by the government. The net booked liability to GenCorp is $59MM out of a total estimated cost of $183.8MM.
Real Estate
The Company owns 11,900 acres of prime land in Sacramento, of which 6,000 acres are up for sale and expected to be sold over the next several years. Also, the Company owns 360,000 sq ft of office space that it leases to third parties for approx. $5MM annual NOI. The pre-tax value of these assets is anywhere between $400 million (based on an old comparable land sale and 7.5% cap rate on the office space) and $1 billion (Gabelli & Co. Estimate). In our analysis, we are giving Company's real estate assets a value of $500 million ($375MM after tax) to give land a bit of premium over the old comparable sale in 2010 at $50,000 an acre to account for the better location of the Company's parcel and general appreciation in prime residential development sites since 2010. We believe this to be conservative, as we are also ascribing no value to the other 5,900 acres of land that is currently considered operational but could free up for sale by the later part of this decade.
Cash Flow Exceeds GAAP Earnings
Primarily due to the pension dynamics described earlier, the Company's reports GAAP earnings lower than its Cash earnings. Due to the non-cash nature of the pension expenses that are driven by actuarial and IRR assumptions and ultimately largely funded by the government, we look at EBITDA before pension charges (EBITDAP) and EPS excluding pension charges (Cash Earnings) for valuation metrics. Acquisition of Rocketdyne will lower such adjustments as it comes mostly without legacy pension assets and obligations. Also, cash taxes were lower than book taxes due to the presence of $239 mm in state NOLs.
Non-correlated Assets
The business dynamics of GenCorp are driven by fulfilling its existing long term contracts and adoption of upgrades in propulsion technology in next generation missile and space programs. Economic cycles here and abroad, currency and interest rate movements, consumer spending and business investment cycles are relatively immaterial to the Company. Even if the US government spending declined (not grow at a slower rate), which is highly unlikely, the mission critical nature of GenCorp's products, in our opinion, makes it relatively insulated. It's not likely to be outsourced, Amazoned or overtaken by a kid in garage. It is literally rocket science. GenCorp stock provides a valuable diversification and non-correlation element for a stock portfolio. We look to add to our position if the stock sells off in a general stock market correction.
Comparable Companies
GenCorp is a unique company because of its competitive dominance, long-term contracts and other factors mentioned earlier. General aerospace and defense companies are not good comparables for valuation purposes. The companies listed below are often used as comparables because of their exposure to the rocket space, but they are not nearly as dominant in their niches and have other lines of businesses that are arguably not nearly as valuable, we find them to not be good proxy for value.
For example, Alliant Tech (ATK) is primarily driven by its ammunition and sporting business with less than 20% of their business exposed to rockets. Moog's (NYSE:MOG.A) rocket business is even smaller at less than 10% of revenues. Orbital Sciences is exposed to competition from all the major satellite and rocket companies like Lockheed Martin (NYSE:LMT), Boeing (NYSE:BA), Raytheon (NYSE:RTN), foreign manufacturers etc. and sole sources its propulsion systems from GenCorp like the rest of them. Safran's Herakles division focuses on solid rocket motors for missiles and launchers, but commercial aircrafts account for the majority of its business.

Also, despite overall defense spending pressures that affect the other aerospace and defense companies, we believe GenCorp is well- positioned to benefit from spending in DoD priority areas. "Highest priority" projects, including missile defense, currently represent 75%-80% of Aerojet's portfolio, vs. only 20% for less important tactical projects. Rocketdyne's critical role in launching DoD satellites into space aligns with the overall focus and increased spending by the DoD on ISR and cyber, precision strike and communications capabilities. A positive aspect about GenCorp's projects is that these programs usually last for decades - killing an existing long-term program is much harder than killing short term projects. In contrast to the other aerospace and defense companies, GenCorp has limited direct exposure to in- theater spending in Iraq and Afghanistan.
Consequently, while other defense companies are projecting flat to declining revenues due to sequestration and budget pressures, GenCorp expects revenue from the combined Aerojet-Rocketdyne platform to double over the next five years. The Company also stated that it was "seeing a huge number of orders from satellite manufacturers" for its solar electric propulsion technology and "expected the solar propulsion system to generate billions of dollars in orders". Additionally, the Company has developed a silent propulsion system that all three prime contractors (Boeing, Raytheon, Lockheed Martin) were using in bids to design a next-generation missile. So no matter who wins, GenCorp gets the business. (Source: 6/16/2013 8K filing)
Valuation
Any number of countries would pay a significant premium to acquire this Company's unique capabilities but they will never be allowed such an acquisition. What we believe to be quite likely is a company like General Electric willing to bid well over $50 / share in the near term for GenCorp to augment its Aviation Military Engine Division. However, we are not rooting for that outcome as we expect GenCorp to be worth much more than that over the next few years.
On a stand-alone basis, we rely primarily on DCF valuation as comparable company analysis and general aerospace and defense industry metrics are largely irrelevant due to GenCorp's unique business characteristics. For lack of a better proxy we will use historical results as a guide for future expectations. As exhibited below, revenues at Aerojet have grown virtually every year and at a CAGR of 12% from 2003 to 2012 while EBITDAP has grown at a CAGR of 10%.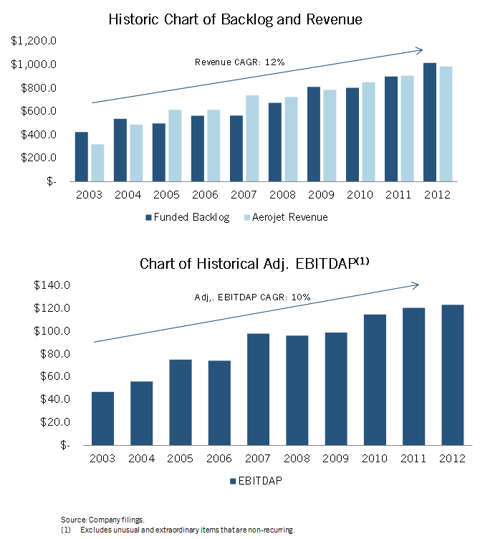 DCF Valuation
Our DCF analysis shows a near triple from current price levels to $46 based on what we generally believe to be conservative assumptions. We would consider any short-term declines in stock price due to quarterly fluctuations or lumpiness in its financials to be a buying opportunity.
Assumptions Table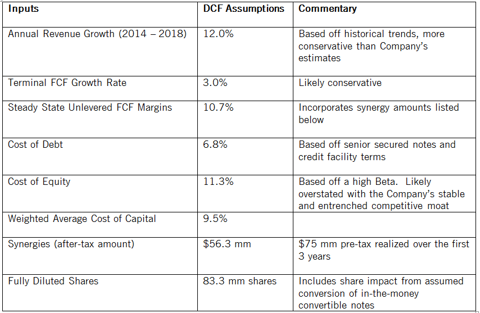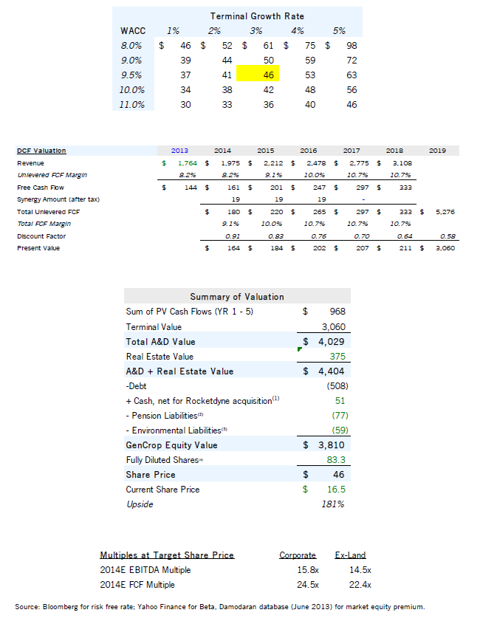 The Company projects a doubling of revenue over the next five years; we are assuming approximately a 75% increase, in line with historical annual growth rates of 12%. No margin expansion assumed from GenCorp's enhanced market position beyond $56 million of after-tax cost synergies realized over the first three years. Cost of equity of over 11%, based on a 1.7 beta and a 550 bps market risk premium, is assumed, which we believe to be higher than the Company's stable competitive moat should engender. Terminal free cash flow growth rate is assumed to be conservative at 3%. Below is (i) a sensitivity table of various WACC and Terminal Growth Rate assumptions on the expected share price and (ii) a summary of the DCF valuation. Assuming a 8% WACC and a 5% terminal growth rate, which we believe to be quite reasonable expectations, the share value approaches ~$100 / share.
Footnotes:
$141 mm of cash on books, less $90 mm utilized to complete Rocketdyne acquisition.
Assumes GY is responsible for 16% of the underfunded pension liability. Includes assumption of $6mm of Rocketdyne's pension liability.
Environmental remediation asset of $125 million less $183 million of environmental remediation liabilities.
Fully diluted shares include share impact from conversion of $200 mm in-the-money convertible notes.
Catalysts:
Investor meetings and conference calls by management
Increased research coverage
Increased institutional investors as market cap exceeds $1 billion
Realization of synergies and solar propulsion system contracts
Monetization of real estate
Risks:
Quarterly fluctuations in operating results
Potential cost over runs on fixed price contracts
Value destroying use of free cash flow
Disclosure: I am long GY. I wrote this article myself, and it expresses my own opinions. I am not receiving compensation for it. I have no business relationship with any company whose stock is mentioned in this article.
Additional disclosure: We had long exposure to GY at the time of submission (6/28/13). We have no obligation to update the information contained herein and may make investment decisions that are inconsistent with the views expressed in this presentation. We make no representation or warranties as to the accuracy, completeness or timeliness of the information, text, graphics or other items contained in this presentation. We expressly disclaim all liability for errors or omissions in, or the misuse or misinterpretation of, any information contained in this presentation.