Actionable Items:
Highest Positive Spread: Cornerstone Progressive Return Fund (NYSEMKT:CFP)
Focus Stock: Cohen & Steers Infrastructure Fund (NYSE:UTF)
Last Week's Focus Stock: Cornerstone Progressive Return Fund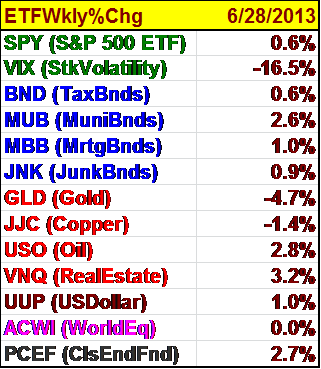 GDP Declined: The nation's gross domestic product (GDP) grew at a 1.8% annual rate from January through March. That was less than the earlier estimate of a 2.4% growth rate.
Consumer Consumption: Slower consumer consumption eased from 2.6% to an estimate of 3.4%. (Consumer consumption accounts for 70% of the U.S. economy). An increase in the 2014's tax-rates, the static net income growth, the effect on the damage to savings and the loss of government spending will likely impact growth.
Federal spending declined at 8.7% annual pace (not including Social Security) during the first quarter. Spending at the state and local level fell at a 2.1% pace.
Fed: The GDP weaken the growth rate and will likely place the Fed's $85 billion buying programs in tow. Treasuries 10-year bond prices rose to 2.5%. Bond fund have lost an average of 2.7% though the end of June and they suffered a net outflow of $23.7 billion this month. (At the height of the 2008 financial crises bond outflows were $44.5 billion monthly.)
Since the 2008 bonds fund have lured net investor inflows of $1.26 trillion. There is a way to unwind this massive inflow into bonds. You can certainly buy bonds for a "slow drain".
ETF's % Change Week-to-Week: Bonds (+3.3%) Financial (+2.7%) and Real Estate (+2.5%) were the leaders this week over the previous week. Commodities (-1.3%), Foreign (-0.7%) and AssetAlloc (-0.6%) were laggards for the week. Both gold (NYSEARCA:GLD) and copper (NYSEARCA:JJC) were negative -4.7% and -1.4%, respectively. (See "Chart 1")
Real Estate was "dead last" the week before (-5.5%) and was number "3" this week. AssetAlloc was first last week (+1.9) and third from the bottom this week (-0.6%). Bonds were an average last week (-3.2%) and first this week. Some of the big banks were treated by raising the loan loss reserves from 3% to a potential 6%.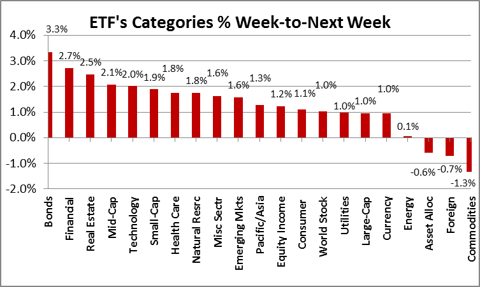 CEF Weekly Fund Type Performance: This week saw price rises for SpecEqFnds (+3.7%), PrefStkFnds (+3.6%) and SingleStMuniFnds (+2.7%). The laggards were InvGrdBndFnds (+1.2), ConvtSecFnds (+1.2%) and USMrtgBndFnds (+1.5%). All of the PrcNAVSprds were positive. Some of the SpecEqFnds were "real estate" related.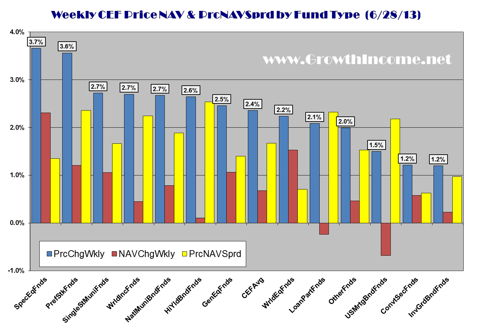 Highest Spread and Stock for the Week: Cornerstone Progressive Return Fund , our "Focus" Stock for last week, have a positive share price of +10.9% and a negative NAV of 1.9%, respectively. The PrcNAVSprd was +9.0% (A positive number may mean a future decline in share price).
CFP is suspending its "Rights Offering" (Monday the 24th) until further notice due to the CFP's net asset value having declined more than 10% from $4.74 on May 17, 2013 (the effective date of the Fund's registration statement) to $4.24 on June 21, 2013. All subscriptions and payments received by the CFP will be returned to subscribing shareholders.
However the stock price per share was $14.96 in 2007 and $5.00 in 2012 (despite three rights offering). While logic tells us that there will be another rights offering, CFP's shares can't generate that return (annual yield of 17.7%) and must go back to the markets for capital. The premium is 34.0% of the price to NAV.
Having "gone on" about this scheme, the block traders will raise this stock-up to block the stock from cratering. It's like clockwork.
Lowest Spread and Focus Stock for the Week: Cohen & Steers Infrastructure Fund was our "Focus" Stock of the Week. UTF share price was positive +1.6% and its NAV per share was a plus +3.0%. Its PrcNAVSprd decline was -1.4%. (Stock prices typically go up.)
While quarterly distributions were offered on 6/18/2013 of $0.36 per share, the annualized quarterly distribution yield was 7.6%. The funds were Return of Capital ("ROC") on $0.1301 for the two month period of 2012, the ROC for 2013 was $0.2312 for the March and June quarter of 2013. Several holdings were of a return of capital nature for its portfolio.
The net assets were $2.6 billion and the leverage was $800 million (31.1% of assets). Total debt will likely bring the debt levels higher as rates will rise. The discount is 10.8% of stock to NAV. The 52 week high is 12.5%.
Focus Stock & High Price for Last Week: Last week's "Focus Stock" for the week was Cornerstone Progressive Return Fund . CFP is suspending its "Rights Offering" until further notice. All subscriptions and payments received by the CFP will be returned to subscribing shareholders. CFP's stock for the week was at 11.4%.
The Highest Spread stock for the week was Gabelli Convertible & Income (NYSE:GCV) (share prices to go down) which was off a negative -0.6% for the week (-3.9% on Monday).
Joe Eqcome
Disclosure: I have no positions in any stocks mentioned, and no plans to initiate any positions within the next 72 hours. I wrote this article myself, and it expresses my own opinions. I am not receiving compensation for it. I have no business relationship with any company whose stock is mentioned in this article.