Kraft Foods Group (KRFT) is one of those companies that falls under the Warren Buffett rules of investing; in all actuality, Mr. Buffett actually owns 1,602,061 shares of Kraft in his portfolio as of 31Mar13. I personally like Kraft because it falls under the theme of every day consumables -- you can't go a day without eating food, right? In addition to the theme of every day consumables, Kraft pays out a juicy dividend yield. These two reasons are excellent enough to own the stock, but now I'll delve into the fundamentals, financials, and technicals of the stock to see if it's worth picking up some more right here.
Fundamentals
Kraft currently trades at a trailing 12-month P/E ratio of 24.16, which is fairly priced, but I mainly like to purchase a stock based on where the company is going in the future as opposed to what it has done in the past. On that note, the 1-year forward-looking P/E ratio of 17.42 is also fairly priced for the future in terms of the right here, right now. Next year's estimated earnings, which are used to calculate the future P/E ratio, are $3.18/share. The PEG ratio (3.96), which measures the ratio of the price you're currently paying for the trailing 12-month earnings on the stock while dividing it by the earnings growth of the company for a specified amount of time (I like looking at a 5-year horizon), tells me that Kraft is expensively priced based on a 5-year EPS growth rate of 6.1%.
Financials
On a financial basis the things I look for are the dividend payouts, return on assets, equity and investment. Kraft boasts a dividend of 3.62% with a payout ratio of 43.7% while sporting return on assets, equity and investment values of 6%, 21.1%, and 13.7%, respectively; which are all respectable values. If maybe you feel the market will retract a little more and would like a safety play, then maybe the 3.62% yield of this company is good enough for you to take shelter in for the time being. Kraft went ex-dividend on 26Jun13, with a $0.50/share dividend and is payable to shareholders on 12Jul13.
Technicals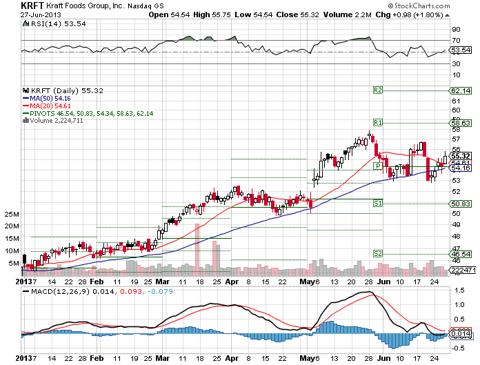 Looking first at the relative strength index chart [RSI] at the top, I see the stock at around a middle ground value of 53.54, but with an upward projection -- this tells me that there may be a little bit of upside to the stock. To confirm that, I will look at the moving average convergence-divergence (MACD) chart next and see that the black line is below the red line and that the divergence bars are decreasing in height to the upside, indicating there may be a bit of upside coming. As for the stock price itself ($55.32), it's been hugging the 20-day moving average tightly and I'd expect the 20-day moving average to act as support. If the stock can bounce up off of the 20-day moving average, I can see it going to $58.63, but if it can't, I see it going down to $50.83 for a risk/reward of -8.12% to 5.98%.
Recent News
Kraft will create two new business units; Meals & Desserts and Enhancers & Snack Nuts for reporting purposes starting 01Jul13.
Conclusion
On a fundamental basis, the stock is fairly valued for the short term, but I won't add to my position until I can find the stock around $48 when it's yielding about 4.2% on the dividend (not pending any earnings revisions). Financially, this is a great yielding company with great dividend growth potential, which should provide for good shelter while I choose to hold onto my current position if an economic storm is brewing. On a technical basis, the RSI and MACD charts show there may be a bit of upside, but I calculate a risk/reward ratio, which seems to be unfavorable. This great stock is good to hold onto if you already own it, but I personally see too many red flags currently, and won't be buying any additional shares at this time and will wait a bit to evaluate again in the future.
Disclaimer: These are only my personal opinions and you should do your own homework. Only you are responsible for what you trade and happy investing!
Disclosure: I am long KRFT. I wrote this article myself, and it expresses my own opinions. I am not receiving compensation for it (other than from Seeking Alpha). I have no business relationship with any company whose stock is mentioned in this article.