The recent market pullback provided an opportunity to finally start a position in Union Pacific Corporation (NYSE:UNP). I had been trying to buy shares via selling cash-secured puts or a trailing limit order since late last year, but the stock always seemed to run away. I believe Union Pacific is the best of the four major rail stocks: CSX Corporation (NYSE:CSX), Norfolk Southern Corp. (NYSE:NSC), and Canadian National Railway (NYSE:CNI). I will exclude Burlington-Northern from this analysis since it's integrated within the Berkshire Hathaway conglomerate.
In this article, we will first review basic UNP fundamentals and perform a brief comparison with the other railroad stocks. Then I'll offer an investment thesis and valuation target.
Union Pacific Corporation -- Price and Volume YTD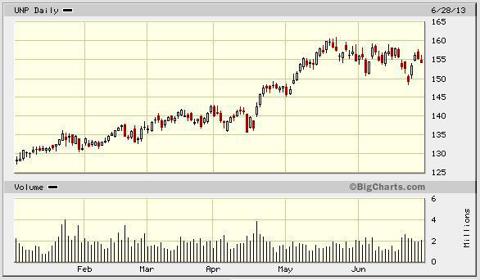 Courtesy of bigcharts.com.
Union Pacific by the Numbers
When reviewing capital-intensive, heavy industrial-sector stocks, I like to check some particular types of metrics. Let's run through them.
Debt and Liquidity
I calculated Union Pacific's total Debt-to-Equity ratio to be 0.56. This is reasonable from either an absolute or relative peer basis. Please note that UNP management prefers to focus upon the Debt-to-Capital ratio. Currently, the straight D2C ratio is 32.9 percent. The company takes the calculation a step further by including long-term operating leases and unfunded pension liability as part of the debt calculation. The adjusted ratio is 40.2 percent. These figures are acceptable.
The Current Ratio is 1.3x, likewise a sound figure for an industrial stock. The Interest Coverage ratio (EBIT/Interest Expense) is 13x. If I add back Equipment and Rent Expenses to Interest Expense, the coverage drops to 4.6x. Either way, the numbers are well within acceptable norms.
Returns
UNP's Return-on-Equity is 20.5 percent. This is an excellent figure. I view premier industrial companies returning greater than 15 percent. The annual RoE has increased for the past four years running. The Return-on-Asset ratio of 8.5 is likewise strong.
Union Pacific calculates corporate Return-on-Invested Capital to be 14.0 percent; a perfectly acceptable figure. For a deeper dive, I ran the numbers for the Free cash flow-Return-on-Invested Capital. The FROIC came to 8.2 percent. When I used UNP's adjusted capital figures in the denominator, the return dropped to 7.7 percent. Given the nature of this capital-intensive business, I consider these returns solid.
Cash Flows
The YE 2012 Price-to-Cash Flow multiple of 9.5x is under my benchmark of 10x. I was also impressed by the Cash-to-Earnings ratio. This is the ratio of operating cash to net income. Since cash is king, it's a positive to see a business generating more cash than net income. Union Pacific sported a FY 2012 ratio of 1.56x. The 2013 first quarter results continued the pattern with a 1.59x ratio.
Free-cash-flow had risen strongly since the 2008 financial crisis. Last year, FCF flattened out, albeit at a strong $5.39 per share.
Margins
Another key UNP metric is Operating Ratio. This is effectively Expenses/Revenue. It's a close inverse Operating Margin. Lower is better. Union Pacific has been driving this figure down for the past four years. For YE 2012, the 67.8 operating margin was a record. The company broke its first quarter operating margin record by registering 69.1 for the period ending March 31, 2013. The Q1 2013 Net Margin of 18.1 percent is best-in-class.
Other Factors
Legacy pension liability can be a significant headwind for old-line industrial companies. Union Pacific does not have this problem. Unfunded pension liability is only about one percent of market cap. I would not be concerned until the number was greater than 20 percent. Running a safe railroad is important. UNP management has a good safety record. Though the number of incidents bumped up in 2012, the general severity of these incidents went down. The overall incident trend has likewise been down.
On balance, rail volumes have been improving. For 2013, management expects a tough year for agricultural products and coal. Expectations are that these weaker segments will be offset by automotive and chemical volumes (think oil). Union Pacific management also tracks customer satisfaction closely. The company has been racking up quarterly records in this area for the past several years.
So How Does Union Pacific Stack Up Vs. Competitors?
I've compiled a table using data comparing UNP with three other major U.S. railroads. Union Pacific, CSX, Burlington Northern, and Norfolk Southern really control most of the American rail corridors as oligopolies. However, BN is part of the Berkshire Hathaway business. I have added Canadian National Railway to the mix since this company does impact certain U.S. destinations, and the railway has a size and scope similar to the others.

Perusing the data, I noted that Union Pacific is the largest company by market cap. Indeed, it rules the rails over nearly two-thirds of the United States. UNP also carries less debt than its major competitors; this is aligned with its generally stronger overall balance sheet. Union Pacific management has generated better returns of late, too. However, Canadian National Railways has recorded better margins.
CSX and Norfolk Southern have higher dividend yields; though it should be pointed out that Union Pacific has an aggressive stock repurchase plan ongoing. Over the past year, the company reduced its number of shares outstanding by 2.3 percent. The stock buybacks are planned to continue.
Frankly, I believe the American railroad business is a sweet spot. Any of these companies could provide good go-forward shareholder returns. However, in the next section of this article I will explain my thesis for owning UNP stock above the others.
A Union Pacific Ownership Thesis
I like UNP stock for several general reasons:
"Large moat" business
Improving cash flows
Business set to grow along with U.S. economic prospects
Strongest balance sheet of the major carriers
One could argue that the first three of these items could justify owning any railroad company. I agree. So here's the two more "kickers" that I suggest put Union Pacific over the top:
"Oil" vs. "Coal"
Superior growth prospects
Oil Vs. Coal
The Union Pacific equipment and infrastructure is best-situated to transport petroleum products and LP gas from the Bakken and other U.S. Northern-tier energy basins to major crude oil pipelines and on to the Gulf Coast refining region. The barriers to entry for other railroads to encroach upon this business is high.
Please find below a slide from the 2013 first-quarter earnings release presentation. Coal volumes are taking a hit, but chemicals are up.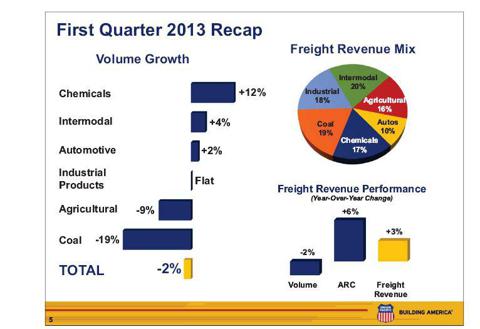 Furthermore, frac sand transportation associated with energy fracs are helping to propel the UNP industrial segment forward. While first quarter volumes were flat with 2012, the revenues were up 6 percent.
The other rail carriers, sans CNI, tend to have heavier ties to coal and less opportunities for oil and gas transportation. Big Coal is fighting a mighty battle with Washington now. Oil and gas, while no darling of the White House either, has too much momentum to be contained. The rail and pipeline infrastructure to transport these hydrocarbons to market (or export) cannot be held down. Indeed, I believe that the U.S. oil and gas revolution is a key differentiating factor for Union Pacific Corporation.
Superior Growth Prospects
UNP and Canadian National command higher P/E ratios than the other competitors listed in the analysis. When I review the growth prospects for both of these rails, I come to the conclusion that Union Pacific has slightly better prospects.
Over the previous five years, UNP has grown revenues at 5 percent per annum and EPS at 19 percent. The dividend has averaged a whopping 27 percent increase per year. During the same period, CNI grew revenues at 5 percent a year, but EPS at only 8 percent. The dividend boost has been less than half that of Union Pacific: 12 percent per annum.
What about forward growth prospects?
Wall Street consensus analysts forecast Union Pacific to grow earnings at 13.2% a year for the next five years. I highlight this with the fact that UNP management has not missed any Street quarterly EPS expectations for at least the past thirteen quarters. They have beat the Street six times. That's rock solid performance.

Courtesy of ameritrade.com.
On the other hand, Canadian National is projected to grow earnings at 11.5% per year for the next five years. CNI management has a likewise good track record for meeting analyst earnings expectations. Good, but not as good as UNP.
Here's a table consolidating the past and forward growth rates for all four carriers:

I Recognize that a five-year PEG exercise would place Union Pacific at a slight disadvantage to CSX and NSC. Despite the lower projected growth rates, these two railroads currently trade at a lower price/earnings multiple. Nonetheless, I did not find the numerical difference compelling enough to overturn my overall growth assessment.
Union Pacific Vs. Peers Summary
I suggest the overall edge goes to Union Pacific vs. the subject peer group. Here's why:
better balance sheet
better financial returns
better dividend growth rate
better revenue and EPS growth rates; both past and forecast
The explosive energy transportation growth prospects within UNP's primary geography is my go-forward catalyst. This is coupled with an expected overarching boost in general railroad utilization rates and revenues once the United States economy experiences any sort of sustained growth.
I also like the fact that Union Pacific's business is U.S.-centered.
Valuation Target
Even though I classify Union Pacific as the best of the American railroads, the challenge has been to buy shares without overpaying. A combo of strong 2013 U.S. equity markets and good investor sentiment over the aforementioned UNP growth prospects have made "getting in at the right price" difficult. After months of writing cash-secured puts (keeping the premiums, but never getting "put" any shares), the most recent market pullback finally provided me a chance to go long. My target limit order price was just above $150 per share.
Please find following two charts that outline my thoughts on valuation and purchasing Union Pacific stock. First, here is a 15-year F.A.S.T. Graph, plotting UNP stock and operating earnings: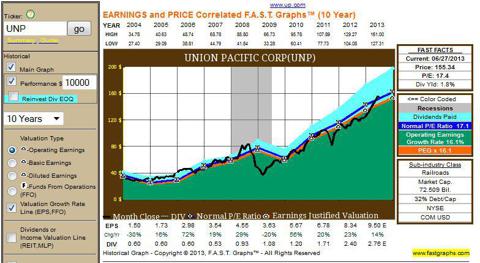 Courtesy of fastgraphs.com.
A picture tells a thousand words. One can see that over the past ten years, the stock price (the black line) and the normalized P/E ratio (the blue line) have tracked pretty closely. With the exception of the 2008-09 crash, rarely has the price run too much above or below the 17.1x multiple.
Unfortunately for buyers, UNP has had a bullish spurt for most all of this year. To avoid over-paying for the shares, I did not want to initiate a purchase whereas the price was above the blue line. The recent (and short-term) back-track to $150 was the first decent chance to get in since the beginning of 2013.
Note to readers: the operative word was "decent," not "outstanding." Such is the conundrum when buying growth stocks in a good market: they don't seem to go "on sale" very much. Particularly when the company is an earnings and cash machine like Union Pacific.
My secondary entry-point indicator has been to only consider buying shares when the price dips below the 50-day moving average. Here's a YTD chart of UNP and the MA.

Courtesy of google.com/finance.
I've highlighted in yellow the most recent pullback below $150. Notice the subsequent quick bump back up above the moving average. Indeed, the only other chances to buy shares when below the 50-day MA were a couple of days back in April. Unfortunately, I had puts in place and the expiration date of those puts vs. my cash position at the time precluded me from getting a fill. Prior to April, the stock had not ventured below the 50-day MA since November 2012.
In any event, now that I have an opening position, I will continue to watch for a chance to build upon it; as aligned with the preceding discussion and contingent upon subsequent price downdrafts.
Conclusion
My best-of-breed U.S. railroad pick is Union Pacific. Selected operational and financial metrics demonstrate a strong balance sheet, cash flow, and management results.
The company primarily serves the western two-thirds of the country. I contend this is the premier geographic region of the States for rail transportation: relying less upon coal revenues and more upon the oil and gas revolution ongoing from the Dakotas to Texas. The railroad business is an oligopoly. There is little direct competitive pressure on Union Pacific and this simply plays to their strength in this area.
Superior growth prospects add gloss the UNP resume.
Please do your proper due diligence before making any investment. There is no substitute for your own hard work before purchasing any security.
Disclosure: I am long UNP. I wrote this article myself, and it expresses my own opinions. I am not receiving compensation for it (other than from Seeking Alpha). I have no business relationship with any company whose stock is mentioned in this article.