As the fight regarding ebook pricing between Amazon.com (NASDAQ:AMZN), the Department of Justice, Apple (NASDAQ:AAPL) and the book publishers went on, an agreement was reached.
In this agreement, several publishers decided to accept ending their agency agreements, whereby the publishers used to pay a commission to the retailers selling their ebooks. Amazon.com was one such retailer.
This has accounting consequences
When accounting for the sale of an ebook through an agency agreement, Amazon.com booked as revenue only the commission it got from the publisher, say 30%. All of this commission was booked as revenue at 100% gross margins, much like Amazon.com does with all the other third party (3P) sellers.
Now, upon ending these agency agreements, Amazon.com will be booking those same revenues as a merchant. What's the difference? Amazon.com will book as revenue 100% of the ebook's price, and then consider it has 30% gross margin on it. This means that -- for the same level of ebook sales -- Amazon.com will:
Book significantly higher revenue, for instance, for what were previously $300 million in ebook revenues Amazon.com will now book $1 billion in revenues;
Book a higher 1P revenue growth rate, as many ebooks will no longer be 3P sales, they'll migrate to 1P;
Book a lower 3P revenue growth rate, as many ebooks will no longer be 3P sales;
Book the same gross margin, but a lower gross margin percentage as the same gross margin will be applied on higher revenues. This is the opposite effect to the effect that was inflating gross margins, due to the fact that 3P revenues are booked at 100% gross margins;
The change won't impact operating profits or net profits.
Revenue won't be comparable
The impact from ebook sales migrating from 3P to 1P will be significant on overall revenues. Jeff Bezos has said that ebooks are a "multi-billion" dollar category. As such, Amazon.com is selling more than $500 million per quarter on average. Each $100 million that migrates from 3P to 1P will turn into $333 million in revenues, or an additional $233 million in revenues on sales that are physically unchanged. For $0.5 billion, the total potential would be for revenues to be inflated by $1.17 billion in a single quarter, or 7.4% of the present consensus estimate for Q2 2013.
Of course, the numbers wouldn't be comparable, and most likely Amazon.com will say as much and provide a pro-forma comparison showing what revenues would have been in Q2 2012 if the same accounting principle had been used then. Still, in the short term, the stock can easily react mindlessly to some revenue beat that doesn't really exist.
The final impact depends on what percentage of the ebook business will migrate from 3P to 1P. This is impossible to estimate as Amazon.com doesn't disclose the size of its ebook revenues nor how it accounts for them.
As a work-around, we can try to see how this affects estimates for Amazon.com by using several levels of ebook migration from 3P to 1P. Below I reproduce my own model for Q2 2013 and 5 scenarios, with each scenario including an additional $100 million in ebooks migrating from 3P to 1P.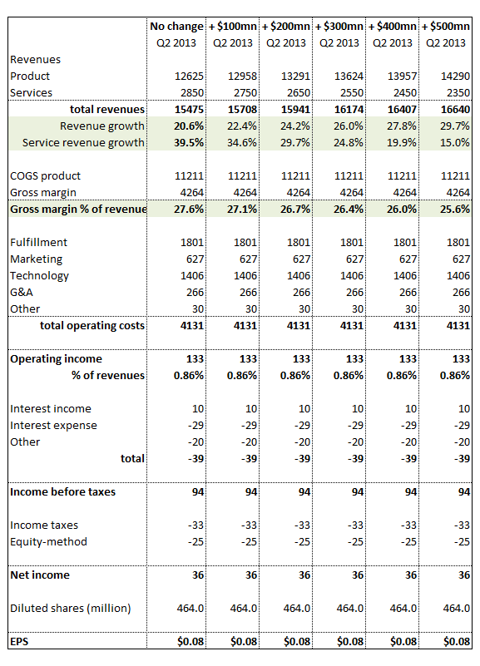 Now, this would be what Amazon.com would report without doing a pro-forma comparison to last year. It would be misleading, but could make for some weird reaction to the potential artificial "revenue beat" which would result, when in fact Amazon.com is highly likely to miss revenue expectations (with no accounting change).
To have a meaningful comparison, one would have to look at the revenue growth rate of this quarter versus a pro-forma version of the quarter one year ago, which Amazon.com might, or might not, provide.
Conclusion
Amazon.com will start accounting for many ebook revenues as 1P instead of 3P in Q2 2013. The accounting change will inflate overall revenue growth and deflate 3P revenue growth. This might make it possible for Amazon.com to beat stated revenue expectations, though it would do so in a misleading manner.
The change has no effect on operating or net profits.
Disclosure: I am short AMZN. I wrote this article myself, and it expresses my own opinions. I am not receiving compensation for it (other than from Seeking Alpha). I have no business relationship with any company whose stock is mentioned in this article.