As a financial REIT journalist, I did not follow Kimco Realty (NYSE:KIM) back in 2009 when the bottom fell out of the commercial real estate market. I am sure that some still remember that time when Kimco had issued far too many shares at the same time that the nation was reeling from the financial collapse that only paralleled the Great Depression. As most recall, that turbulent time in history saw the end of Lehman Brothers and Bear Stearns and the near collapse of Citigroup (NYSE:C) and AIG - clear evidence that the financial markets were in utter turmoil.
Like Kimco and many public REITs, the biggest fear revolved around the uncertainty of capital and that's why Kimco (and a host of others) chose to be proactive and access more capital. In hindsight, it's quite clear that Kimco was overly cautious and its access to capital was excessive. As the FAST Graph below illustrates, Kimco shares plunged by 90% after shares rose by over 150% from the company's IPO in 1991 (November 22, 1991) through early 2007.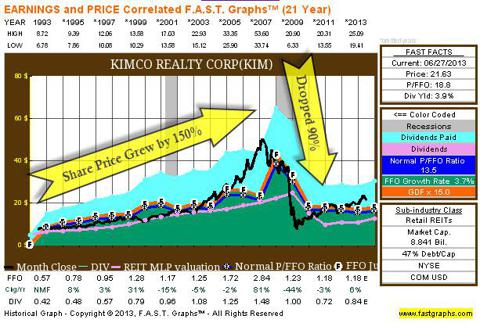 Click to enlarge
Up until 2007, Kimco was a on a path of becoming a "dividend champion" as the nation's largest shopping center landlord had increased dividends every single year from the IPO through 2008. However, in 2009 Kimco was forced to cut its dividend by over 57% and it cut again by over 8% in 2010.

Click to enlargeIt's plain to see that up until the Great Recession, Kimco's competitive advantages had been maintained for a long period of time; however, the REIT's overly cautious access to capital became disastrous for many Kimco investors. Of course, one of the biggest tests of durability is to rebound or to "clawback" from tough times. As Warren Buffett subscribes, a company's competitive advantage can be maintained over a long period of time and its underlying value should continue to increase year after year. As it relates to Kimco, "durability" equates stability and, as evidenced by the snapshot below, Kimco has begun to strengthen its dividend:

Click to enlargeSo what else is so special at Kimco? This REIT has seen significant growth (prior the Great Recession) but has the flame become a spark? Is there any fire left in Kimco or has the company's "wide moat" become a "dry stream"? Simply put, is there any wealth creation remaining for Kimco?
Would Warren Buffett Buy Kimco?
Warren Buffett can see companies in a way that no one else can. Take for example, Coca-Cola (NYSE:KO) - a company with a durable competitive advantage with long-term earnings power. By focusing on the "wide moat" characteristics, Buffett has made his stake in Coke second only to his position in Wells Fargo (NYSE:WFC). Buffett recently said (about Coke):
We've never sold a share, and I wouldn't think of selling a share.
So I wonder if the Oracle in Omaha would buy Kimco? After all, the nation's largest shopping center REIT - a so called "superstar" - has a relatively strong track record of success, minus the two years of scars brought on by the latest recession. Withstanding 2009 and 2010, Kimco has increased its dividend at an average of 9.3% a year.

Click to enlarge
What's Makes Kimco a Special Brand?
Warren Buffett learns more about the business economics of the potential "superstars" by studying the financial statements of the companies from the perspective of what makes them such fantastic long-term investments. As Buffett has said:
Your premium brand had better be delivering something special, or it's not going to get the business.
Kimco is the largest owner and operator of premier shopping centers in North America, and the company owns a portfolio of 895 properties (131 million square feet) in 44 states, Puerto Rico, Canada, and Latin America.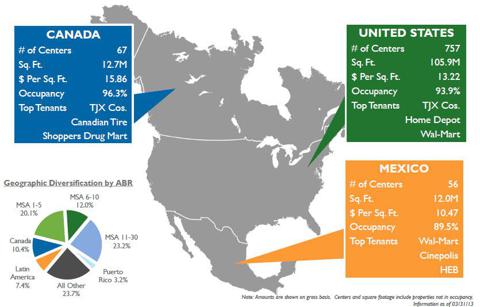 Click to enlarge
Kimco focuses on three primary markets where the company enjoys key strategic relationships with many "best in class" retailers. In the U.S. Kimco owns 757 shopping centers with over 105.9 million square feet. Some of Kimco's top U.S. tenants include TJX Companies (NYSE:TJX), Home Depot (NYSE:HD), and Wal-Mart (NYSE:WMT).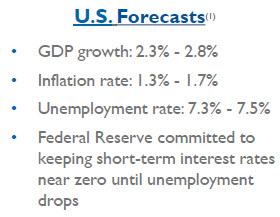 Many of the U.S. retailers that are increasing store count include Dollar Tree (NASDAQ:DLTR), Walgreens (WAG), Nordstrom (NYSE:JWN), Whole Foods (NASDAQ:WFM), and Dick's Sporting Goods (NYSE:DKS).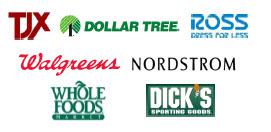 In Canada, Kimco owns 67 shopping centers with over 12.7 million square feet. Some of Kimco's top Canadian tenants include TJX Companies, Canadian Tire, and Shoppers Drug Mart.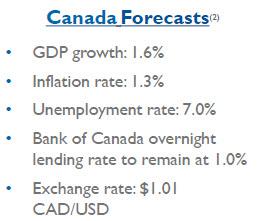 Many Canadian retailers that are increasing stores include Dollar Tree, J. Crew, Wal-Mart, and Bed Bath & Beyond (NASDAQ:BBBY). Also, new entrants to the Canadian market include Nordstrom, Target (NYSE:TGT), Lego, and Vitamin Shoppe (NYSE:VSI).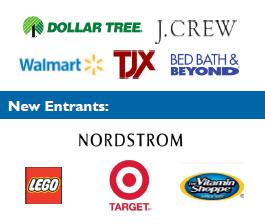 In Mexico, Kimco owns 56 shopping centers with over 12 million square feet. Some of Kimco's top tenants in Mexico include Wal-Mart, Cinepolis, and HEB.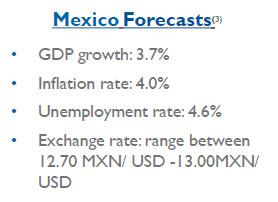 Many retailers increasing stores in Mexico include Lowe's, Home Depot, Starbucks, and FAMSA. Also, new entrants south of the border include H&M, Olive Garden, The Gap (NYSE:GPS), and Bed Bath & Beyond.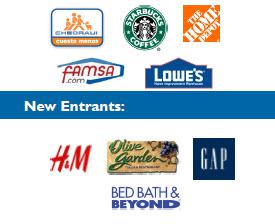 Kimco has an $8.7 billion market cap making the REIT the largest shopping center REIT in the U.S.

Click to enlarge
As a key differentiator, Kimco has focused its investments on key growth markets where the median household income is around 14% higher than the U.S. average. Here is a snapshot of Kimco's primary growth markets: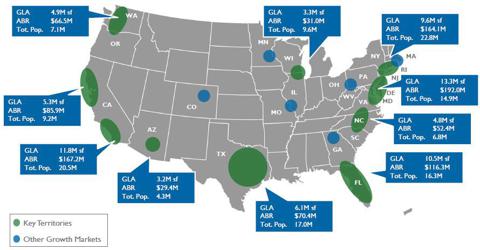 Click to enlarge
As another part of Kimco's "wide moat" strategy, the company has a highly diversified portfolio that consists of 14,600 leases and over 8,100 tenants. No one tenant has over 3% concentration and the top tenants include many "best in class" tenants such as TJX (2.9%), Wal-Mart (2.5%), K-Mart/Sears (1.9%), Bed Bath & Beyond (1.8%), and Ahold (1.6%). In addition, 10 of the Kimco's top 12 tenants are investment grade.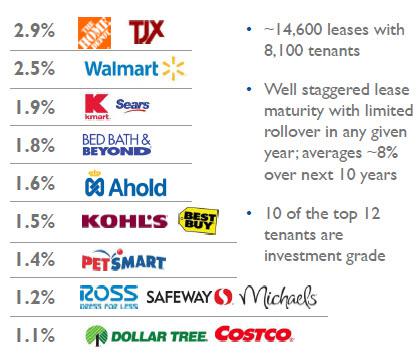 In addition to a strong tenant mix with high-quality tenants, Kimco also has one of the most diversified geographic platforms in REIT-dom. Here is a snapshot of Kimco's geographic diversification: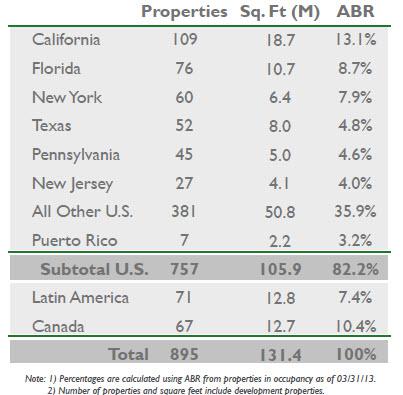 Another one of Kimco's key differentiators is the company's focus on high-quality anchored shopping centers. Over 78% of Kimco's portfolio is anchored by stable best-in-class retailers, and the smaller tenants provide higher growth in the form of shorter lease terms with higher rent increases.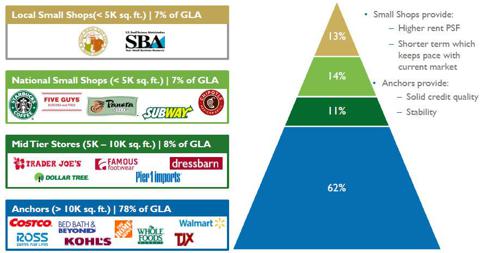 Click to enlarge
Kimco also has limited exposure to internet risks as around 92% of the company's portfolio is considered "internet resistant".
Digging Deeper into the Kimco Brand
When Warren is looking at a company's financial statement, he is looking for consistency. Does it consistently carry little or no debt? Does it show consistent earnings? Does it show a consistent growth in earnings?
So in Warren style, let's take a look at Kimco's occupancy first. That will tell me how consistent the earnings potential appears:
In the latest quarter (Q-13) Kimco's overall occupancy was 93.6%, up 70 bps from a year ago (Q1-12). Also, Kimco's U.S. occupancy was 93.7%, up 90 bps from a year ago. As the snapshot below illustrates, Kimco has produced very solid results:

Here is a snapshot of Kimco's combined occupancy history: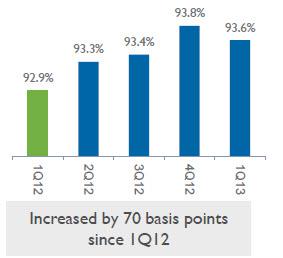 Kimco's same property NOI growth was 4% (in Q1-13), a 5-year high and the company's 12th straight quarter of positive same-site NOI growth.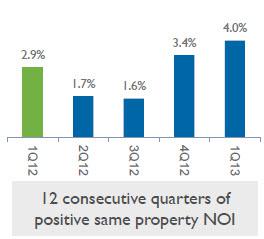 Warren Buffett once said:
One of these things you will find - which is interesting and people don't think of it enough - with most businesses and with most individuals, is life tends to snap you at your weakest link. The two biggest weak links in my experience: I've seen more people fail because of liquor and leverage - leverage being borrowed money.
Kimco's first quarter results are a clear product of the execution of a clear cut business strategy, focused on improving leverage metrics at the property operating level, further recycling of capital to acquire up quality assets and maintaining a strong balance sheet with plenty of immediate liquidity.
For the latest quarter (Q1-13) Kimco's Funds from Operations (or FFO) (as adjusted per share) came in at $0.32 as compared to $0.31 for the same quarter last year. FFO as adjusted excludes $5.2 million of transaction income, primarily from a disposition of a non-retail preferred equity position and $2.5 million of transaction costs primarily related to the acquisition activity. As a result, Kimco's FFO per share came in at $0.33 per share versus $0.31 per share last year.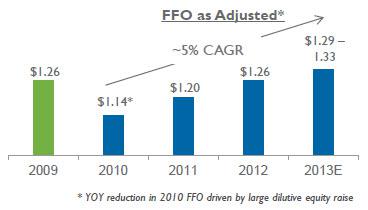 Kimco has also made significant progress on refinancing maturing debt both on the consolidated balance sheet and in the joint venture programs. Kimco refinanced its 8.58% - $1 billion peso facility (approximately USD 80 million), with a new 5-year floating rate peso facility at a spread of 135 basis points over the Mexican 28-day rate, which today equates to an annual rate of approximately 5.7%. This loan is prepayable without penalty at any time. In addition, Kimco paid off a $100 million 6.125% bond, leaving $175 million of U.S. bonds maturing this year and a CAD $200 million bond which matures in August. Kimco has a strong liquidity position of over $1.2 billion of immediate availability.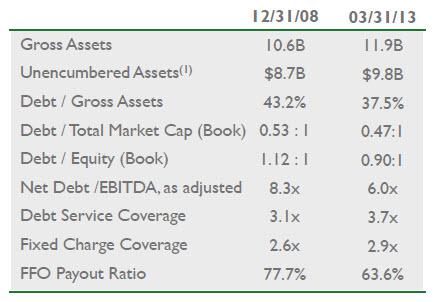 Kimco has a consolidated market cap of over $14.7 billion that consists of 65% equity, 21% unsecured debt, 7% mortgage debt, 6% preferred stock, and 1% non-controlling ownership interests. Furthermore, Kimco maintains strong balance sheet metrics, including Net Debt to EBITDA of 5.6 - 6.0x. Kimco has one of the strongest investment grade ratings today (in REIT-dom) and the company is one of twelve REITs with a BBB+ or higher S&P rating.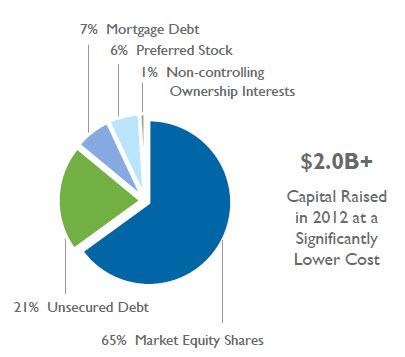 In addition, Kimco has a well-staggered debt maturity profile with weighted average fixed rate debt of 5.7% and weighted average floating rate debt of 1.51%.

Click to enlarge
Kimco's earnings potential looks solid as evidenced by the 2013 FFO Guidance: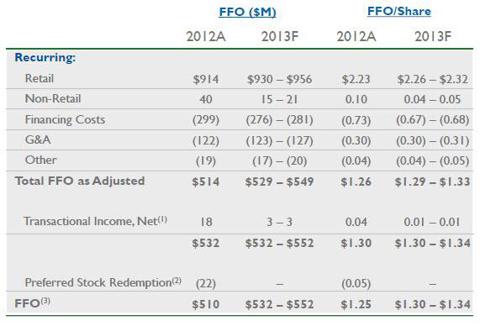 Click to enlarge
Kimco Has Become a More Focused Brand
One of the keys to Warren Buffett's financial success is his belief in the circle of competence. The circle of competence is simply the theory that an investor should choose one particular area in which to focus his efforts. Ideally, this should be an area in which his skills and experience are above that of the average investor. According to Warren Buffett, a successful investor does not need to have a large circle of competence; he merely needs to know when he is operating outside his area of expertise. Buffett said:
If we can't find things within our circle of competence, we don't need to expand the circle. We'll wait.
For Kimco, that circle of competence is looking much simpler. Last week the company announced that it closed on the sale of the InTown Suites to Starwood Capital Group, a leading global real estate firm. The gross price was $735 million that included $609 million of existing mortgage debt. The company's share of proceeds is around $103 million. In a phone interview yesterday I asked Kimco's CEO, Dave Henry, about the InTown disposition and he explained (via email):
Well, it's all about returning to our core competence and expertise in community shopping centers, which has been our basic business for more than 50 years. While we have made opportunistic investments in other sectors from time to time, our primary business and 90% of our assets have always been in shopping centers. In the case of InTown, the FFO returns were good, but property leverage was high and extended stay apartments/rooms are far afield from our core business. After the recession, the investment community clearly prefers a clear focus on our neighborhood and community shopping center portfolio and our retail operating experience/skills. The cash we received will be used to pay down debt and new investments in high quality community centers.
For Kimco, the InTown deal closes a chapter that began long before the Great Recession. The company commenced as a shopping center REIT when Martin S. Kimmel and Milton Cooper (Kim + Co) decided that they would build a world class shopping center; however, in the early 2000's Kimco started to expand its circle and invest in non-retail assets. As evidenced by the snapshot below, Kimco's recurring earnings should now be 100% retail - a significant milestone and one that Mr. Market should appreciate.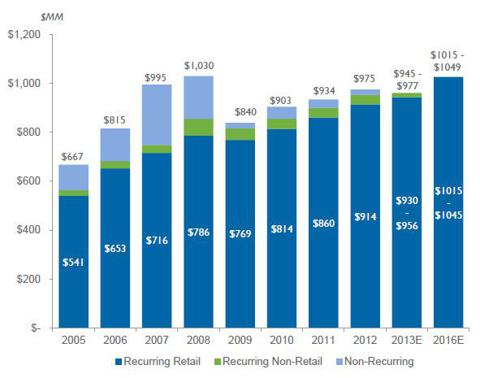 Click to enlarge As part of the evolution of Kimco's circle of competence, the continued focus on opportunistic retail partnerships should provide Kimco with strong value creation. Earlier this year Kimco announced its acquisition of SuperValu (NYSE:SVU) in a partnership deal of 900 grocery stores. Because of Kimco's close ties with retailers, Kimco has had decades of experience and financial acumen resulting in a record of unlocking real estate value.

Click to enlarge
In addition, Kimco has also leveraged its "circle of competence" by forming certain JV relationships with its partners. Recently, Kimco has focused more on purchasing the JV interests that has resulted in further simplification and "off market" opportunities.
Last week Kimco announced that it had increased its interest in 39 shopping centers held in a Kimco-UBS partnership from 18% to 33%. Simultaneously, Blackstone Real Estate Partners II acquired the 67% interest from UBS. The overall transaction was around $1.1 billion (including $631 million in assumed debt).
By simplifying its model (and its circle of competence) Kimco has made significant strides in getting back to basics…the place Kimco started and provides the most competitive advantage.

Click to enlarge
Kimco has been actively involved in recycling its portfolio that has increased on increased average rent, improved occupancy, and stronger trade areas.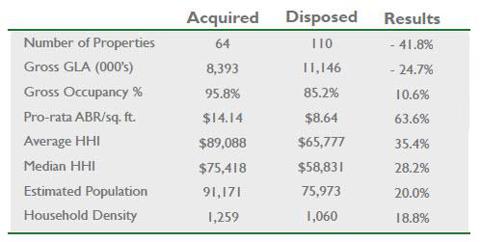 Click to enlarge
Kimco's progress in recycling is significant as occupancy has increased by 150 bps (from 9/30/10 to 3/31/13) and property level fundamentals are providing sound results.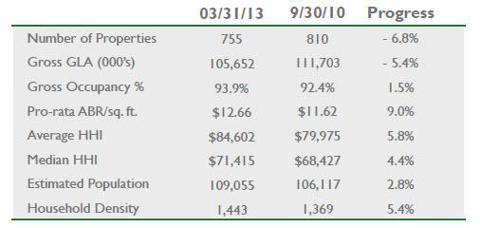 Click to enlarge
Would Warren Buffett Buy Kimco?
Before considering whether Warren Buffett would buy Kimco today, let's consider how his mentor and teacher Ben Graham would reason. After all, Graham was the father of value investing and he thought that if he bought "oversold businesses" at prices below their long-term intrinsic value, eventually the market would acknowledge its mistake and revalue them upward. Then once the shares were revalued upward, he would sell at a profit. Simply said, that is what Graham called the "margin of safety".
So that begs the question, has the recent REIT correction provided a wider "margin of safety" for Kimco? Let's check the earnings metric for REITs - or P/FFO multiple - and see how Kimco compares with its peer group:

Click to enlarge
With a P/FFO multiple of 16.2x, Kimco is in the middle of the pack, yet Mr. Market does not place much value on Kimco's "blue chip" credentials including the company's bullet proof balance sheet. In addition, it seems that the market is not giving much value to Kimco's superior management team led by the iconic co-founder Milton Cooper and the experienced CEO, Dave Henry (see article I wrote on Milton Cooper here).
Maybe Kimco is still being valued as an "average" shopping center REIT? But it's clear that Kimco is not average, and in fact, based upon my research, Kimco is a superstar REIT.
Why do I say that?
In troubled times, it's the stable and conservative REITs that have the greatest competitive advantage over the aggressive ones. Kimco's durability is the secret to the company's competitive advantage. At $21.43 a share, I consider Kimco to be moderately valued and I like the prospects of its increased dividends. With a current dividend yield of 3.92%, I'm not doing back flips; however, I trust the management team and I know that the dividend policy is sound.
Finally, I like REIT owners with skin in the game. That's definitely important for sleeping well at night. Milton Cooper owns around 13.3 million shares and I know that Kimco has aligned its interests with shareholders.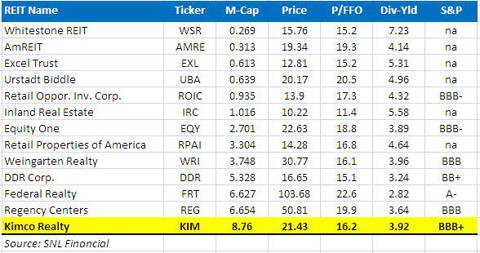 Click to enlarge
For all of the reasons cited in this article, I plan to include Kimco in my Sleep Well at Night (SWAN) portfolio. I believe that the focus on simplicity and the smaller "circle of competence" provides investors with quantifiable value and Kimco's fortress balance is well positioned for the future risks of rising interest rates.
Mr. Buffett, I hope you're reading this because Kimco is a REIT worth owning. I'm not Ben Graham but I know an intelligent REIT when I see one. In closing, my mentor (and yours) would've likely say the following about Kimco:
An investment operation is one which, upon thorough analysis, promises safety of principal and satisfactory return. Operations not meeting these requirements are speculative.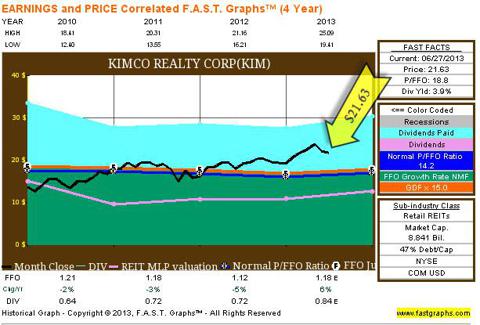 Click to enlarge
Sources: FAST Graphs, SNL Financial, and Kimco Investor Presentation (June 2013)
Disclosure: I have no positions in any stocks mentioned, and no plans to initiate any positions within the next 72 hours. I wrote this article myself, and it expresses my own opinions. I am not receiving compensation for it (other than from Seeking Alpha). I have no business relationship with any company whose stock is mentioned in this article.