Friday was not a pretty day for those invested in BlackBerry (NASDAQ:BBRY). The Canadian phone and tablet maker saw its stock plunge by nearly 28% after fiscal Q1 results were a bit disappointing. Revenues were light, and the company posted a quarterly loss even after one-time items were excluded. BlackBerry 10 shipments were underwhelming, and many believe the future of this company is in doubt after such a weak launch for BB10. However, I don't think all hope is lost just yet. Today, I'll recap the results and explain why I think there is still some light at the end of the tunnel.
Q1 results:
Revenues came in at $3.07 billion for the quarter, well below the roughly $3.35 billion that was expected. The company reported an adjusted loss of $0.13, which missed estimates for a profit of $0.07. However, there was a 10 cent impact due to a Venezuelan currency issue. Even with that, a 3 cent loss still missed estimates by a dime.
Q1 phone shipments were about 6.8 million. While that was up 13% sequentially, it missed estimates for about 7.5 million. On the conference call, it was stated that about 40% of those shipments were BB10 units. That means roughly 2.8 million units. I had stated previously that around 3 million units would be seen as disappointing, while 3.5 million to 4.0 million would have been decent or strong. They didn't even get to 3.0 million.
Gross margins for the quarter came in at 33.9%. That number was down significantly from the 40.1% figure in Q4, thanks to a higher mix of hardware revenues. Additionally, they were hurt by 2% from the Venezuela issue. The one good piece of news is that gross margins were up from last year's period which saw 28.0%. Now we've seen Apple's (NASDAQ:AAPL) gross margins take a hit in product launch periods, so I will be interested to see how gross margins do in the next couple of quarters for BlackBerry.
In terms of operating expenses, the company saw a 15% decline year over year, thanks to the ongoing restructuring plan. However, those expenses were up 11% quarter over quarter as the company increased marketing for the BB10 launch, which makes sense. BlackBerry reported an operating loss of $169 million. While that was a huge improvement from the $635 million operating loss in last year's period, it was a dive from the small $12 million operating loss in Q4. BlackBerry guided to an operating loss in Q2, a disappointing forecast as analysts were looking for an overall profit.
Balance sheet update:
The following table shows some key balance sheet figures, compared against last year's Q1 end and the end of Q4. Dollar values in millions.

Bulls have always been pointing to the company's large balance of cash and investments, which rose by another $196 million in the period. The cash and investment pile is almost $3.1 billion, fairly substantial given the market cap as of Friday was just $5.39 billion. In the past, some bears have stated that cash was only rising because accounts receivable were being collected. In this period, the company reported a huge collection of taxes receivable, offset by rises in inventory and accounts receivable. In addition to the nearly $3.1 billion in cash and investments, the company had more than $2.5 billion in accounts receivable at the end of Q1.
The balance sheet is definitely an area of strength for BlackBerry, and it has been for some time. A large cash position, no debt, and a low liabilities/assets ratio equals balance sheet health. BlackBerry has solid financial flexibility. I almost wonder if they would be interested in some kind of acquisition, but I'm not exactly sure who they would go after. But they have the money to do something, and they might need to do something rather soon.
Short interest will come down:
At the mid-June update, BlackBerry short interest hit another new high of 182.6 million as you can see in the chart below.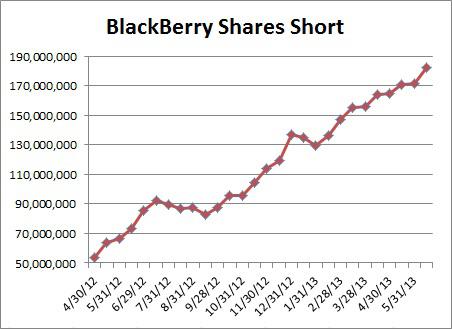 BlackBerry now has nearly 35% of its outstanding share count short. Those that are bullish on the name point to a potential short squeeze in the name, and one certainly seems possible. With the recent plunge in shares, it will be interesting to see how short interest fares over the next couple of updates. Do more shorts pile in thanks to a poor report, or will those shorts take the opportunity to cover with a nice gain? I wouldn't be surprised if we see a mini-short squeeze at some point in the next few weeks. There have been five days so far this year where BlackBerry shares have risen by double digits, and those days could be proof of a possible mini squeeze.
Low valuation:
When you have a company that's not making a profit consistently, like BlackBerry currently, the price to earnings valuation metric does not work. Two other potential metrics you could use are price to sales, and price to book. In the following two charts, I've compared BlackBerry to Apple, Google (NASDAQ:GOOG), Microsoft (NASDAQ:MSFT), and Nokia (NYSE:NOK). For price to sales, I'm using Friday's market caps as well as the current estimate for each name's current fiscal year revenues. Now, some of these names have different fiscal years. However, when you see the results, you will see that using slightly different fiscal years does not really matter here. The first chart is price to sales.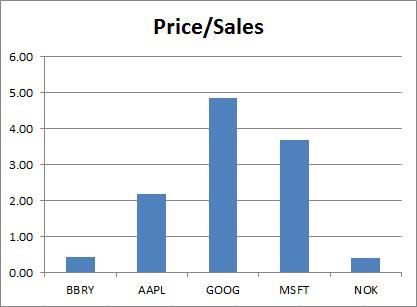 You can see that the two phone makers that have been struggling for revenues lately have dramatically low valuations. BlackBerry and Nokia trade for about 0.4 times their current year's expected sales. The other three names all trade for more than 2 times this year's expected sales, with an average of 3.56 for Microsoft, Apple, and Google. The next chart will be price to book, the book value of equity at their most recent quarterly report.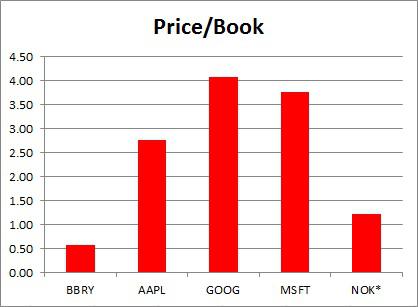 *Approximate value for Nokia using USD/Euro conversion at 3/31/13.
In this situation, BlackBerry is trading for just 0.57 times the book value of its equity. Even Nokia gets more than 1.2 times. As in the chart above, the other three tech giants fetch an average of roughly 3.5 times. BlackBerry's valuation is low.
Buyout candidate?
With such an impressive balance sheet, large cash balance, and low valuation, you might think that BlackBerry could be an acquisition target. Apple and Google have long been mentioned as potential acquirers looking to boost their presence in the space, but I don't see them as likely. Microsoft and Amazon (NASDAQ:AMZN) have also appeared as potential acquirers. Microsoft is an interesting one because Microsoft's Surface tablet has gotten off to a slow start in some respects. Could Microsoft boost its phone presence with the BlackBerry line as well as a PlayBook/Surface combination? One thing is sure. An acquisition of BlackBerry could help a company boost its revenue growth. We saw Google's revenue growth accelerate with its Motorola Mobility acquisition, and BlackBerry could fit that model for someone else.
If a complete buyout is not in the cards, a large investor could really make an impact here. There were rumors about Carl Icahn buying a stake in BlackBerry back in May. BlackBerry almost seems to fit the Icahn mold. A company that's undervalued with a large short interest, that could see its stock rise tremendously if results improve. Icahn has made decent profits in Netflix (NASDAQ:NFLX) and Herbalife (NYSE:HLF), and is currently going after Dell (NASDAQ:DELL). Could Carl Icahn get BlackBerry shares to $20 overnight? Probably not, but it would certainly be interesting to see what he could do.
Final Thoughts:
BlackBerry shares took a beating on Friday, and probably most of it was deserved. BlackBerry 10 and overall phone shipments were disappointing, leading to a revenue miss and quarterly loss. BlackBerry's balance sheet is still very strong though, with a rising cash pile. Short interest in the name is tremendous, and the valuation is low. The company's BB10 launch is still underway, so I think you have to give them another quarter to prove themselves. If Q2 is terrible, then this name is most likely done.
BlackBerry does not look as great when I last analyzed the name, but there still is some hope. Why do I say that? Well, expectations are certainly lower, but so is the stock price. Think about it this way. On December 20th, 2012, BlackBerry shares traded for just north of $14. On that day, analyst expectations for the current fiscal year stood at $11.70 billion in revenues and a yearly loss of $0.50. Current estimates stand at over $13 billion and a profit of $0.20. It is logical to think that current estimates will come down going forward. However, BlackBerry shares trade for less than $10.50 now, and short interest is up more than 50% (63 million shares) since that December date. Estimates and short interest are higher, but the stock price is a bit lower.
I'm not calling for BlackBerry to be the largest holding in any investor's portfolio, but for a small speculative piece or a trade, it might make sense. The name has been beaten down, and we could see a little more pressure in the short-term. This stock should rise at some point, creating an opportunity for both investors and traders. The light at the end of the tunnel for BlackBerry may not be as bright, but there is still some potential left in this name.
Disclosure: I have no positions in any stocks mentioned, but may initiate a long position in BBRY over the next 72 hours. I wrote this article myself, and it expresses my own opinions. I am not receiving compensation for it (other than from Seeking Alpha). I have no business relationship with any company whose stock is mentioned in this article.
Additional disclosure: Investors are always reminded that before making any investment, you should do your own proper due diligence on any name directly or indirectly mentioned in this article. Investors should also consider seeking advice from a broker or financial adviser before making any investment decisions. Any material in this article should be considered general information, and not relied on as a formal investment recommendation.