It was another great quarter for Dolby Laboratories (NYSE:DLB). Dolby announced the financial results for the third quarter, handily beating analyst expectations. The company reported an EPS of $0.44 compared to an EPS of $0.40 a year ago. Analysts were expecting an income of $0.31 a share on revenues of $147.2 million. It should be noted that revenues in the quarter included approximately $22 million from prior period shipments.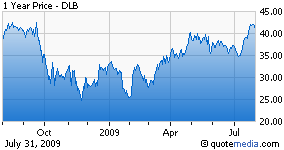 More importantly, Dolby revised its guidance for the current financial year. The company now expects to report revenue in the range of $700 million to $715 million compared to its previous outlook of $650 million to $700 million. It expects an EPS of $2.01 to $2.06, up from its previous guidance of $1.76 to $1.91 a share.
The increased quarterly revenue and earnings were primarily due to better than expected licensing revenue which is its highest margin source. As I noted in my previous article, Dolby boasts an industry leading gross margin of 88.5%.
Based on the last few quarterly results, I am projecting revenues of $704 million and income of $2.02 share for the current financial year. For the financial year 2010, I am initiating a revenue estimate of $770 million and an EPS estimate of $2.17. I am also revising my price 12-month target from $44 a share to $50 a share by applying a P/E of 23 to my 2010 EPS estimate. At these levels Dolby would be trading towards the low end of its historic multiples.
Disclosure: Long DLB