Danone (OTCQX:DANOY) is one of the leading food companies in the world. It is based in France but nowadays is well diversified throughout the world, which therefore makes it a global brand. Danone has more than 100,00 employees in 80 countries, with two-thirds working in emerging countries. Its main competitors are Nestle (OTCPK:NSRGY), General Mills (NYSE:GIS), and Unilever (NYSE:UL).
In 2012, the company had more than $27 billion in sales, an increase of 8.3% from the previous year. Danone is present in four business segments: fresh dairy products, baby nutrition, waters, and medical nutrition. Fresh dairy products are the largest business, accounting for 56% of its sales. Baby nutrition is second representing about 20% of Danone's sales, waters account for 18%, and medical nutrition for 6%. Danone's operating profit was $3.8 billion in the past year, representing an operating margin above 14%. Danone expects to increase its profitability over the next couple of years through cost reductions, targeting $260 million savings from 2015.
On the weak side, the company still has significant exposure to Europe, which represented around 40% of its sales in 2012. Moreover, it is more exposed to peripheral European countries than its closest peers, where the macroeconomic outlook continues to be very weak and negatively affect the company's top-line growth. In the last year, sales in Europe decreased 3% like-for-like in 2012 the group's worst performance, with Spain and Italy among the weakest countries.
The company has spent the past several years repositioning its portfolio to become completely focused on health and wellness. This has paid off and during 2010/11 Danone was able to post the best organic sales growth among its peers. However, due to the European debt crisis and its higher than average exposure to European Southern countries, its results have been weaker over the most recent quarters. As part of its globalization, Danone has increased significantly its sales in emerging markets over the past few years. In 2012, sales outside of Europe were responsible for about 60% of the company's sales, being primarily in emerging markets. By country, France and Russia are the company's two largest markets, each one representing 10% of Danone's sales. The U.S. is the third largest market with a weight of 8%.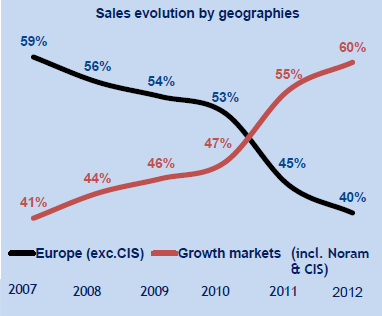 During the last year, sales outside Europe increased 12.4%, which is a very good growth rate. Going forward, these markets should continue to be Danone's growth engine given increasing income levels and improving food habits in emerging markets over the coming years. As people have more education levels and higher incomes they will require better food, which will be a sustainable source for long-term growth, especially for Danone's fresh dairy and baby nutrition businesses.
To grab this growth opportunity Danone adjusts its offer to meet local consumers' tastes, needs, and incomes, providing competitive advantages compared to smaller local competitors. For instance, the gaps in Africa's cold chain prompted Danone to create Ultramel, a yogurt for the South African market that has a seven-month shelf life. Exported to Angola and some seven other countries, this product has been very successful with sales doubling in 2012. Reflecting the growth expected in emerging markets Danone aims to increase its sales by 5% in 2013 at the group level, which is reasonable given the poor outlook it still faces in Europe.
Regarding its financial performance, Danone has improved its free cash flow generation over the past few years due to improved management of its working capital. In 2012 free cash flow was above $2.6 billion, doubling compared to five years ago. This is partly structural because fresh dairy products have a short period of life and therefore require very little inventory. Given improving free cash flow, Danone has also a strong balance sheet with a net-debt-to-EBITDA ratio at only 1.7x as of March 31, 2013.
Currently, Danone's dividend yield is about 2.6% which, although good, is slightly below its peers' average. Although the dividend yield isn't impressive Danone has a very good dividend history, given that its dividend has steadily increased over the past ten years. The last payment was €1.50 ($1.89) per share, an increase of 4.3% from 2011. The dividend payout ratio was only 46%, thus it has plenty of room to grow due to Danone's very good cash flow generation capacity. Regarding its valuation, Danone is trading at 18x its 2013 estimated earnings, 10x EV/EBITDA, and 1.61x price-to-sales, which is in-line with peers' average but below its historical averages.
Disclosure: I have no positions in any stocks mentioned, and no plans to initiate any positions within the next 72 hours. I wrote this article myself, and it expresses my own opinions. I am not receiving compensation for it (other than from Seeking Alpha). I have no business relationship with any company whose stock is mentioned in this article.