Expeditors International of Washington, Inc. (NASDAQ:EXPD) is a non-asset based provider of global logistics services operating through a worldwide network of offices and exclusive or non-exclusive agents. The company's customers include retailing and wholesaling, electronics, and manufacturing companies around the world.
Basically, Expeditors contracts with airlines and ocean carriers to move customers' freight around the world.
1. True Competitive Advantage: The Network Effect
Expeditors benefits from a typical network effect. Bruce Greenwald (Columbia Business School, author of Competition Demystified) identifies the network effect as one of the few true competitive advantages.
I'm a big fan of Greenwald's work, and as frequent readers of my articles know, he has had a meaningful impact on my thoughts about investing. Most notably, in the area of analysis of competitive moats.
Expeditors' extensive global logistics network is not easy to replicate by new entrants and it will prove to be a durable advantage over time. Their global footprint allows the company to ship at attractive prices and to offer a valuable flexible service to their clients.
2. Organic Growth
The company is focused on organic growth. Readers with experience in investing in serial acquirers might be aware of the significant challenges that are commonly encountered. When the acquiring party attempts to attain scale by integrating all operating systems and cut back on overhead these difficulties are revealed.
If it is possible and cost effective for a company to grow organically, this is the preferred route in my experience.
3. Capital Light Business Model
Expeditors' capital light business model protects against downturns and the cyclical nature of freight demand. At the same time, this flexibility allows the company to go full throttle during the better parts of the economic cycle.
Fellow Seeking Alpha contributor Gregory Vousvounis wrote extensively about the advantages of a business with high returns on capital in his analysis of EXPD.
| | | | | | |
| --- | --- | --- | --- | --- | --- |
| Year | 2012 | 2011 | 2010 | 2009 | 2008 |
| Return on Equity | 16.54% | 20.60% | 20.9% | 16.46% | 23.22% |
5. Excess Cash
Expeditors is in excellent financial shape. They not only hold a significant excess amount of cash but have virtually no debt, while producing solid positive cash flows.
By comparing past levels of cash to the current hoard, I've come to the conclusion that $5/share is not required to conduct business as usual. Even when looking at capital spending that has historically been required to attain the attractive growth numbers, there is no need to hoard this amount of cash.
6. Compensation
The company benefits from a performance focused culture. The management uses compensation as an effective tool. They pay just a modest base salary to the sales departments, yet with substantial bonuses when clear targets are hit.
Compensation for the management team itself is tied to targets as well, depending on performance of the company their compensation can increase or decrease by millions/year.
Risks
Although this article is intended as an introduction to EXPD, I still want to alert you to a few of the challenges the company faces. In addition you can read the most recent variant view on this company by Seeking Alpha author Valuentum here, although some time has passed since he wrote his article.
Big Competitors
Large companies with extensive integrated supply chains, like United Parcels Service Inc (NYSE:UPS) and Deutsche Post AG ADR (OTCPK:DPSTF) are increasingly attracted to the logistics service EXPD provides because of its healthy returns on capital. Although smaller competitors have a distinct disadvantage and will have problems overcoming the wide moat the company has dug around its business, these big players are more robust competitors.
Cyclical Business
Freight shipping is a very cyclical business and decreased demand over prolonged periods, although no immediate threat to the company's health, does weigh on profitability.
Conclusion
Given the attractive business model that is likely to be sustainable for a substantial number of years into the future, Expeditors is an attractive company to own for the long haul. The company has been growing EPS over the past 10 years by an average of 11.79% and growth in combination with a true competitive advantage is a valuable combination. Still, overpaying for rosy prospects is a sure way to underperform the market and therefore it is critical to examine the share price.
Every share is worth at least $5, as I have determined this amount of capital/share to be in excess of what is required to conduct business.
Next I performed a DCF calculation, taking into account the company's durable competitive advantage, ability to grow earnings and historical earnings per share as a base level. I discounted against an investment in the S&P 500.
In the end I currently value the shares at $30 based on future cash flow and add $5 for excess cash to arrive at a total of $35 / share. Unfortunately the company trades at $37+. At this price I'm not convinced the company will outperform the S&P 500.
If you already own the company, holding it as a long term investment is fine, unless you have significantly better investment options. Selling might be better, but trading costs will eat into your return for sure. The share price needs to come down 20%, given the current situation, for me to qualify the company as a buy. Put Expeditors on your watchlist of great companies to acquire, and act when the price is as attractive as the business.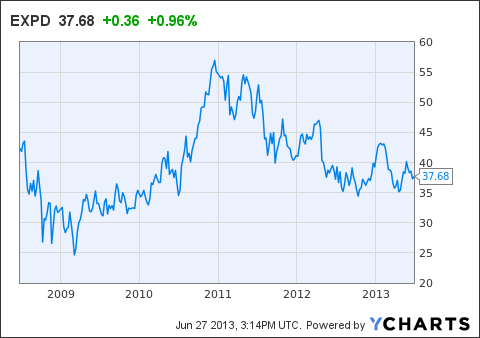 Disclosure: I have no positions in any stocks mentioned, and no plans to initiate any positions within the next 72 hours. I wrote this article myself, and it expresses my own opinions. I am not receiving compensation for it (other than from Seeking Alpha). I have no business relationship with any company whose stock is mentioned in this article.