Company: ChannelAdvisor
Listing: NYSE
Symbol: (NYSE:ECOM)
Industry: E-commerce
Summary:
The company offers a proprietary cloud-based technology platform that facilitates its customers to integrate and manage their merchandise through various online channels, including e-commerce marketplaces, such as eBay (NASDAQ:EBAY), Amazon (NASDAQ:AMZN) and Newegg; search engines and comparison shopping websites, such as Google (NASDAQ:GOOG), Bing and Nextag; and emerging channels, such as Facebook (NASDAQ:FB) and Groupon (NASDAQ:GRPN). It also offers services that allow its customers to establish their own e-commerce storefronts.
Its suite of solutions provide its customers with a single, integrated user interface to manage their product listings, inventory availability, pricing optimization, search terms, data analytics and other critical functions.
In 2012, its customers processed over $3.5 billion in gross merchandise value, or GMV, by using services of the company. Over 20% of its core revenues were derived from the customers located outside the United States.
The company serves the online businesses of traditional retailers, online retailers and brand manufacturers, as well as advertising agencies that use its solutions for their retailer clients. As of March 31, 2013, it serves nearly 2,000 core customers worldwide, including 27% of the top 500 U.S. internet retailers.
Industry Outlook: (positive) Source: IPO Prospectus page 69.
E-commerce is a large and global industry that continues to expand as the retailers and manufacturers continue to increase their online sales. According to the estimates, e-commerce consumer spending in the United States, Europe, Asia-Pacific and Latin America will increase from $534 billion in 2011 to $1.1 trillion in 2016, at a compounded annual growth rate of 15%.
Financials:
Income statement analysis:
(click to enlarge)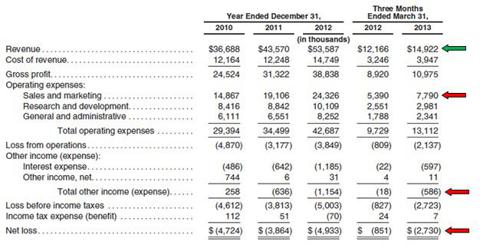 Key points:

Negative (Red arrow)

Positive (Green arrow)

1. Steady rise in the sales and marketing expenses.

1. Steady rise in the revenues.

2. Rise in the interest expenses.

3. The company is a loss making entity.

Balance sheet analysis:

1. Balances sheet shows a large shareholder's deficit of nearly $78 million.

1. Low capital-intensive business.
Key positives and negatives points of the company:
Key positives:
Positive industrial outlook (explained above).
Customer base:
The company serves nearly 2,000 core customers worldwide, but without any over-dependence on a single customer.
Growing average revenue per core customer:
Its average revenue per core customer was $20,456, $24,240 and $28,050 for the years ended December 31, 2010, 2011 and 2012, respectively, and 25,299 and $28,730 for the 12 months ended March 31, 2012 and 2013, respectively.
Key negatives:
Its income fluctuates as a result of seasonal variations. Demand for its products rise during the year-end holiday season and then start to decline in the subsequent quarters.
Sales and marketing expenses:
The company is spending heavily on sales and marketing. Since the last few years, the company has spent 40% to 50% of its revenues on the sales and marketing related activities (see the table below).
(click to enlarge)

Future assumptions: (These are just the assumptions and the company may perform totally different from these assumptions)
The financial and operational assumptions: (Assuming that the company performs exceptionally well.)
Assuming that:
The company's revenues grow by 24%.
Its sales & marketing expenses grow (year on year) by 12%, instead of about 28% in previous years.
Its debt levels are considered as nil.
The applicable tax rate is considered as nil.
All the other expenses have been reduced by about three percent (as percentage to revenues).

Fundamental evaluation: (Barring any unforeseen facts, and circumstances.)
Valuations at the current price:
| | |
| --- | --- |
| Total shares outstanding | 20,471,561 shares |
| Current price | $16 |
| Company valuations at $16 per share | $327 million |
The company operates in the e-commerce industry and helps its customers through the cloud technology based solutions/services. The cloud technology based solutions are expected to show healthy growth in the future (due to the various cost and technological advantages), but the competition is also getting intense, as companies are spending more and more on sales and marketing to get more business, and to establish themselves in the industry. Until the company brings down its sales and marketing expenses (as percentage to its revenues), it could be very hard for the company to show any kind of profits at the net level in the near future (from its currently operational activities).
Data source: IPO prospectus
Disclaimer: Investments in stock markets carry significant risk, stock prices can rise or fall without any understandable or fundamental reasons. Enter only if one has the appetite to take risk and heart to withstand the volatile nature of the stock markets.
This article reflects the personal views of the author about the company and one must read offer prospectus and consult its financial adviser before making any investment.
Disclosure: I have no positions in any stocks mentioned, and no plans to initiate any positions within the next 72 hours. I wrote this article myself, and it expresses my own opinions. I am not receiving compensation for it (other than from Seeking Alpha). I have no business relationship with any company whose stock is mentioned in this article.