From the late November lows of last year we have been quietly buying, led by our increasingly bullish view on the equity markets. Late February we found ourselves fully invested.
From mid-March we have been on a ride along bull market street. This is a rally of broad participation including corporate-bonds, emerging market bonds,commodities and high yield currencies.
The sectors that lead the way into the financial crisis; Real Estate and those involved with financing Real Estate (mortgage finance) and residential and retail have yet to join in the rally. We would lie peaceful in our beds at night if some of these stocks were able to break out of their bear trends.
Ryland (RYL)
KB Homes (KBH)
PHH Group (PHH)
Hudson City Bancorp (HCBK)
Washington Federal (WFSL)
Fidelity National (FNF)
New York Community Bank (NYB)
First Horizon (FHN)
Let us take a look at the KBW Mortgage Finance Index. This includes 24 mortgage finance sector and residential construction sector stocks.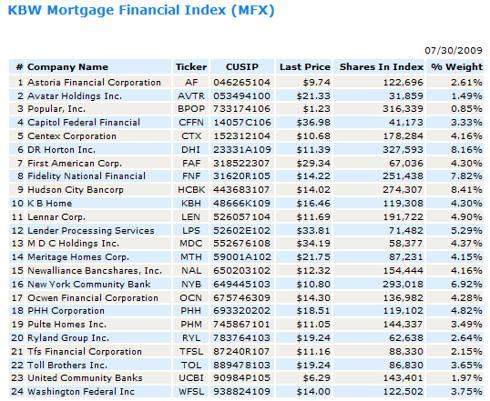 The bearish KBW is starting to turn shade bullish from our viewpoint and is reaching towards a "key" resistance level. We suspect that is a little of the radar owing to its contribution of the current state of affairs. However we see this a a sign of the Real Estate sector in the US has turned is starting to look more positive. The below $MFX chart is also supportive of this view.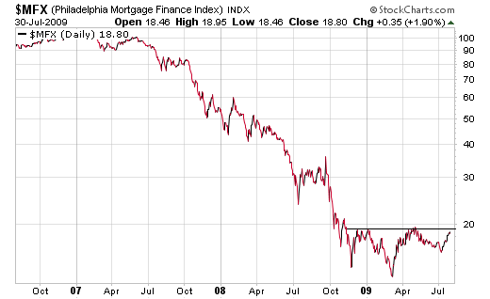 We would look for a break above 20 to confirm a fundamental change. This would be a 10 month high. Peaceful nights' sleep may only be a few weeks away.
Disclosure: Long Call Options on MFX.