Last week, I discussed how Apple (NASDAQ:AAPL) was about a month away from its next earnings report. In the article, I cautioned investors about the potential for analysts getting bearish ahead of the report. Given what we had seen in recent quarters, I was worried that Apple analysts would cut their price targets, and either fiscal Q3 or Q4 (or both) estimates leading into Apple's report. We've seen how this negativity in the past has hurt Apple's stock, and so I warned investors to be careful.
Well, it wasn't really more than two hours after my article that we got the first bearish analyst piece. The next day, another hit piece, and two days later, a third one came. Three negative notes from analysts last week sent the stock down more than four percent for the week. Today, I'll examine the latest calls and current estimates, and explain why for Apple, in terms of the analysts, it's panic time.
The three bearish analyst items:
It was shortly before 6am last Monday when my article was published, and around 8am when we got the first negative note. Jefferies' Peter Misek cut his price target on Apple from $420 to $405. He cited elevated inventory levels, stating that Apple was cutting iPhone builds, putting fiscal Q3 iPhone builds at 25-30 million, down from 40-45 million previously. Monday was a bad day for the markets. The Powershares QQQ (NASDAQ:QQQ), which tracks the NASDAQ 100, was down 1% on the day. The exchange traded fund, of which Apple is about an 11% holding, obviously took a hit with Apple down about $11, or 2.65%. I'll show the weekly performance later, and it wasn't any better for Apple.
Last Tuesday, the second note came from Oppenheimer's Ittai Kidron, who cut his fiscal Q3 and Q4 estimates. Kidron stated that iPhone 4/4S sales were "steady", but that iPhone 5 sales were "mixed". This theme of older models selling well is not new, as we learned about it when Apple reported fiscal second quarter results. Selling older models leads to lower average selling prices, and thus, forces analysts to cut estimates. Selling prices are also coming down due to a reclassification of revenues, which I've covered a few times in past articles. Kidron now expects 26 million iPhones to be sold in fiscal Q3, which is a little on the bearish side.
The third note came on Thursday, when Susquehanna cut its estimates, along with its price target from $480 to $440. The analyst cited, as we saw above, a higher mix of older phone sales. Additionally, the firm believes that Apple may not be able to get its new phone out by September, which led to a huge cut in fiscal Q4 numbers. Here are the cuts in more detail from Susquehanna:
Q3 goes from $33.7 billion in revenues and $6.92 in earnings per share to $32.8 billion and $6.64, respectively.
Q4 goes from $37.7 billion and $8.11 to $35.7 billion and $7.38.
Fiscal 2014 (ending Sept. 2014) EPS goes from $47.30 to $46.71.
Obviously, the three bearish analyst pieces knocked down Apple's stock this past week. The chart below shows Apple's performance against the QQQ this week. Apple lost more than 4% on the week, while the QQQ was up more than one percent.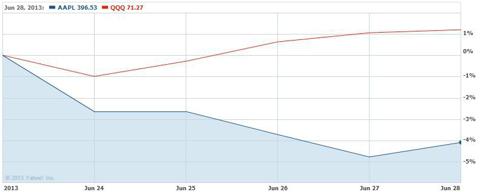 (Source: Yahoo! Finance)
The change in Q3 estimates:
Analysts have been cutting their Q3 forecasts for some time now, with a large portion of the cuts coming after Apple's low guidance for the quarter. The table below shows Apple's average Q3 estimates for revenues and earnings since March 15th. The yellow line represents the day when Apple reported Q2 and issued Q3 guidance.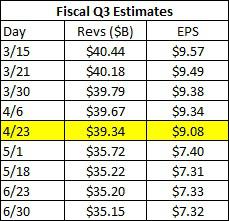 You may notice that the average revenue estimate has come down by about $0.05 billion, or $50 million, in the past week. That doesn't seem like much when you are talking about $35 billion plus in revenues. However, we had only seen a cut of $0.02 billion over the past 5 weeks, so this cut in just a week is a little significant.
Now if you have been following the analyst estimate page on Yahoo, you may have seen this week a few days where the Q3 earnings estimate popped to around $7.40. It's come back down since then, but you might ask why it rose. Well, Apple's stock has been declining so much lately (partially thanks to analysts), that analysts now have to really think about Apple's buyback. Apple can buyback a lot more shares at $390 than it can at $470, and that lowers the share count. Analysts must then take that into account. The table below shows how many shares Apple can reduce the count by, depending on the average price. Remember, I'm only using $50 billion here, the amount Apple will essentially lower the share count by. The first $10 billion of the announced buyback was to prevent the share count from rising further, so that won't get the count down.

Apple raced to $465 after its last earnings report, but shares have come back down since then. With shares much lower, Apple can buy back more shares. That's why you might see analysts start to raise earnings per share estimates. However, you must realize that if they are lowering their revenue numbers, they are most likely lowering their net income numbers as well. With Apple's buyback expected to be going at full throttle going forward, investors must be aware of the difference between net income and earnings per share. Net income could be falling, but earnings per share (for a fixed net income value) could be rising.
Q4 estimates:
When I mentioned in my article last week that estimates would be cut, I discussed the possibility of larger cuts to Q4 estimates. Remember, Q3 numbers already came way down thanks to Apple's guidance, so you wouldn't expect numbers to come down too much further. Q4 numbers have come down since then, but not tremendously. Well, the past week did see some cuts, which you can see in the table below.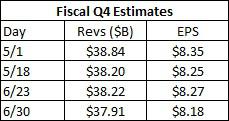 Are analysts now realizing that estimates for Q4 are too high? Well, it depends on whether or not you think Apple will launch any new products during the September ending quarter. Remember, Apple launched the iPhone 5 in late September during Q4 last year, which provided a late quarter revenue boost. Apple will probably need to launch something new just to match last year's revenue figure, and analysts are currently calling for 5.4% growth, nearly $2 billion. Here's the key breakdown of last year's Q4.
Revenues of $35.97 billion, EPS of $8.67.
Gross margins of 40.04%, Operating margins of 30.43%, Net Profit margins of 22.86%.
4.92 million Macs sold.
5.34 million iPods sold.
26.91 million iPhones sold.
14.04 million iPads sold.
Can Apple sell 27 million iPhones without a refresh? Probably not, as that's probably what most are calling for in Q3. Those 14 million iPads were also the higher priced original, so Apple will need a lot more unit sales to make up for the cheaper version mini. Also, with the weakness in the PC market, nearly 5 million Macs will be a tough comparison, and the iPod is also steadily declining. Without some sort of product launch, Apple estimates for Q4 are too high, and you would probably see revenue guidance in that $33 billion to $35 billion area again. For the company to achieve any sort of revenue growth, and for the stock's sake, Apple needs something fairly decent in Q4.
The month before earnings:
My last article was talking about the ever important month before earnings, where I was worried about analyst cuts, and we've started to see some already. My main worry was that analyst cuts would lead to price declines, and that's something that's happened in past quarters. The following table shows the last five fiscal quarters, and how Apple has performed in the month prior. Prices are not adjusted for dividends, and are the actual closes on those dates.

The average return for those month periods is a loss of 5.07%. If you just look at the four down periods, the average loss is 7.15%. Now you may not think that 4 out of 5 periods is a large sample size, and I might normally agree with you. However, it was really fiscal Q2 of 2012 (last year) that started this whole panic before earnings period for Apple. Why do I think that happened? Well, everyone was spoiled when Apple produced that huge Q1 beat. Apple beat analyst expectations by roughly $7.5 billion in revenues and about $3.80 in earnings per share. That pushed expectations up to the moon, and I think that's why we get so many negative analyst notes into earnings. Expectations were just way too high, and now we are starting to readjust to normal levels.
Just to make my point, I want to show you how estimates have come down for Apple for this fiscal year. The table below shows the average revenue and earnings estimate for this fiscal year, going back to when Apple reported last year's Q3 in July (yellow lines are dates earnings were reported).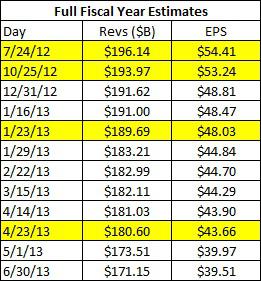 Think about what you just saw in the table for a second. The average revenue estimate has come down by $25 billion, and the average earnings estimate has dropped by nearly $15. Does it now make sense why Apple is trading closer to $400 than $700? In July 2012, the highest estimates on the street were for $228.39 billion in revenues and $64.06 in earnings per share. The highest estimate now is just $178.52 billion and $41.74. It's taken a year for estimates to adjust, and that's why the stock has as well.
Final Thoughts:
When I said that Apple analysts would probably start cutting their price targets and estimates, I meant it. I didn't think it would only be a few hours before the process started, but it did. Three negative notes last week from analysts sent Apple's stock down more than four percent on the week. In the month before Apple earnings, the stock has dropped four out of the past five times (quarters). So far, it looks like we could be heading for five out of six.
Apple analysts could still continue to cut their estimates and price targets, and on that basis, I consider Apple a short candidate. Let me explain this again, just like I have in recent quarters. I am not an Apple basher that is calling for the death of the company, and I do believe in Apple's long-term future. I am calling Apple a short idea on the basis that further estimate and price target cuts would put a dent in the stock. If you don't believe that is possible, just look at what happened last week. Apple analysts are starting the process again, and that means it is panic time.
Disclosure: I have no positions in any stocks mentioned, and no plans to initiate any positions within the next 72 hours. I wrote this article myself, and it expresses my own opinions. I am not receiving compensation for it (other than from Seeking Alpha). I have no business relationship with any company whose stock is mentioned in this article.
Additional disclosure: Investors are always reminded that before making any investment, you should do your own proper due diligence on any name directly or indirectly mentioned in this article. Investors should also consider seeking advice from a broker or financial adviser before making any investment decisions. Any material in this article should be considered general information, and not relied on as a formal investment recommendation.