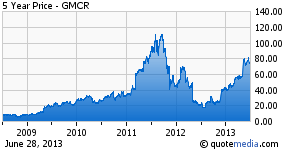 So what's new with the largest single-serve K-cup provider in the world investors may be asking themselves lately? Green Mountain Coffee Roasters (NASDAQ:GMCR) has definitively maintained a low profile over the last few months as it looks to capitalize on its growing platform. But GMCR once again made headlines with the recent retirement of Bob Stiller and Larry Blanford from their respective board positions. New board members were named in a press release on June 20, 2013.
Commenting on the new members, GMCR's Chairman of the Board of Directors Norm Wesley said, "John, Susan and Rob are terrific individual leaders with prestigious careers and significant global experience. Each will be a tremendous asset to GMCR as we continue to drive single-serve beverage category expansion and pursue growth opportunities leveraging the strength of our Keurig brewing technology." Mr. Wesley continued, "Bob Stiller's vision for GMCR has been unwavering and as a result of his foresight, GMCR experienced unprecedented growth as it successfully transitioned from a regionally recognized specialty coffee roaster to a leader in the emerging single-serve beverage category in North America. On behalf of many GMCR stakeholders, including our Board and our executive leadership and all our employees, we express our gratitude to Bob and we are very pleased that he will assume the newly created role of Chairman Emeritus."
Mr. Stiller stated:
"I believe the time is right to retire from the Board and pursue a variety of personal interests. I am confident that GMCR's culture of innovation, the breadth and depth of our Board and leadership team, the determination of our employees and the incredible consumer enthusiasm for our brands will continue to drive value for all GMCR stakeholders. It has been the highlight of my business career to serve GMCR and I am enthusiastic to continue to do so in this new role."

Regarding the recent departures, CEO Brian Kelly said that GMCR has many opportunities in new channels and with new brewer technologies that take the power of Keurig to new beverages in large part thanks to the solid foundation and building blocks that Larry Blanford and the GMCR team put in place. Personally, I am grateful for Larry's guidance during my initial days as GMCR's CEO and on behalf of the Board, our employees, partners, customers and many other GMCR stakeholders, I thank him for his unwavering dedication to the Company."
Mr. Steele's appointment is effective June 20, 2013 and Mr. Hayes and Ms. Kilsby's appointments will be effective July 1, 2013. Mr. Stiller's retirement was effective June 19, 2013. Mr. Blanford's retirement will be effective June 21, 2013. Upon Mr. Hayes and Ms. Kilsby's appointments, GMCR's Board of Directors will consist of 11 members, 10 of whom are independent.
There was another executive departure that wasn't recognized in the press release but rather offered in an SEC filing earlier last week. The SEC filing outlined the departure of GMCR's head of its K-cup division, Robert McCrery. The departure comes as the growth of K-cup sales is slowing and the company continues to consolidate operations in order to improve gross margins which it has done successfully in the early parts of 2013.
Another news-worthy headline recently broke regarding GMCR's lawsuit against The Rogers Family Company. Keurig claimed in U.S. District Court in Boston that the OneCup produced by Rogers infringed on three of its patents. But the judge in the case ruled on May 29 that the overall appearance of the Rogers cartridge was "plainly dissimilar" to the Keurig design. "Ours doesn't look remotely like theirs," said Jon Rogers, president of the Rogers Family Co. "You'd have to be blind buying our product thinking it was theirs." Rogers points out the OneCup does not use a plastic cup as the Keurig single-serve portion packs do. Instead, the OneCup is made from a biodegradable plastic ring with filtering material attached containing the coffee. Rogers said he invested in expensive equipment made in Italy to make the cartridges, and that his company sells them across the country.
As it pertains to expanding gross margins going forward, the company is challenged with the task of maintaining its dominant position in the single-serve K-cup market in an ever-increasing competitive marketplace. Some key advantages the company maintains are its ever-expanding product portfolio of brewers and single serve packs which offer consumers a wide variety of choices. GMCR has recently shown gross margin improvement due to lower warranty claims, beneficial green coffee prices and greater operational focus through consolidation and capacity utilization improvements. While we congratulate GMCR for managing coffee costs and introducing brewers which show more stickiness than in the past (warranty claims), the sales mix shift may serve to define an underlying problem with regards to the general strength of sales and longevity for which gross margins can plausibly expand. We expect to see the benefits from green coffee prices and operational improvements continue, but lower warranty claims may not be as impactful to gross margins in the mid-term. Keep in mind that the company naturally experienced lower warranty claims as it has witnessed a decline in brewer shipments by 9% YOY in the most recently reported quarter. For the year, the company did reaffirm guidance that they expect the brewer unit shipment and POS growth to be in the mid-single digits.
During GMCR's latest quarterly update, the company solidified its partnership with Starbucks (NASDAQ:SBUX) and offered to investors that its products would be available at Starbucks locations in the near future. The company also announced Starbucks as being a facilitating partner for growing Keurig sales internationally. Lastly and probably most importantly, as the at-home market in North America edges closer and closer to its saturation point, the company announced its venture into the commercial market via the hospitality industry. As part of the company's steps toward entering the food service channel in the U.S., the company completed its NSF food service certification. Investors should expect to hear more about this venture into the commercial market in the near future. Brian Kelley offered investors some insight into the away from home category in the United States on the latest conference call:
"The U.S. away from home business for hot beverages is a $10 billion wholesale opportunity that consists of food service which is 74% of that total, workplace which is 20% and travel, leisure and hospitality which is 6%."
Most analysts aren't yet modeling for meaningful revenues from this latest venture in their recent forecast updates with nearly all supporting analysts not seeing anything from the venture until late 2014. With this in mind and for the purpose of analyzing the company in its current state of operations, we will exclude the impact from these commercial market efforts for the time being.
Let's get back to the recent validation of the Starbucks/Green Mountain partnership. What could be the most logical theories behind the extended partnership? One thing is for certain as Capital Ladder is identifying through our extensive channel checks and that is the peak for which Starbucks licensed K-cup packs have reached. Since recently peaking with an unfavorable 8:1 ratio of Keurig brand K-cup to like Starbucks licensed K-cups, the trend has steadily declined to where it currently sits at 11:1 for Starbucks K-cups sold. This basically means that for every K-cup sold, Starbucks sells one. If you're Starbucks, you had likely seen this coming which is why you had to attempt the sale of your own private ecosystem, complete with both brewers and coffee-flavored pods. The reality of the situation at hand concerning Starbucks is that its platform is seeing increasingly little adoption and the company is either going to advance its current system, possibly in conjunction with GMCR, or scrap the product line altogether. This theory is most notably born out through POS data captured by Capital Ladder Advisory Group, which identifies the ratio of Keurig brewer sales to Starbucks brewer sales as 118:1. Capital Ladder channel sales data will be offered with our Q3 2013 GMCR Quarterly Preview.
That is most recognizable to Capital Ladder Advisory Group clients is that SBUX, as an ecosystem, is one of the least competitive threats to GMCR presently as a brewer system let alone an entire ecosystem of at-home, single-serve coffee products. The only threat GMCR faces is that created by itself. If GMCR fails to expand beyond the North American at-home market, results will likely begin to show greater contraction if only due to the higher base of sales and earnings growth it produced in the previous year. We can easily go on and on about the threat of newly introduced competitive products and what the My-K-cup and similar My-K-cup knock off products could do to sales of portion packs, but until it proves to be relevant, we will forgo that theory and/or observation.
So what can we expect from GMCR in the near to mid-term? Well, we would say much of the same to some incremental varying degree. Based on channel check data, we don't see much improvement in brewer orders YOY or from the perspective of GMCR, brewer shipments YOY. Retailers continue to stock inventory modestly as they see only gradual improvement in consumer spending and the overall economy which effectively grew at a modest 1.8% rate in Q1 of 2013. Modest economic activity seems to produce modest orders from retailers. With regards to portion packs, we continue to see a steady growth rate at the POS, although orders are beginning to moderate on the portion pack side of the product portfolio as well. Again, this is likely the cause of modest orders for inventory by the retailers. Keurig Direct-to-Consumer traffic results are up YOY and sequentially according to our latest tracking results as the e-commerce division has increased its communication to registered users. The number of e-mail notifications to registered users per month has increased in each of the last 6 quarters with the greatest increase coming in Q4 of 2012. Most e-mail communications to registered users comes with a discount offer of some sort.
GMCR is continuing to expand upon its recent television advertising campaign. The company most recently debut the launch of the "Vue Brewer Journey Across America" television road show. The show can be viewed on YouTube for those who missed it. This advertising campaign lasts for roughly thirty minutes and details the functionality and benefits offered by the Vue brewer and is co-hosted by television star Jennie Garth. The latest V500 brewer is slightly smaller than its predecessor the V700, but offers a more attractive price point for those who were on the fence regarding moving to the more advanced Vue platform. Based on early channel checks and comparing them with the original V700 brewer, the V500 brewer is showing greater promise than the V700. Rate of sale between the two comparable brewer systems is nearing parity already, possibly proving that there was essentially a price level ceiling for which Keurig brewers could see meaningful sales, however, we will need to see greater sample sizes of data to conclusively determine this hypothesis.
GMCR remains a highly scrutinized stock and company. At its current trading price of roughly $76 a share, the stock is trading at roughly 23 times forward looking earnings. It is difficult to place any credence with historical P/E ratios on GMCR as it has varied greatly over the last 3 years. Depending on stock market sentiment moving forward, GMCR will likely market perform absent any headline risks or complements. The most widely speculated headline complement is the possibility of further licensing deals including that of a possible partnership with McDonald's (NYSE:MCD) for licensed K-cups. Long term investors in GMCR will likely be rewarded for increasing exposure to shares of GMCR on pullbacks. Traders can benefit from the frequent volatility in shares as the stock has very big price swings from week to week.
Disclosure: I am long GMCR. I wrote this article myself, and it expresses my own opinions. I am not receiving compensation for it (other than from Seeking Alpha). I have no business relationship with any company whose stock is mentioned in this article.