Nobody likes to get their butt handed to them, including us. But when you do, you have to figure out what happened so it doesn't happen again. When BlackBerry (NASDAQ:BBRY) reported Friday's earnings, we were blindsided by Venezuela. BlackBerry's CEO Thorsten Heins may have gotten his death sentence Friday in this Latin American hornet's nest. So we scoured the net to see what's going on in Venezuela. What we didn't realize is a deadly H1N1 swine flu has been sweeping through the country on top of the social and political unrest since Chavez died: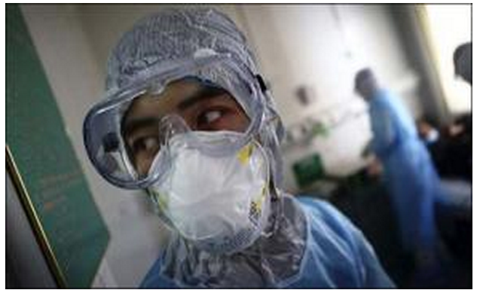 Health Minister Isabel Iturria, explaining why deaths would not be reported, blamed "political or economic interests" for creating alarm over the outbreak. The ministry said there were 414 new cases of H1N1 in the week from May 26 to June 1, pushing the total number of cases from 724 to 1,138. The virus was detected for the first time in Venezuela in 2009. The current outbreak has surpassed one in 2011 that resulted in 900 cases and eight deaths. Venezuela has been fiercely polarized since Nicolas Maduro was declared the winner of a disputed election in April to replace his mentor, the late leftist leader Hugo Chavez. The centrist opposition has contested the results.
Venezuela is a nasty place and according to BBRY's latest earning's press release, it cost them $72 million:
LATAM revenue declines 6% as Venezuela foreign currency restrictions negatively impact $72 million of service revenue recognition in the first quarter; company gross margins negatively impacted by 2%
It cost us a bundle too. Short seller's love to criticize these types of excuses for an earnings miss. We remember when a drug company blamed an earnings miss on a trucking accident that seemed so ridiculous and the shorts had a field day by driving the stock down more than 25% on that day. The bottom line is short sellers, and investors in general, hate excuses that seemingly come out of nowhere for earnings misses. Maybe blaming the Venezuela currency on their earnings miss is the biggest mistake BBRY made Friday. In fact, analysts like to uncover the reason themselves and be rewarded as the hero for finding the culprit causing the miss.
Our take is the quarter on balance was mildly positive because we like to keep our eyes on the cash and revenues, and in both those categories there was a marked improvement (from PR):
The total of cash, cash equivalents, short-term and long-term investments was $3.1 billion as of June 1, 2013, compared to $2.9 billion at the end of the previous quarter, an increase of approximately $200million from the prior quarter. ... Revenue for the first quarter of fiscal 2014 was $3.1 billion, up 15% from $2.7 billion in the previous quarter and up 9% from $2.8 billion in the same quarter of fiscal 2013.
In addition, the below income statement (from PR) reveals positives:
First, despite the SG&A increase of $150 and setting aside the non-cash amortization charge, the company is cash flow positive to the tune of $11 million. Yes there was a tax refund of $561 million, more on that later. Still, this is not bad for a company in a rebuilding scenario, especially when you are transitioning from the addiction of the higher margin enterprise service revenues to the lower margins of the competitive consumer hardware business with social media services . This is a formidable feat. Moreover, substantial inventory has been built up in anticipation of filling the sales channel. Here are some highlights from the earnings transcript here on SA:
Inventories increased by $284 million to $887 million, compared to the fourth quarter, primarily to support the continued launch of the Blackberry 10 smartphone.

Accounts receivable were $2.5 billion, or an increase of $183 million from Q4, and days sales outstanding declined to 75 days in the first quarter compared to 80 days at the end of the fourth quarter.

Capex in the quarter was $83 million, in line with our previous run rates.

Intangible asset purchases were $335 million in the quarter, which consist primarily of payments related to amended or renewed licensing agreements. This quarter included certain additional prepaid license agreements with several IP providers. However, we anticipate returning to our approximate $240 million run rate in the next quarter.
Adding the above anomalies, namely the respective $284, $183 and $95 million increases in inventory, accounts receivable and intangibles related to IP shows us a $562 million use of cash. We wanted to highlight this in order to refute a strange comment made by a long time bullish analyst from Jefferies, Peter Misek, who must have felt burnt by BBRY and issued an abnormally terse report which probably added to the selling pressure in the name. We quote from his report where he lowers his price target to $18 from $22:
Disappointing FQ1 (May) results: $3.1B/$0.13 (Jef $4.0B/$0.50, St $3.4B/$0.07). GM 33.9% (2%negative impact from Venezuela foreign currency restrictions) (Jef 39%, St 38.7%). Mgmt noted hardware revenues were relatively flat Q/Q despite the ramp in BB10 handsets; we believe deteriorating BB7 GMs were to blame. Handsets: 6.8M units (Jef 8M, St 7.4M) with BB10 ~2.7M (Jef 4M, St 3M). ASP $318 (Jef $381, St $321). Playbooks 100K (Jef 286K, St 252K). Cash flow from operations of $630M (Jef -$618M) helped by ~$600M tax refund. Channel inventories were flat Q/Q, which we believe were due to stronger drawdown of BB7 inventories than expected and less BB10 than we estimated (we est 500K vs. our prior 1M est). Services: net adds of -4M (Jef -3M, St -2M though revenues -9% Q/ Q were inline with our estimate after adjusting for the Venezuelan impact.
We specifically have issue with the $600 million tax refund comment given as the reason for the increase in cash while ignoring the $562 million increase and the $72 million impairment from Venezuela. The sum of these anomalies off-set his comment about the $600 million refund. But what his report symbolizes is that many pro BBRY feel betrayed or dismayed. We think this may be an inflection point for BBRY because of all the moving parts on the income statement and balance sheet in the current earnings report which actually could have been much, much worse.
The real issue which no one has talked about is the low sales for the Z10 which the company released first. We have often urged the company to release the Q10 in the US as soon as possible here on SA. As we investigate why the Z10 was released first ahead of the flagship Q10, we hear from independent developers that the Z10 OS was easier for the company to debug and release than the Q10's OS build. They really had no choice given the already delayed BB10 launch. We think the Q10 and the Q5 are really the sweet spot for BRY with the physical QWERTY keyboard that made them famous, period-end of story. And this has just begun especially here in the U.S. where Verizon (NYSE:VZ) is advertising the Q10 on it FIOS cable television territories. You see, it's in Verizon's interest to have a four legged race in terms of phone OS suppliers because it gives them more leverage in price negotiation.
Aggressive Comeback Plan
A survival kit for Thorsten Heins which repents for the faux pas blaming Venezuela and cutting back on transparency:
1. Turn in all your options, put the key executives, including yourself, into a highly motivated option plan that uses today's low price as the exercise price which will help put a hard floor in the stock and reassure shareholders in BBRY that all key personnel are all significant insiders in the stock at this low price. Making them true insiders will help them reap the rewards of continued better execution with all their fellow shareholders.
2. Next, make transparency your new theme. Make wall street part of your comeback plan instead of the enemy. Give weekly updates on sales. Transparency will put a gag order on the short sellers.
3. Hire a Crackberry operative as your liaison to the press and media outlets, you need to be closer to the street and less defensive & combative.
We think the short sellers should take advantage of the current low share price, which may be their best chance to unwind this vastly overcrowded short position. Shorts are now probably wondering why BBRY's price didn't go lower on Friday. Our answer to them is simple: BlackBerry is on extremely solid financial footing and can outlast the negative carry on the short trade for years which means now may be their perfect opportunity to exit. We know from history that days like Friday tend to be a calling card for real value players like Carl Icahn who love heavily shorted stocks that have no debt and have lots of IP assets like BlackBerry.
Disclosure: I am long BBRY. I wrote this article myself, and it expresses my own opinions. I am not receiving compensation for it. I have no business relationship with any company whose stock is mentioned in this article.