By Jim Ryan
Rising mortgage rates and falling refinancing volume could create an opportunity
Title insurance stocks are up dramatically over the past year as the firms have reaped the rewards of a refinance boom driven by historically low mortgage interest rates. However, mortgage rates are rising, and the inevitable end to the refinance craze appears to be in sight. No doubt the reduction in orders will hurt revenue in the short term, but we think the return of residential purchases and a recovery in commercial business will offset the refinance crash over the long run. Prudence may dictate sitting on the sidelines for a bit, as the market tends to overreact to near-term volume changes, but we think keeping title insurers like First American Financial (NYSE:FAF) and Fidelity National Financial (NYSE:FNF) on your radar also makes sense.
Title Insurers Rode the Refinance Wave, but That's Coming to an End
Since topping out at more than $2.5 trillion in originations in 2003, residential refinances have generally fallen, occasionally surging with reductions in mortgage rates. In 2012, for example, refinance originations increased 40% over the prior year, according to the Mortgage Bankers Association. Because every mortgage refinance in the United States requires title insurance, the title industry benefited.
However, mortgage rates are rising, and the victim will be residential refinances and all those that benefited. First American Financial and Fidelity National Financial noted during their first-quarter conference calls that their order mixture was beginning to shift toward more residential resale business. Both firms said that about 70%-75% of their orders in 2012 were from residential refinances, but the mix was beginning to shift. First American said the percentage of new refinance orders slipped to 64% in the first quarter of this year, while Fidelity said it was 60% in early May. In contrast, both companies noted a significant pickup in purchase orders in the first quarter.
We think the end of the refinance boom has arrived. The average 30-year fixed mortgage rate has now approached 4%, which will greatly reduce demand for mortgage refinancing. In our view, the volume of refinance mortgage originations will fall dramatically over the next few years as the market returns to more normalized levels. In fact, we think the future size of the refinance market should be even less than the historical norm for some time to come, as many homeowners will have no incentive to replace their low-rate mortgage unless rates revisit historic lows. However, there are still around 20% of homeowners who are underwater on their mortgages and have not had the opportunity to refinance, which could offset further shrinkage in refinance originations. And despite the massive volume of refinances over the past year, there are still many homeowners with mortgages who have not participated in mortgage rate reduction. Many potential refinances that could have taken place have not because of stringent underwriting standards imposed by mortgage lenders. While we think the volume of mortgage refinances will eventually fall hard, it will be somewhat tempered as income growth and rising housing prices will qualify those who missed the opportunity over the past few years. In our view, the refinance market will fall significantly compared with historical averages, but it won't go away entirely.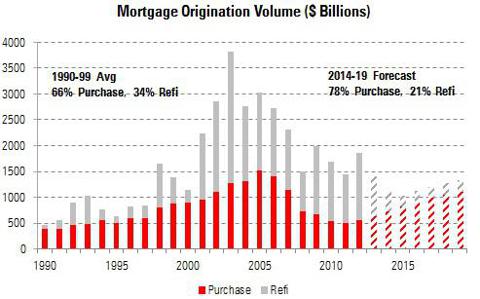 Source: Mortgage Bankers Association (historical), Morningstar (forecast)
In the 1990s, the mix of purchase originations to refinance originations was 66%/34%. The mix shifted to 44% purchase/56% refinance from 2000 to 2012 because of low rates. However, rising mortgage rates will cut deeply into the refinance share, and with so many homeowners benefiting from a low mortgage rate, the incentive to refinance will end. As a result, we have reduced our forecast for refinance originations.
Refinance Plunge Not Nearly as Dire to Title Insurers as It First Appears
The fall in refinances will be a material negative for the title insurers, but it is not all bad, as policy premiums for mortgage refinances are much lower than those for purchases. First, the premium rate to insure a buyer of property is substantially higher in most states than it is to insure a lender only in a refinance transaction. Second, in the vast majority of cases, the amount insured is also higher, since lenders now require substantial equity before agreeing to underwrite a purchase mortgage. Third, two policies are almost always issued in a purchase, sometimes at substantial additional premium: one for the buyer and another for the lender. Although rates differ by state, it is nearly universal that the premiums generated in a purchase transaction are much higher than those in a refinance. Closing fees also vary by location but are generally substantially higher in a purchase transaction.
From the title insurers' cost standpoint, there is very little difference between the work involved with a purchase and that of a refinance. In both cases, a search and examination of title is performed, although there are a couple of additional checks performed in a purchase transaction. Consequently, the margins are much better in a purchase transaction, given the additional premium collected for little extra effort. There is also virtually no difference in the rate of claims incurred between the two segments.
Commercial Transactions Also Rising After Long Period of Inactivity
The commercial market segment also fell prey to the financial crisis, as construction and sales of commercial real estate took a nosedive beginning in 2008. According to the Dodge Momentum Index, which measures nonresidential building projects leading to construction spending, activity fell 60% from the peak in 2008 to the bottom in 2010-11. Sales and financings of commercial property have similarly declined, leading to a massive reduction in commercial title insurance revenue. Since the trough, though, commercial title revenue has improved significantly.
While there is normally more work involved in processing a commercial title insurance order, the revenue per order is substantially higher. What's more, because of better pricing and larger transactions, revenue per order at both First American and Fidelity National has also been trending upward.
Shift Toward More-Profitable Segments Is Positive for Title Insurers
The decline in residential refinances will reduce the number of title insurance orders, but the offsetting benefit is that more-profitable business will pick up the slack over time. What's more, the reduced order volume reduces processing costs, expanding margins as the overall revenue per order picks up. In our forecast, the segment allocation shifts for the title industry with purchase orders making up the bulk of revenue, followed by commercial. Most of the shift is due to returning to a purchase-oriented market, although that has been helped by price increases the title insurers enacted during the financial crisis. We also think pricing in the commercial segment will be better than it has been in the past as the market has become dominated by First American and Fidelity Financial, which account for about 80% of all commercial title insurance written.
In our forecast, the total title insurance market expands reasonably through 2019, averaging 6.5% per year after a decline in 2014. We expect title insurance revenue to increase slightly in 2013 as the first half of the year will still benefit from a strong refinance market. We do not think the full impact of the lower level of refinancing will be felt by the title industry until later this year because of the number of mortgage applications that were in process in the second quarter and will close later in the second quarter and into the third quarter. Consequently, 2013 should still be a decent year for title insurers, while 2014 will mark the beginning of a transition to a more normalized performance. We forecast a 10% decline in title revenue in 2014 as rising interest rates cut off the bulk of refinancings, offset by a slightly better purchase market.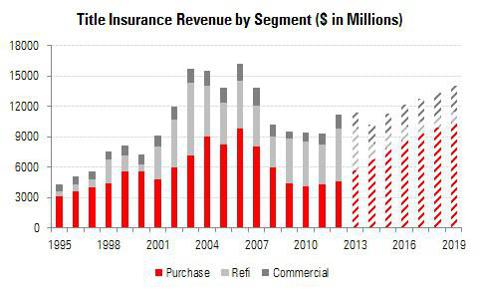 Source: Company reports, American Land Title, Morningstar estimates
Although title insurers have become very adept at rightsizing staff and costs to the market, it still takes time to do so. After 2014, we forecast a gradual return to more normalized markets, with the purchase and commercial title insurance segments leading the way.
End of Refinance Craze Could Present Opportunity
Market perception is that the title industry has thrived off the refinance boom, but we think that's somewhat mistaken. While it's true that the refinance business was welcomed by the industry because of the dearth of orders from purchases, it also strained operating margins because of the smaller revenue per order. In our forecasts for First American and Fidelity National, we think title insurance earnings will fall in 2014 because of a massive decline in refinances and a delay in adjusting costs to the smaller market size.
As the purchase and commercial segments return to their more traditional role in the product mix, we think title insurers' margins will expand, increasing earnings per share. Therefore, in our view, a material pullback in the share price would present an opportunity for investors with a long-term horizon to invest in a solid business that will benefit from a recovery in real estate markets.
We Think First American Is the Better Choice
We think First American benefits from a narrow economic moat that has a positive trend. Title insurance is required on virtually all real estate transactions in the United States, and the barriers to entry are significant. Fidelity, on the other hand, has a negative moat trend, in our view, because of its investments in non-core businesses without moats. What's more, First American has expanded its business organically, one customer at a time, which creates a stickier customer base as opposed to Fidelity's acquisition strategy, which has lost market share after each title insurance acquisition.
As a pure play on the title insurance industry, First American is the better choice, in our view. Approximately 94% of its revenue is derived from title insurance operations, compared with 66% at Fidelity National. Fidelity has invested in other non-title businesses such as a national restaurant chain, an auto-parts supplier, and a human resources benefits provider. Additionally, Fidelity National has been erratic in its approach to acquisitions. For example, it recently announced that it has entered into an agreement to purchase Lender Processing Services. While we think it could be one of the better pickups in Fidelity's history of frequent acquisitions, it does seem a bit unusual, since it spun off LPS as part of another deal a few years back.
Finally, from a stewardship perspective, we think First American tops Fidelity National. Fidelity has numerous related-party transactions with Fidelity National Information Services, a firm it once owned. Fidelity National Financial's chairman, Bill Foley, is also vice chairman of Fidelity National Information Services, and there are directors that serve on both boards even though they are two separate entities. Additionally, there have been instances of trading assets at questionable valuations between the two firms. We assign a poor stewardship rating to Fidelity National Financial.
We think First American's earnings will fall in 2014 as the firm adjusts to the decline in refinance orders. The near term could hold some unwelcome surprises in earnings as the firm adjusts its costs to a vastly reduced order flow. However, we also think this could result in investment opportunities for the long term as the more profitable residential purchase and commercial markets revert to traditional levels over time. As a result of these factors, we believe First American's earnings will rebound over time and reach slightly over $3 a share by 2016.
With the stock trading around $22, we think First American is about 25% undervalued, but we recognize that the negative catalyst of a drop in refinance volume could be a near-term headwind for the stock, and a better price could present itself as the plunge in refinancings hits results. Still, we think First American's narrow moat protects its earnings power over the long run, and investors should keep the stock on the radar.