Metallurgical coal specialist Walter Energy (WLT) has continued along its downward spiral as the company continues to face a number of perceived woes. Most recently, the momentum-shifting climate change speech made by President Obama did little to comfort investors as the President specifically targeted coal power plants. While having little relevance to Walter Energy offhand, the correlated coal company was thrown out along with the rest of the major coal players as the company's stock fell an additional 11% following the President's speech.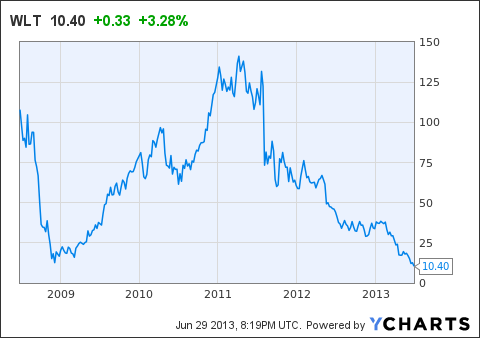 WLT data by YCharts
In a little over 2 years, the company's stock has taken a volatile swing. Shareholders appear to have changed their mood from excessive exuberance to that of a more anxious nature. As seen in the graph above, Walter Energy has fallen over 92% from its market high of $141.17 set in early 2011.
One of the greatest concerns now overhanging the company has been the growing debt load. In December 2010, Walter Energy announced plans to merge with Western Coal Corp in order to establish a leading pure-play metallurgical coal producer. The closing of the event allowed for the company's long-term debt to rise from $154.6 million in 2010, to nearly $2.27 billion in 2011.
On Friday, June 14, Walter Energy's situation appeared to take a turn for the worse as the company announced it would be passing up the chance to refinance a portion of its existing debt. The reaction from the market was swift as shares fell over 20% on the news over the following two days.
Looking Out For A Bottom
Yet for those with a less emotional response, the most recent declines appear to have been overreactions leading to oversold conditions. The company itself was clear in asserting that it had no material debt principal payments due until 2015. Likewise, the company had completed an offering of $450 million in senior notes that was sure to provide adequate liquidity for the near term. The company appears to have merely walked away from unfavorable terms and conditions.
As for the climate change speech, any ensuing policies are unlikely to take a significant toll on Walter Energy. After all, the company's primary operations revolve more heavily around the steel industry rather than the energy markets. Indeed, the steel industry even appears likely to improve in the coming months. According to an outlook from the World Steel Association, global steel use will increase by 2.9% in 2013. This followed on top of limited growth of 1.2% found in 2012. Going forward into 2014, world steel demand is estimated to grow by an additional 3.2%.
A Look At The Company Now
At its current share price of $10.40, Walter Energy now trades with a market capitalization of $650.74 million as of June 29. The company supports a weak price-to-sales ratio of 0.28 and a discounted price-to-book ratio of 0.67. At the same time, the company carries an adequate current ratio of 1.69 and has an operating cash flow of $239.65 million. Throughout its entire decline over the past two years the company has steadily paid a quarterly dividend of $0.125 resulting in an annual yield of 4.8%.
Conclusion
Now trading well below book value, it appears that Walter Energy has fallen in excess of a normalized trading level representative of a fair valuation. The company's debt situation is far from dire in the present. Likewise, the fact that it continues to pay a dividend should be indicative of this as well. Above all, the current trends fail to suggest that the company's outlook has largely dampened.
Given the company's significant volatility and quickly-declining share price, investors looking to gain an entry point into the company may wish to take advantage of options in order to do so. As of June 29, for instance, put options expiring in 2015 with a strike price of $10 were trading for $4.10/share. As a result, an investor could gain a 41% return over the next 1.5 years if the company's stock stays above $10. Should it continue to fall below $10, the investor would essentially gain an entry into the company at $5.90/share.
With such an excessive decline over the past few years, it remains unlikely that Walter Energy will reclaim its former highs anytime soon. Until metallurgical coal prices begin to rise with a favorable steel outlook and the company's debt is adequately addressed, investors should continue to tread carefully with this company. Yet at its current levels, Walter Energy is clearly in oversold territory. It is reasonable to believe that there remains far less downside risk at these levels than there is upside potential.
Disclosure: I am long WLT. I wrote this article myself, and it expresses my own opinions. I am not receiving compensation for it (other than from Seeking Alpha). I have no business relationship with any company whose stock is mentioned in this article.